Reflections and Advice:
1.) What do you think makes your school unique relative to other boarding schools?
As an all-male school with a focus on building up men of character, McCallie offered me an unmatchable experience. In a single sex environment, my classmates and I did not feel constrained by a need to impress girls. We felt free to participate in the classroom and express our ideas honestly without feeling insecure or embarrassed. There was a strong camaraderie built up between us as we struggled together in an academically and athletically challenging environment while being away from home. My McCallie network of friends still holds strong and we continue to travel and do things together. Even though the school was all male, we had an all girls sister school and other coed schools with which to socialize. During the week, most boys would focus on academics and sports and on the weekends, they could spend time with girls and girlfriends. In addition to the all male aspect, McCallie's focus on building up men of character strikes me as unique. Like many other schools, McCallie pushed its students to excellence on the field and in the classroom, but unlike many other schools McCallie demanded its young men to hold ethics, morals, and character above A's and touchdowns. In class, professors would constantly remind us that it was better in the long run for us to take a "C" then copy our neighbor's answer. On the field, the coaches emphasized fair play and appropriate behavior toward the other team. A lot of schools will talk up an honor code or character building, but McCallie was the real deal. Traditions like the Honor Code stayed strong and were enforced. Sure, many boys dismissed such values, but many others were deeply affected like me. Even the dismissive ones would have found it extremely difficult to leave the school as lesser men than when they entered.
2.) What was the best thing that happened to you in boarding school?
Without a doubt, the most significant change that I experienced was the sea change in my values. I grew to be a young man who believed in honor, truth, and duty and grew to be a more committed Christian. This probably sounds sappy, but it's true. I came to understand that society functions more smoothly when people act truthfully and with honor. I came to know that the world was wonderful in part because people with talents and resources felt duty bound to unselfishly give back to the less privileged without being patronizing. In my first year, I did not lend money to a fellow student in dire need who had often failed to pay me back. By the end of my time, I tried to give as much as I could to the community and my friends knowing that giving is so much more rewarding than receiving anything in return. I was able to make this change because a group of close advisors and friends exerted an incredibly powerful influence on me in all aspects of my life.
3.) What might you have done differently during your boarding school experience?
Spend more time on friends and less time studying when you first enter McCallie or any boarding school. If you can develop a solid relationship with your roommate, then you will have domestic peace. If you can develop solid relationships throughout the boarding community, you will have a more extensive starting social network. You will probably miss home, but if you stay active and leave the dorm frequently to participate in campus life the ache won't ache as much. It varies, but few students seemed to miss home by their second year and had begun to develop into independent young men. Your boarding school friends will probably be your lifelong buddies, but make an effort EARLY to network through the day students to increase your opportunities to get off campus and have fun. The dorm will sometimes feel like prison so this will be well worth it. Develop personal responsibility. Mommy and daddy can't hold your hand and push you to succeed once you walk through the gates. You've got to have drive and a will to succeed or your parents bank accounts will have suffered for no reason. Boarding school is what you make of it and some, unfortunately, make little of it. Don't be them.
4.) What did you like most about your school?
The opportunity to develop close relationships with young men of a moral and ethical bent. It is possible to make friends anywhere, but it is hard to find close friends who you can always trust AND who can influence you to be a better person. Sure, there was a push to succeed, but my friends taught me to succeed with honor and humility. Sure, the environment was competitive, but my friends taught me not to be mean spirited about winning or losing. These friends provided positive support to me when I first left home and continued to support me as I grew in maturity. They did not shy from criticizing me when I made mistakes, but were willing to forgive me. They stayed in touch over long breaks and after graduation and we still find ways to hang out and plan trips together. Friends can be found anywhere, but steadfast ones who push to improve you as a person can be found at McCallie.
5.) Do you have any final words of wisdom for visiting or incoming students to your school?
McCallie is not for everyone and neither is boarding school and don't let your parents tell you otherwise. It worked for me, but not for others and that's a tough loss of time. If you think it sounds intriguing, though, take the risk. You will probably learn more in school and definitely more about yourself as a person than at home. I'm convinced that the human specimen can only truly grow when it leaves the comfortable cocoon of family and spreads its wings. Whether that be in boarding school or college is up to you. When you visit, ask yourself if the value system that McCallie pushes is something you could accept. Ask yourself if you want to challenge yourself to the utmost in the academic arena and simultaneously suck the marrow out of life and Plato. Meet Mr. McCallie, Dr. Woodward, and Coach Kemp to learn more about the volunteering options, academic options, and academic/athletic balancing options respectively. Dorm character changes over the years so talk to current students to figure out what's right for you. If the other aspects of the school seem to fit, you'll be able to find a good home.
Academics:
1.) Describe the academics at your school - what did you like most about it?
In general, there are two academic tracks: regular and honors/AP. A student can challenge himself to the best of his ability given his academic background, but the best teachers seemed to be on the honors track. Through the advice I received, I was able to tailor an individual academic track suited to my needs and abilities. I was not pushed to take more APs than I could handle, but was allowed to lobby to take course the school initially thought were too advanced for me. I appreciated this flexibility. The best part of my academic experience besides the wonderful human beings I came to know as teachers was the help I could access. The Learning Center helped me keep up in my first math class which was tough for me. In my senior year, the Writing Center served as an important sounding board for college essay ideas and organized practice interviews for me. They helped me win full scholarships to NC State and the University of Virginia.
Athletics:
1.) Describe the athletics at your school - what did you like most about it?
Athletics were an integral part of the McCallie experience. No academic was exempt from physical activity and no athlete was exempt from challenging academics. Physical activity was required, but the range of options available made it bearable for most guys. Juggling, karate, and ultimate frisbee could satisfy required credits just as any varsity sport could. I enjoyed the wide range of options available to me. I never placed in the top ranks of the sports I enjoyed, but could always play them at one level or another. In the winter, I did not play a varsity sport but I enjoyed the less stressful intramural program and its variety of options. I also had access to a college-level fully equipped gym and a professional trainer who I could access as I developed my own physical activity program. Another aspect of the athletics program I enjoyed was the top-notch nature of the coaches and teams. We won football, cross country, swimming, lacrosse, and other state championships over and over again because our coaches pushed us day in and day out to train for hours on end to maximize our potential. The crew program has a former US Olympic coach and its rowers enjoyed routing opponents in races all over America and the world. The coaches were not only superior strategists and practice organizers, but were also superior character builders. There was a strong drive to win, but to win with character.
Art, Music, and Theatre:
1.) Describe the arts program at your school - what did you like most about it?
Our visual arts program was continuously developing, our theater program was pretty good, and our music program was superb. In visual arts, art and photography were of course offered, but according to anecdotal accounts there seemed to be a renewed push to advance the photography program. Alumni and student artists have been highlighted in the school gallery and Alumni work has been posted in a school museum of online art. Several of my friends participated in the theater program and enjoyed it immensely. Students could participate in smaller productions at McCallie with the girls from the girls school or join massive productions performed in the girls school's amphitheater. The former were quiet, intimate affair perfect for more laid back actors. The latter were geared to those eying long-term commitments to the field and involved many a long day and sleepless night of practice before performances in the amphitheater. The music program seemed to be the most advance and professional. Our singers enjoyed traveling to perform in Carnegie Hall, England, and elsewhere during my four years. The Christmas Candlelight performance including these singers, the band, the bell group, the violin group etc and was one not to be missed. The arts programs' many exciting chances to advance one's level and travel appealed to me as a brief participant. As a student, I savored the never ceasing high-quality work or performances on show.
Extracurricular Opportunities:
1.) Describe the extracurriculars offered at your school - what did you like most about it?
There was an endless variety of extracurricular activities available ranging from athletics to the arts to volunteering. I was most involved with volunteering, but was a beneficiary of the others as well leaving me rarely bored. I've already mentioned the special opportunities available in athletics and in the arts. This was also true in volunteering. At McCallie, I built three houses for Habitat for Humanity co-leading two of those builds. I attended a conference in Atlanta to learn how to improve McCallie's Habitat chapter. My partner played even large roles with Habitat nationally and internationally. The whole program was very professional and successful. It was not the only volunteer option by far though. I also participated in work at the Boys and Girls Club and the Food Bank. One of the most fun things I was able to do was bring the Club kids into the Habitat program to work on a house one day. This would not have been possibly without access to such a variety of volunteering activities and such strong support from McCallie's volunteer coordinators.
Dorm Life:
1.) Describe the dorm life in your school - what did you like most about it?
Dorm life is tough in ninth grade, but gets exponentially better after that. In ninth grade, you will face tough discipline, miss home, and be with an assigned roommate who may or may not be your best friend. After ninth grade, you'll be given more independence but be expected to act mature, McCallie will feel like your second home, and you'll probably be living with a good match. Living in a dorm allowed me to develop deep relationships with guys that have surpassed any others outside my family. Trips, group work, hanging out, movies, ball games etc brought us together 24/7. When we were at McCallie, we became family because family was at home. The best part of the whole experience was the many events organized for boarding students by our activities coordinator among others. I enjoyed year long competition against other dorms in sports ranging from football to ultimate frisbee. Concerts in Atlanta, a trip to New York, and skiing trips to North Carolina, Montana, and Canada were some of the activities I enjoyed that were organized by the school.
Dining:
1.) Describe the dining arrangements at your school.
I wouldn't advise going to McCallie strictly for the food, but the culinary connoisseur can also find satisfaction. McCallie recently built a first class dining facility so my knowledge is a little out of date and on campus food has no doubt improved. However, as a tourist destination Chattanooga offers a wide array of quality restaurants which you can access especially as you get older. The best part of the on-campus dining experience was the fourth meal. After study hall, when you're hungry again, the dining hall reopens from 9:30-10pm serving a selection of hot and cold foods.
Social and Town Life:
1.) Describe the school's town and surrounding area.
Chattanooga is a destination city and as such has quite a bit to do. The downtown has been born anew in the last decade and is a happening place to hang out on weekends. There are restaurant, a movie theater, a minor league baseball stadium, a leading aquarium, and a quality park. It is quite safe to walk around the area day or night. The nearby mountains and river offer endless entertainment for bikers, climbers, off-roaders, rowers and other outdoorsy types. Nashville, Knoxville, and Atlanta are all less than two hours away.
2.) Describe the social life at your school - what did you like most about it?
Like wine, your social life gets better with age. Coming in as a new boarding student, you'll probably have to build up your social network from zero. Even after all the awkward dances, don't fret. You'll have a close group of boarding friends regardless, but you will have a boring social life if you do not branch out beyond the McCallie boarding bubble. However, if you make the effort to get to know your day student classmates and people at the other schools, your options will expand dramatically. Go out to eat with some day student friends from the team or club or class or participate in some of the mixed activities offered like theater. Then you can latch onto the developed local social network and you'll people calling you up to do stuff all over town. This was my favorite part of the social life- the access to a large local social network.
Daily Schedule:
Weekday
9:45 AM
Chapel- speakers, seniors' performances, musical performances etc
9:30 PM
Fourth Meal- Dining Hall Reopens for late night snack
10:00 PM
Study or athletic game against another dorm
12:00 PM
More studying and lights out.
Weekend
9:00 AM
Arrive at Habitat house or Food Bank to volunteer with other McCallie guys and sister school girls.
12:00 AM
Have lunch at Habitat house with the guys and girls or leave Food Bank.
3:00 PM
Leave Habitat House after another good day of work.
5:00 PM
Shower and prepare for the evening by calling/sending IMs around.
7:00 PM
Go to an athletic event, downtown with friends, go out to eat, see a movie, go to a day student's house, or leave town for event etc.
11:30 PM
If in town, return to the dorm.
3:00 AM
If on late school-sponsored trip to a concert, athletic event, or other event, return to the dorm.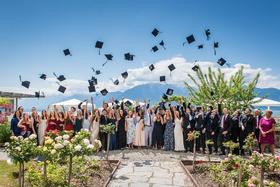 Nurturing Futures: A Journey through Boarding at Haut-Lac School in Switzerland
Nestled in the hills overlooking Lake Geneva in the French-speaking part of Switzerland lies an educational gem that embodies a unique blend of academic excellence, cultural richness and a profound sense of community. Founded over 30 years ago, Haut-Lac International Bilingual Day and Boarding School is now home to both 600 day students and a maximum of 30 boarders from around the world.
What To Wear at Your Job Interview
Navigating job interviews can be stressful, but knowing what to wear shouldn't be. Our comprehensive guide covers the essential dress code tips for men and women interviewing at boarding schools. Make your first impression count with style and professionalism.
Navigating the Modern Maze: Emerging Challenges for Boarding Schools
Explore the pressing challenges facing boarding schools, from marketing difficulties and rising insurance costs to facility maintenance and recruitment of competent trustees and teachers. This article delves into these complex issues and proposes innovative strategies to overcome them.