Reflections and Advice:
1.) What do you think makes your school unique relative to other boarding schools?
The Harkness table method of learning is something that is very unique to Masters. I came to Masters in ninth grade from a school where I had been sitting in rows at individual desks and raising my hand to answer/ask a question for my whole life. I was a very shy girl and never raised my hand to speak in class at my old school. Using the Harkness method, everyone sits at a round table including the teacher. The emphasis is not focused at copying notes from the board. Rather, the focus is on having a discussion with everyone in that circle. It allows the shy students like me to talk and feel comfortable, and it makes the talkative students to listen to what others have to say. The second aspect of Masters which I feel like is unique is the absolute love of learning and the ability to explore and challenge your mind. If you want to make an intense study of a subject not offered at school, you will be given the resources to do so. If you want to start a new group, you can do that as well. If you want to try becoming a student leader or even be the teacher of a mini-class, you can do that too. I was fascinated with dreams and the brain while dreaming. Through the class called Masters Thesis I was able to design a year long intense study of the psychology of dreams which included writing a 25 page thesis paper, teaching an after-school class on dreams, and use the arts of painting and creative writing [things which I do not regularly do] to make a giant exhibition of what I learned throughout the year.
2.) What was the best thing that happened to you in boarding school?
I did so many things at Masters. I lead many community service projects earning me many awards and even a letter from Congress. More importantly, I was able to help hundreds of peoples. I made friends from Taiwan, Korea, Germany, Italy, France, China, Japan, Africa, Russia, and many other places. I was elected to be part of Cum Laude Society as a Junior for academics. As a junior, I received a scholarship for math and science if I chose to attend RPI for college. I learned how to dance and choreographed my own pieces. I transformed from a shy little girl who never talked to a girl who taught an after school class on dreams and Sigmund Freud and wrote a thesis paper. In the span of four years, Masters helped me develop into a woman who loves to learn and is ready to help the world.
3.) What might you have done differently during your boarding school experience?
Take advantage of everything that boarding school has to offer-the activities, classes, different cultures, and experiences. It will help you open your eyes and understand the world.
4.) What did you like most about your school?
I actually can't pick a favorite. I loved the teachers, the campus, the education-basically everything that I talked about. I suppose most importantly I loved Masters because it encouraged my love of learning and helping others while living in such a diverse community.
5.) Do you have any final words of wisdom for visiting or incoming students to your school?
Visit the school-talk to teachers, alumni, and current students. Take advantage of the opportunities that Masters presents to you. Feel free to email me if you have an questions.
Academics:
1.) Describe the academics at your school - what did you like most about it?
Teachers really pushed you to do your absolute best at Masters. As a Freshman, you of course had to take your required courses but also took a month of each of the humanity courses to be exposed to everything [art, dance, drama, community life, music, etc.]. As a Sophomore, you took your required courses plus world religions and got to choose a minor for the year [mine being dance]. As a Junior, if eligible, you can begin taking AP courses as well. (There are a lot of AP courses to choose from). As a senior, you basically pick the classes you want to take. My academic schedule consisted of three APs, an independent study, dance, and writing seminars. I really became exposed to everything and then was able to choose what I wanted to study and learn about. In order to excel at Masters, you have to work. However, your advisors will make sure that you are not in any advanced classes that exceed your capabilities. The vigor of classes you are taking determines the workload. With my schedule, I worked really hard and really did not have much free time. However, extra help is something that is always available and almost everyone takes advantage of. The school's learning specialist is always available as well. Teachers at Masters are amazing. Because most of the teachers live on campus and end up being your dorm parents, you develop a really close bond with teachers; many I still talk with while I'm away at college. Mr. Ives was my World History I, AP European history, and Masters Thesis teacher. He mentored me throughout my study of the psychology of dreams helping me find resources and revising my thesis paper many times even though he was not a specialist in my subject. Though he loves history, he learned about dreams with me as I researched. Ms. Merrill, my advisor for three years and AP biology teacher, became my mom away from home. She always talked to me whenever I needed her. The teachers at Masters also added to the diversity of the school. My chemistry teacher is running for President of Kenya, so besides learning about molarity, I learned about Kenyan politics. My Spanish teacher and dorm parent, Senora de Lankford, continued to speak Spanish in the dorm to me even after I stopped taking it as a class. In classes, we went beyond the presented material. Through discussions at the Harkness tables, we were able to figure out how the learned material related to the world. In English, we unraveled the secrets of authors through analyzing their texts. In Science, we learned how to take stances on subjects like abortion and genetic engineering. In History, we went back to the ancient world and had our own Socrates trial.
Athletics:
1.) Describe the athletics at your school - what did you like most about it?
I did not really participate in sports since I mostly danced but I loved watching basketball, soccer, lacrosse, fencing, and hockey games and cheering for my friends on the side. Our school was definitely competitive with other schools but it was always healthy competition. Athletics were part of everyone's life at Masters for PE was required if you were not involved in a sport or other physical activity. DAA, Dobbs Athletic Association, splits the school up into two-Delta and Phi-and we rival each other throughout the year with fun competitions. Even though I don't play sports, many of the community service projects I ran entailed playing sports with underprivileged or handicapped children.
Art, Music, and Theatre:
1.) Describe the arts program at your school - what did you like most about it?
I am not a painter but I loved spending time in the art studio. Watercolors, oil paints, clay, etc. were offered to anyone who wanted to experiment with art during the day or after school. Mr. Blizzard, an art teacher, was always willing to help anyone find anything they needed in the art room. It was a great resources to have on campus. I miss the music at Masters so much. Rooms with guitars and pianos are frequently open for anyone to try to play. Music sessions are always going on. Jazz, rock, classical, etc. music was constantly created everyday and I would hear it as I walked across campus. Music lessons were available always. The singing groups at Masters are UNBELIEVABLE. Dobbs 16, a coed singing group, went to nationals last year! There were so many faculty teachers dedicated to music. Teachers and students could get up on stage and perform for the school during morning meeting on Musical Mondays. The variation of musical talent ranged from playing the saw to composing on the french horn. What was amazing was that there wasn't just a group of musicians. One of my fellow classmates was a basketball and baseball player, a community service leader, a member of Dobbs 16, and talented drummer. If any prospective students are interested in theater, I encourage you to get in touch with M.A. Haskin-our fabulous drama director. Every year, the drama department puts on a play, a musical, and short acts. Anyone and everyone is welcome to be a part of the productions. Phoenix, the honorary drama society, also separately puts on plays throughout the year. We are encouraged to act very professional and be a part of everything from set design to costuming. Dance at Masters is great. MUSE is the dance company at Masters which puts on a concert in the Fall and Spring. All the pieces in these performances are choreographed by the dancers in the company. During the winter, MUSE performs in the musical. Levels of dance range from PE dance to advanced allowing anyone who wishes to start dancing to be able to. As dancers, we are encouraged to further develop our technique and learn how to present ourselves on stage through our own choreography.
Extracurricular Opportunities:
1.) Describe the extracurriculars offered at your school - what did you like most about it?
Everyone at Masters is required to have a co-curricular and they are so many to choose from that it is impossible not to find something to do. Here are those that I can remember off the top on my head: Girls Field Hockey, Soccer, Basketball, Lacrosse, Hockey, Fencing, Baseball, Softball, Tennis, Ultimate Frisbee, Cross Country, musical/play/short acts, tech for musical/play/short acts, jazz band, independent music study, dance class, photography, open art, creative writing, yoga, tae kwon do, weight room independent studies, days of wonder day care, andrus nursing home, cabrini immigrant services, midnight run center, library help, children's village. For the full list of everything go to www.themastersschool.com. If you are a part of something outside of school, you can get an athletic option as your co-curricular.
Dorm Life:
1.) Describe the dorm life in your school - what did you like most about it?
I loved living at Masters. There are three girls' dorms where all the rooms are singles and there is a common bathroom on each floor. There are two boys' dorms where most of the rooms are doubles and there is a common bathroom on each floor. The girls' dorms each have common rooms with a kitchen, stove, frig., TV, and couches. The boys' dorms each have a common room with a TV and pool tables, etc. After your first year you usually get to choose what dorm you would like to live in. There are lots of dorm bonding activities and dorm meetings and clean-ups every week. Of course there are lots of rules but it's exactly the same as being home except you're living with your friends. It is great to live at school because everything is available to you-the art room, gym, music rooms, study groups, your teachers.
Dining:
1.) Describe the dining arrangements at your school.
I think Masters has great food. There is a sandwich bar, pasta bar, bread bar, dessert bar, soup bar, cereal bar, hot food bar, and tons of drinks. You are bound to find something you want to eat. There is tons of healthy food. It is really up to you as to what you want to eat. Teachers will sit at one area while the students sit at any of the round tables next to the large windows overlooking the campus. It is a very nice and comfortable set-up; a great place to hang out.
Social and Town Life:
1.) Describe the school's town and surrounding area.
Dobbs Ferry is a quaint little town with a supermarket, stationary store, video store, a variety of restaurants [Mexican, Italian, french, sushi, Chinese, Japanese], and a train station. You can walk down to the Hudson River and hang out by the water. The New York City is only thirty minutes away and it is so easy to get to. Dobbs Ferry is a nice, safe town to take a walk or run in.
2.) Describe the social life at your school - what did you like most about it?
Weekends can be as social as you would like them to be. Ms. Crane, the head of student activities, does a great job to offer various movie and mall trips, open gyms and open art, trips to the city, dances including the winter formal and prom, transportation to sports games, etc. Basically if there is somewhere you would like to go, you can tell her and she will help you arrange a trip. We have celebrations for holidays, dinners with the whole community, international dinners, games with faculty, phoenix coffeehouses, and student performances or shows. Dorm representatives are in charge of setting up activities like open dorms and figuring out what students want to do on the weekends.
Daily Schedule:
Weekday
8:30 AM
AP European History
9:30 AM
Writing Seminars-Memorable Women in Literature
10:30 AM
Masters Thesis-independent study [psychology of dreams]
12:30 AM
Lunch-meeting with Ms. Atlee [community service] to plan for Junior Special Olympics
3:00 PM
get ready for dance
Weekend
2:30 PM
dance company dress rehearsal for concert
8:30 PM
Hawaii School Dance sponsored by SAC [student activities center]
The Masters School can be quickly distinguished from other schools by the style of teaching that takes place. After a quick tour of classes, one will notice that there are no desks. Instead, each classroom. . .
The Masters School prides itself on using the Harkness method of teaching. Rather than sit at individual desks, students face each other around a large table. This style prompts discussion and keeps each. . .
One unique aspect of the Masters School for which I was personally very grateful was our Morning Meeting. This was a gathering of the entire upper school and faculty in the theater, three times weekly. . .
Show more reviews (

5 reviews

)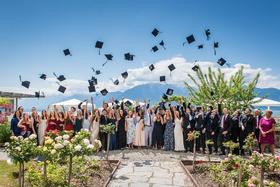 Nurturing Futures: A Journey through Boarding at Haut-Lac School in Switzerland
Nestled in the hills overlooking Lake Geneva in the French-speaking part of Switzerland lies an educational gem that embodies a unique blend of academic excellence, cultural richness and a profound sense of community. Founded over 30 years ago, Haut-Lac International Bilingual Day and Boarding School is now home to both 600 day students and a maximum of 30 boarders from around the world.
What To Wear at Your Job Interview
Navigating job interviews can be stressful, but knowing what to wear shouldn't be. Our comprehensive guide covers the essential dress code tips for men and women interviewing at boarding schools. Make your first impression count with style and professionalism.
Navigating the Modern Maze: Emerging Challenges for Boarding Schools
Explore the pressing challenges facing boarding schools, from marketing difficulties and rising insurance costs to facility maintenance and recruitment of competent trustees and teachers. This article delves into these complex issues and proposes innovative strategies to overcome them.