Reflections and Advice:
1.) What do you think makes your school unique relative to other boarding schools?
The most important and unique aspect of Exeter is the Harkness table. Harkness is a method of teaching that has been an integral part of the school for many many years. There are no lectures at Exeter; students (no more than 14) and a teacher all sit around the same table and have discussions. This means students are forced to think, speak, question, and explain, all of which lead to a much greater understanding than a lecture could ever provide.Exeter is also the best when it comes to preparing students for careers in the future. When I left Exeter, I was not only very well rounded, having taken classes in everything from Modern Physics and Genetics to Asian Civilizations and the DaVinci Code, but I also had enough time to go deeper into science. In other words, while Exeter makes sure that you are well rounded, they do not prevent you from becoming more specialized either.
2.) What was the best thing that happened to you in boarding school?
The best thing I received from boarding school was learning how to learn. I learned how to manage my time, how to read textbooks, how to engage in productive and effective conversation and debate, all from my Harkness style classes.
3.) What might you have done differently during your boarding school experience?
The best advice I can give is make the most of your time at boarding school. The first few weeks are tough, it's the first time away from home for most people, but get our there, make friends, join clubs and activities, you will be glad you did. At the same time, though, make sure you leave enough time for your schoolwork, and remember that at Exeter just doing your homework doesn't cut it, you must study actively as well. One more thing, get help as soon as you need it. There are tutoring services available so make use of them!
4.) What did you like most about your school?
The people. No question.
5.) Do you have any final words of wisdom for visiting or incoming students to your school?
Lamont is a great dorm, I would suggest it for girls who know how to work hard and play hard. You should go to the grill for dinner at least once, take the bus to the mall, visit Boston. Oh, and if you like Italian food, try Sal and Anthony's restaurant downtown. Enjoy Exeter!
Academics:
1.) Describe the academics at your school - what did you like most about it?
As I mentioned above, the Harkness method is an amazing way to learn. It allows you to really grasp the information much better than you would from a lecture. Ben Franklin said, "Show me and I forget, teach me and I remember, involve me and I learn," and that is what Harkness is all about, involving students.The teachers at Exeter are unlike any teachers I have ever had. They are very accessible. The can be found eating lunch or dinner in the dining hall with the students, coaching teams or club sports, attending (or even taking part in) plays and concerts, or hanging out with students in the dorm. My math teacher would bake us chocolate chip banana bread on test days to soften the blow, and another teacher I had took his students out to breakfast once a term. It was always easy to meet with teachers if you were having trouble in a class and often those meetings resulted in a better understanding of the material, as well as a lasting friendship. I suppose that is the word that best describes the difference between Exeter teachers and other teachers, I am friends with many teachers from Exeter, because they all care about their students as individuals.Courses offered at Exeter are unparalleled. My Senior year each class I took was either honors or AP with the exception of introductory programming and ceramics, and I have taken classes from Genetics to Acting to Ethics to AP Chemistry to Archeology to German. There is something for everyone and Exeter excels in every field. The only bad thing about the courses is that you will never be able to take all the ones you would like to.
Athletics:
1.) Describe the athletics at your school - what did you like most about it?
I liked that there were plenty of club sports. I'm not particularly athletic, but I like to get a good workout, and it was nice that I could try different sports out without having to be on a team. That being said, we also have some of the best teams in New England. Our football team is excellent, both men and women's water polo have ranked quite high at New Englands, and we have many other team sports to choose from. Again, there is really something for everyone.
Art, Music, and Theatre:
1.) Describe the arts program at your school - what did you like most about it?
Our music teachers are phenomenal. Most are still active performers and all are excellent teachers and players in their own right. Out Theater program is quite nice too. The facilities leave a little to be desired, but our theater faculty are quite knowledgeable and very creative. As for the art classes, there are a number of options, all of which are quite good. There is an art requirement, so the Academy takes it seriously. Also, Exeter has one of the best art galleries of any secondary school in the country.
Extracurricular Opportunities:
1.) Describe the extracurriculars offered at your school - what did you like most about it?
There are in area of 100 student run organizations on campus which range from social service to academic to just for fun to completely random to religious. A few that come to mind are ESSO (Exeter Social Service Organization), Modern Physics Club, Chess Club, Pirate Club, and multiple religious offerings. They all have a faculty advisor and all can get funding from student government. The programs are usually very well run, and lots of fun.
Dorm Life:
1.) Describe the dorm life in your school - what did you like most about it?
I loved my dorm. The dorms are small and gender specific which means that you really get to know the people in your dorm, and you can feel comfortable walking to the shower in your towel! I knew every single girl in my dorm at least by name, face, and where they were from and some of my closest friendships resulted from dorm life.The room selection process is slightly different in every dorm., but it is usually based solely on seniority. That is, rising seniors get to choose their room first, then juniors, then sophomores. Rising freshmen don't get to pick as they aren't on campus, but that is rarely a problem. It's also quite easy to transfer dorms if you wish, I did after my freshman year and it wasn't a problem at all.
Dining:
1.) Describe the dining arrangements at your school.
The dining hall at Exeter is great. First of all there is food available from 7am-7pm every day and you can eat as much as you want whenever you want, which is really nice, especially after sports! The food is also really good. We have great salad, pasta, and sandwich bars if you don't like what's on the hot line, but Exeter has won awards for its hot food. There is no assigned seating.
Social and Town Life:
1.) Describe the school's town and surrounding area.
The town of Exeter is small but there are some really nice restaurants and little shops. Also, you can take the train (7 minute walk from campus) to Boston, one of the best walking cities in the nation. Boston has great food, music, hotels, and shops, shops, shops! Exeter is a very safe town.
2.) Describe the social life at your school - what did you like most about it?
Social life is very diverse. I have never met so many people from such different backgrounds. Also, people at Exeter are very intellectual. I have had conversations around the lunch table about politics, religion, ethics, travel, literature, and everything else under the sun.
Daily Schedule:
Weekday
7:15 AM
Breakfast with friends in d'hall
8:00 AM
Studying in my dorm before classes
6:00 PM
Dinner then hanging out or clubs and activities
Weekend
1:00 PM
Homework or sports games
4:00 PM
Movies with friends
8:00 PM
concerts, dances, movies, all on campus
11:00 PM
dorm check in and time with friends, tv, movies in dorm
Phillips Exeter is distinct for its use of the Harkness Method and its unique athletic opportunities afforded by a robust alumni network and excellent teachers from various high-level academic positions within their fields. Harkness, a. . .
The Harkness method is one of Exeter's unique and best aspects. Teachers have very little involvement in class — homework is either reading or problem based, and nearly every class, from Math to English. . .
Exeter is the founding place of the Harkness method, in which students gather around a round table to discuss their homework and class material as a group. The idea of this method is that. . .
Show more reviews (

27 reviews

)
Mastering the Boarding School Selection Process: A 5-Step Guide
Discover the ultimate 5-step guide to choosing the perfect boarding school for your child. Explore essential factors, such as academics, campus facilities, extracurricular activities, and more. Make an informed decision to provide your child with an enriching and transformative educational experience. Read now!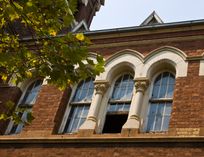 5 Founders and Their Boarding Schools
What prompts somebody to start a boarding school? The motives range from idealism to munificence right on through to capitalism. The common thread seems to be ample capital and a vision of what education can do.