Reflections and Advice:
1.) What do you think makes your school unique relative to other boarding schools?
Verde Valley's focus on a person as a global citizen greatly affected me and has stayed with me through today, both in my college degree and my profession. Through reaching to attain the vision set forth by Ham and Babs, VVS fosters this awareness through field trips each spring, cultural activities on campus, and work it into the curriculum. The central location of the school and the dedication of the staff bring the world into the classroom, or rather the classroom out into the world.
2.) What was the best thing that happened to you in boarding school?
VVS really and truly connected me to my world, and helped form the adult I am today. I think about how lucky I was to go there at least weekly, and still communicate regularly with several classmates.
3.) What might you have done differently during your boarding school experience?
If you are going to boarding school, first, be excited! Its fantastic and you will have unique and wonderful experiences. Don't worry about leaving your current friends. e-mail is easy enough and you will see them several times a year (and, you'll have lots of new ones to keep you busy).
4.) What did you like most about your school?
Freedom to be who I wanted in an environment that didn't care if I dressed funny or how I cut my hair. I remember My admissions lady said, "all we care is that you get from A to B. If you want to skate, twirl, crawl, crabwalk, we don't care, as long as you're moving forward" and she was right; thats how it was.
5.) Do you have any final words of wisdom for visiting or incoming students to your school?
There are great and amazing places you'll need to see as a student at VVS, most of which you'll have to depend on older students to show you.
Academics:
1.) Describe the academics at your school - what did you like most about it?
I never liked school until I got to Verde Valley. VVS classes were much smaller, and respect was genuinely mutual between faculty and students. There was a feeling fostered there that students are humans who want to learn, instead of a crowd to be controlled, or as test scores, that public schools have. the teachers always showed genuine concern for students, and are frequently available after hours.
Athletics:
1.) Describe the athletics at your school - what did you like most about it?
What I liked most about sports at VVS was that if you wanted to do hard exercise and be competitive, you could. If you didn't, you could take yoga or horse-back riding. If you want to do a sport not offered, organize it and you could take that too. It's not set up so that everyone does everything, but you sign up for a sports class on a rotating basis.
Art, Music, and Theatre:
1.) Describe the arts program at your school - what did you like most about it?
I wasn't committed to the theatre program, but I did do lighting for productions for a few semesters, and got to do a scene from my favorite movie for a show!
Extracurricular Opportunities:
1.) Describe the extracurriculars offered at your school - what did you like most about it?
I liked the fact that there are most of the things to do there that you could do at a public school, but it was small enough that it's not all competitive. If you want to do yearbook, ok. If you want to write for the school newspaper, ok. Almost anything is open to anyone who wants to do it.
Dorm Life:
1.) Describe the dorm life in your school - what did you like most about it?
Dorm life is what you make it. I loved living in the dorms, almost all rooms have a fantastic natural view and it makes the whole social life thing pretty much automatic. There are plenty of single rooms, but several suites too.
Dining:
1.) Describe the dining arrangements at your school.
I was there 10 years ago, but I liked the food.
Social and Town Life:
1.) Describe the school's town and surrounding area.
Sedona was a lot farther away then, so we were pretty secluded. Town is a lot bigger now, and there's food and movies and the usual smaller-town life.
2.) Describe the social life at your school - what did you like most about it?
That was among the best social lives of my life. Even college couldn't compare. There is still such a strong bond between all my friends from so log ago! There was such a fantastic mix of eclectic, unique, smart, fascinating people there. Since the school is small, there wasn't really room for cliques or branding. I mean, people will hang with some people more than others, of course, but the groups have no clear definitions, and all people will get to know everyone else because of proximity.
Daily Schedule:
Weekday
3:30 PM
sports or work jobs
Weekend
12:00 AM
wander to friends room, watch movie
11:15 PM
sponsored Denny's run
Verde Valley School is a very unique day and boarding school in Sedona, AZ. Throughout my four years, 2 of being a day student and 2 of boarding, I fell in love with VVS and. . .
Verde Valley School, founded in 1948 is located in a secluded valley twelve miles from Sedona, Arizona - so its location is both unique and magnificent. From its inception, Verde Valley has been focused on. . .
Verde Valley School offered me deep academic challenges rooted in student choice and responsibility. The school and EVERYONE in it served to open my eyes to the diversity and possible integration of people and disciplines. . .
Show more reviews (

9 reviews

)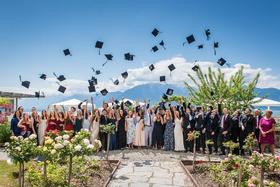 Nurturing Futures: A Journey through Boarding at Haut-Lac School in Switzerland
Nestled in the hills overlooking Lake Geneva in the French-speaking part of Switzerland lies an educational gem that embodies a unique blend of academic excellence, cultural richness and a profound sense of community. Founded over 30 years ago, Haut-Lac International Bilingual Day and Boarding School is now home to both 600 day students and a maximum of 30 boarders from around the world.
What To Wear at Your Job Interview
Navigating job interviews can be stressful, but knowing what to wear shouldn't be. Our comprehensive guide covers the essential dress code tips for men and women interviewing at boarding schools. Make your first impression count with style and professionalism.
Navigating the Modern Maze: Emerging Challenges for Boarding Schools
Explore the pressing challenges facing boarding schools, from marketing difficulties and rising insurance costs to facility maintenance and recruitment of competent trustees and teachers. This article delves into these complex issues and proposes innovative strategies to overcome them.