Reflections and Advice:
1.) What do you think makes your school unique relative to other boarding schools?
One of the most valuable aspects of The Webb School for me was the classroom situation. There are many different approaches for the classes and the teachers bring their own personalities and background to the course. Although a student may have a lecture-based class, most of the teachers recognize individual student's needs and try their best to meet them. It is the small school and class sizes that really allow the faculty to know the students on both an academic and personal level. I found that I was much more comfortable in this environment because I felt that The Webb School community was a family who cared about me on many different levels.
2.) What was the best thing that happened to you in boarding school?
The Webb community is probably the best thing that I have taken away from my school experience. I ride horses competitively and often missed school and social functions. I was worried that my friends would be upset that I was not spending enough time with them. As it turns out, everyone I knew was very supportive with my extracurricular activity and many even came to my horse shows. I had the same kind of experience with college acceptances/rejections. I graduated in the second hardest predicted year to get accepted into college and the pressure was omnipresent. After I got rejected from my first choice college, I was disappointed and ashamed. My friends and faculty were very supportive and they were by my side every step of the way. I definitely felt like part of a family at Webb and I know that I will be a part of that family for the rest of my life.
3.) What might you have done differently during your boarding school experience?
I was very shy when I first entered Webb as a seventh grader. I wish that I were more outgoing at that time and unafraid to get involved in the school. It took me a year to really get involved with some of Webb's opportunities and that was probably my biggest mistake. Once students get involved in Webb and its activities, it is easier to understand how you can contribute to the school and what makes you happy at Webb.
4.) What did you like most about your school?
During my years at Webb, I was allowed to explore who I was and who I wanted to be. The freedom to develop and grow in a school environment is probably the one thing about Webb that I appreciate the most.
5.) Do you have any final words of wisdom for visiting or incoming students to your school?
The best place on campus is by far the library. Despite many traditional libraries, the Bond Library is a place to study, research, enter contests, and hang out with friends. One of the librarians creates contests to win prizes (usually candy). There is so much to do in the library and it is such a comfortable environment that it is almost impossible to stay away from.
Academics:
1.) Describe the academics at your school - what did you like most about it?
The academics at Webb always come first. Despite any athletic or otherwise commitment a student has, they are expected to get their academic arrangements made first. I came to Webb in seventh grade from another private school and I found the workload very intense at first simply because I was not used to working. Webb definitely made me become serious about my academic life through their high expectations of every student. Once I settled into the Webb lifestyle, I was not overwhelmed with schoolwork but rather I was being challenged enough to make me want to strive to do well. The environment at Webb is as competitive as each student makes his or her own setting. Webb incorporates many students of different academically ambitious drives, yet no student will find themselves pressured to be a better student than any one else in the student body. Webb has a very laid back atmosphere that allows its students to figure out what type of person they are both academically and socially.
Athletics:
1.) Describe the athletics at your school - what did you like most about it?
The athletic program at Webb continues to grow into a fine program. Students are required to participate in three Basics per year. A "Basic" is any afternoon activity that involves exercise. Webb tries to ensure that its students are well-rounded and healthy during their stay at school. I have found that it is very easy to fulfill these credits because Webb allows any sport outside of the school system to count towards the Basics requirement. The gymnasium at Webb is so sophisticated that many tournaments are held there. The Barton Athletic Center (the main gym) accommodates most of the athletic needs of the students.
Art, Music, and Theatre:
1.) Describe the arts program at your school - what did you like most about it?
The Fine Arts Department is just starting to flourish. Webb just opened its new Fine Arts building in December 2006. The new building is equipped with a choir room, a full piano lab with four individual practice rooms, a drama room, a pottery studio, and an art studio. This building was formerly the old gym until the new gym was built so a lot of the structure still looks like an athletic center. Webb is devoted to turning out well rounded students and has therefore increased the fine arts requirements for each student. To many current students undergoing the change, the new requirement may seem large but there are many ways to fulfill the credits. The Fine Arts faculty is very flexible and open-minded about class ideas so there is always an interesting course to take. One of my favorite things about Webb is the freedom that the students have to express themselves. A visitor can see this as they are walking down the halls of some of our buildings. Webb allows students to hang their artwork or express themselves however they wish as long as it is not harmful or offensive to anyone in the community.
Extracurricular Opportunities:
1.) Describe the extracurriculars offered at your school - what did you like most about it?
Students are allowed to be as involved as they choose in extracurricular activities. One activity that I thoroughly enjoyed was the tutoring program. This program is designed to fill the Basics requirement by allowing Webb students to meet public school kids from the area at the Methodist church downtown for tutoring sessions. The children that we tutor are usually from second to sixth grade and they really appreciate Webb students taking the time twice a week to help them with their homework. The bonds that the Webb students form with their tutored child are remarkable. Webb tries to create activities to get students involved with the community and learn how to become an active citizen.
Dorm Life:
1.) Describe the dorm life in your school - what did you like most about it?
Although I was not a boarding student, it is not hard for me to understand what boarding life is like. The boarding and day lives mix together very well at Webb. Many day students go on weekend boarding trips and many boarding students go home on the weekends with their day student friends. Both lifestyles interact frequently to make Webb more of a unified community. The actual dorms at Webb are pretty nice. Three of the four dorms have a suite-style set-up, which means two students to a room and two rooms share a bathroom. It is a college atmosphere in the dorms. On Wednesday nights there are "snack attacks" which are late night snacks (such as pizza and candy) in the cafeteria. I think that Webb does a good job ensuring that the dorm students are happy by offering many activities both on and off of campus.
Dining:
1.) Describe the dining arrangements at your school.
The dining hall is newly renovated and has become a place where students actually like to be around. Students are divided into three different lunch times in order to ensure that there is not a huge crowd of people in line. On Tuesday and Thursday lunches (for upper school students), students are required to meet with their faculty adviser who usually updates them on their academic standings and advises them about their progress at Webb. The actual food in the cafeteria is very diverse. There is always a salad bar and bagels that can be substituted for the hot meals being served that day. The cafeteria director is a wonderful man who will meet any student need. He is more than willing to talk to students about what they would like to have for lunch and he is pretty good about accommodating those requests.
Social and Town Life:
1.) Describe the school's town and surrounding area.
Webb is located in the tiny town of Bell Buckle, TN. Webb often incorporates Bell Buckle into its community because the school and the town often interact. I enjoyed walking downtown for lunch occasionally. There is a great country cafe and awesome homemade ice cream available for students to enjoy some days for lunch and after school. Bell Buckle is very much a southern town that is known for its antique shops and the Bell Buckle Crafts Fair held every year in the fall. It is a great town with tons of personality. I enjoyed being able to interact with the surrounding community.
2.) Describe the social life at your school - what did you like most about it?
The social life is pretty unique. Although many prospective students may doubt it, Webb does not have a "clique" environment. I think that Webb is too small and open-minded to have rigid social separations. Many students have a particular group of friends that they hang out with, but hardly any student would say that they feel ostracized from any particular cluster of friends. Almost every student has at least two groups of friends that they regularly hang out with which makes Webb's social life more like a network than private associations.
Daily Schedule:
Weekday
1:00 PM
Lunch Break/meetings
1:00 PM
Extra Choir Rehersal
2:00 PM
Volleyball Practice
Weekend
The relationships that are built between the faculty and the students is phenomenal. The teachers are willing to work with the students until they have a firm grasp on the material. The faculty not only. . .
I think the most unique aspect of Webb is its atmosphere. No other school that I know has such acceptance of diversity, race, and unique personalities. At Webb, you can really learn who you are. . .
Small classes and a teaching community dedicated to its students make Webb feel like a home. Teachers are always available to help, support, and listen to their students. The honor code instills a sense of. . .
Show more reviews (

7 reviews

)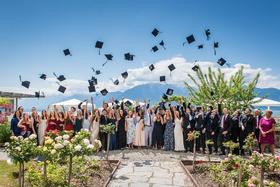 Nurturing Futures: A Journey through Boarding at Haut-Lac School in Switzerland
Nestled in the hills overlooking Lake Geneva in the French-speaking part of Switzerland lies an educational gem that embodies a unique blend of academic excellence, cultural richness and a profound sense of community. Founded over 30 years ago, Haut-Lac International Bilingual Day and Boarding School is now home to both 600 day students and a maximum of 30 boarders from around the world.
What To Wear at Your Job Interview
Navigating job interviews can be stressful, but knowing what to wear shouldn't be. Our comprehensive guide covers the essential dress code tips for men and women interviewing at boarding schools. Make your first impression count with style and professionalism.
Navigating the Modern Maze: Emerging Challenges for Boarding Schools
Explore the pressing challenges facing boarding schools, from marketing difficulties and rising insurance costs to facility maintenance and recruitment of competent trustees and teachers. This article delves into these complex issues and proposes innovative strategies to overcome them.