For Teachers
The articles in this section are related to teaching at a boarding school. Learn more about what is being taught, why small class sizes work, and the impact of sustainability on boarding schools. You'll find a list of eBooks about boarding schools, be able to view pictures of boarding school life, and explore course offerings.
View the most popular articles in For Teachers:
Teaching or working in a boarding school is quite unlike any job in a day school.
Teaching or working
in a boarding school is quite unlike any job in a day school. Why? Because in most schools you will live above the store as it were. Most faculty, deans and heads of school as well as some key support staff such as the admissions and development directors are housed in school accommodations as part of their
conditions of employment
.

Home and School
Boarding schools are self-contained communities. Students and faculty eat together. They share relaxing times watching TV and playing games together. That is because teachers and staff in a boarding school function
in loco parentis
. They take the place of parents literally and figuratively. They play a powerful role in shaping and guiding their young charges while they are at school. Because the students cannot escape at the end of classes, they cannot avoid
the strong influence
teachers have on them. This is
a major reason
many parents send their sons and daughters off to boarding school.

Finding a Job
What does boarding school life look like? View photos from a variety of boarding schools and see if you can also picture yourself there.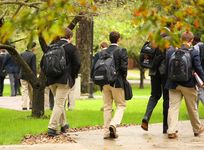 March 19, 2018
Some cynics think single-sex education is old-fashioned. The Kiski School shows how educating boys in a single-sex school is successful.
March 14, 2018
Determining which programs are 'must haves' is an important part of choosing the right boarding school for your child.
March 08, 2018
The wide range of fine academic, athletic, and other facilities found in boarding schools underscores the determination of schools to provide the very best for their students.