Reflections and Advice:
1.) What do you think makes your school unique relative to other boarding schools?
The place is simply beautiful. As seniors, we are all living in a quad with balconies facing inwards towards the center. With music blasting and bbqs roasting, it is the scene for what I would call a perfect spring day.Loomis is beautiful.
2.) What was the best thing that happened to you in boarding school?
One is exposed to the extremes of every aspect of life, and many stereotypes are broken down through interaction with so many diverse people (ethnic, socio-economic)Here is an exampe of three students who come to mind to explain diversty: 1. Rich kid from NYC worth a couple billion. 2. Kosovo War refugee 3. Super Kid with perfect grades and 3 sport all-american. If they exist, they are hereIn terms of breaking stereotypes, here is reflection of the awards that came out.Most Athletic Student: An Asian Student Valedictorian: An African American Student.
3.) What might you have done differently during your boarding school experience?
Nothing. My year was amazing, and the structure of the school played a big role. As I reflect, with so many friends and caring teachers, it was a defining year in my life, and I look back with fond memories. I do not regret any second of prep school.
4.) What would you never want to change about your school?
The senior quad, and the Pelican mascot.
5.) What things could be improved about your school?
I really think the food could be improved.
6.) Do you have any final words of wisdom for visiting or incoming students to your school?
If you are a PG student coming in, go to Batch if you are academic, but go to Taylor or Warrim if you aren't and want more fun.
Academics:
1.) What did you like best about your school's academics?
First of all, the range of kids at the school is amazing. Though the average intelligence and work ethic is above what i experienced at public school, the ceiling that kids reach is way above. You really find out quickly how smart people are, and where you fall into the scheme of things.In terms of teachers, they are simply amazing. If you need extra help, they will spend as much time as you need with them. It's not like public school where there are set days, with only a certain amount of time. Here, you live with the teachers so they care about you, and they always have time.Lastly, the class sizes are much smaller.
2.) What did you like least about the academics in your school?
Not much. I mean, if you didn't like doing work, that could be a problem, but that's really not an academic issue. In the higher classes, it's competitive, but not in a bad way. One really cool thing is that they take all kids with a 3.0 or above to pizza night when grades come out.
Athletics:
1.) What did you like best about your school's athletics?
The athleticism level is simply amazing. In my public school I was pretty dominant but here, in terms of pure athleticism, i was in the middle of the pack. Athletic dedication has a whole new meaning at this school, and if you play lacrosse, you get to play with Grim, or Jim Wilson, one of the most respected and well-known people in the lacrosse world.In terms of hockey, the amount of ice time was amazing, and the facilities were great. For the first time, I had a permanent locker that you leave your gear in, and it's free top of the line Loomis equipment. In public HS, we had about 50 minutes of ice. Here, practices ranged from 90 to 120 minutes, with a three coaches, and a goalie coach. I was in heaven.Lastly, if you are a lax or soccer player (either sex), this is the school for you. The guy's team has won the Founders league the last two years, and won the New England School championship twice out of the last three years. As for the girls, i don't think they've lost in the past three years. For these sports especially, scholarships to Division 1 schools fly around like nobody's business.
2.) What did you like least about the athletics in your school?
Well, like all private schools, you have to play a sport each season. Though i played sports in the fall and winter, I didn't in the spring, and had to do some joke sport that was boring.
Art, Music, and Theatre:
1.) What did you like best about your school's art program?
They produced some pretty great plays, but I wasn't too involved with that. But I know there was a whole posse of kids who were dedicated to it and worked on their skills a lot with the acting coach.
2.) What did you like least about your school's art program?
I wasn't involved, so i can't comment.
Extracurricular Opportunities:
1.) What did you like most about the extracurricular activities offered at your school?
There is a student group for everything imaginable, from cultural groups to ice fishing clubs. They are real clubs, and have really cool activities throughout the year.
2.) What did you like least about the extracurricular activities offered at your school?
Nothing
Dorm Life:
1.) What was the best thing about dorm life in your school?
It's a great growing up process that gets you ready for college. They slowly get you ready for the college environment that will have no rules. After prep school, moving into a dorm at college was hardly an adjustment.
2.) What did you like least about dorm life?
There're all sorts of restrictions about when you can use the phone, and when you can have girls in there. Stuff like that.
Dining:
1.) What was the best thing about your dining arrangements?
There was all you can eat food. And it was occasionally nice at formal dinners when everyone got dressed up.
2.) What did you like least about your dining arrangements?
I wasn't a huge fan of the food. But then again, when you're making food for 700 people, it can't be homecooking.
Social and Town Life:
1.) How welcome did you feel by the other students when you first arrived at the school
Fitting in was easy, and all the kids are really receptive. All I have to say is get involved with whatever you are passionate about, and you'll make connections easily. Also, you automatically become close with all the kids in your dorm, simply because you spend so much time together.
2.) Describe the level of diversity and integration of students in your school:
In terms of diversity, it is a private school so the student body is mostly white. But as a minority, i didn't feel uncomfortable, and there were more minorities in Loomis than at my public HS.
3.) Describe typical fun activities you did on a weekend:
Well, we have a study break between 9:15 and 10:00 where we can go to other dorms, get food etc... The massive snowball fights between the dorms, with kids running around and others humming them off the balconies were priceless.
4.) What was the town like?
Well, there wasn't much around town. They had some restaurants, and a supermarket etc... If you wanted to see a movie, you basically had to get a ride from someone, which is pretty easy to do.
Daily Schedule:
Weekday
9:00 AM
Wake up, shower , food
1:30 PM
The Prophetic Leaders
2:30 PM
Putz around time till sports
7:30 PM
Studty time till 9:15
9:15 PM
Chill time, get some food at the SNUG
10:00 PM
Work time, to be followed by bed time.
Weekend
10:00 AM
Wake up, eat, get ready for the Varsity game.
Approachable teachers and staff, overwhelming pride in the school from everyone on campus. Close relationship of day students and boarding students. Post graduate students integrated very well into the senior class. . .
The close-knit campus. The fact that the campus was small (or at least the buildings being so close together) made everyone close like a family. It made my transition from my class with a graduation. . .
The location of the school definitely shaped the school dynamic of Loomis. It isn't necessarily isolated but it's formed in a very large location of its own. As a result, Loomis is very secure for. . .
Show more reviews (

27 reviews

)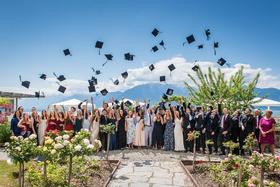 Nurturing Futures: A Journey through Boarding at Haut-Lac School in Switzerland
Nestled in the hills overlooking Lake Geneva in the French-speaking part of Switzerland lies an educational gem that embodies a unique blend of academic excellence, cultural richness and a profound sense of community. Founded over 30 years ago, Haut-Lac International Bilingual Day and Boarding School is now home to both 600 day students and a maximum of 30 boarders from around the world.
What To Wear at Your Job Interview
Navigating job interviews can be stressful, but knowing what to wear shouldn't be. Our comprehensive guide covers the essential dress code tips for men and women interviewing at boarding schools. Make your first impression count with style and professionalism.
Navigating the Modern Maze: Emerging Challenges for Boarding Schools
Explore the pressing challenges facing boarding schools, from marketing difficulties and rising insurance costs to facility maintenance and recruitment of competent trustees and teachers. This article delves into these complex issues and proposes innovative strategies to overcome them.