Reflections and Advice:
1.) What do you think makes your school unique relative to other boarding schools?
I loved going to this school. You really feel connected with the teachers since the class size is around 10-13. The faculty also ends up being your coaches and even your dorm parents. While I attended VVS we had work jobs twice a week to clean up the campus and just keep it functioning well, we didn't have janitors, we took care of the school. The school also has field trips for two weeks out of the school year. The students travel to different places around the world to fully throw themselves into the experience and find the true meaning behind the point of the trip. Also the school has a week of time off from studying to learn a new skills, this week is called Project Period and has many alums coming back to teach their trades to the students. While I was there I took jewelry making, barn restoration, and an outdoor art class. Students are supposed to complete a required amount of hours of volunteer work each semester and have a multitude of things to choose from. Other than this the school has many traditions held out each year ranging from certain games, to fund-raising for the Prom, and even how the juniors take that step to transform themselves into seniors. It's an amazing experience.
2.) What was the best thing that happened to you in boarding school?
My first two years really changed me. I grew up alot. I learned how to manage all the school work I had and spend time with my friends. I found out what really interested me and what things throughout the school year I really looked forward to. I made some of the best friends I have at VVS, and I definitely don't regret many of the things I did in high school.
3.) What might you have done differently during your boarding school experience?
Don't slack off on the school work. It really matters because if your grades start going down someone will notice and then you'll be stuck on extra study times and won't be able to go off campus. So really stick with your work.
4.) What did you like most about your school?
I loved the traditions. The second semester was always my favorite part of school. The people you meet are so different than many you would meet in public school and you can find many similarities between everyone.
5.) Do you have any final words of wisdom for visiting or incoming students to your school?
I loved having my own room so try and get a single room but not your first year. Your first year you need to meet people and not be shut in a room with familiar surroundings. Break out and do something new. Nobody knows you at this new school so don't be afraid to be the REAL you. Gossip goes around like crazy so don't do something crazy. YOU MUST GO SEE....the Thoreau Hut, I'm not sure how much longer it will be there. Ask students from previous years about it. Go see the cave, again ask a person who has already been there, that's part of the tradition. Hike up each mountain, they have amazing views! Try everything! You never know when you'll get to experience something like it again.
Academics:
1.) Describe the academics at your school - what did you like most about it?
The thing I liked the most was that you could always go to your teacher, even outside of class, to ask for extra help and if you were having problems with something. In my physics class we had to make a cardboard boat and race it against other teams and our rival school. My boat won this past year! The teachers always find a way of getting you interested in the topic and will find things to do outside of the classroom to catch your eye.
Athletics:
1.) Describe the athletics at your school - what did you like most about it?
There are so many different sports you can do at VVS. They have the typical sports of basketball and soccer, sadly no football yet. Although if there is enough interest you can always make your own sport group. There is yoga, dance, weight training, tai-chi, and karate for those not as into sports. Since VVS is in such a nice area of Sedona they offer mountain biking, rock climbing, and water rafting. Other sports are tennis, volleyball, running, and some others. For those who are interested in music there is a recording studio on campus and if you join the school's band you get to have practice during sports time. The band is actually quite awesome. This past year we had two guitar players, a bass, a drummer, and the teacher on keyboard. They give great concerts.
Art, Music, and Theatre:
1.) Describe the arts program at your school - what did you like most about it?
The arts department is the most impressive I have seen. Everyone must take an art but there are so many to choose from that you will always have fun. There is the typical art class where you work with paints, charcoal, drawing, and even silk screens. The ceramics class is very fun since you come out of it with lots of pots, teapots, bowls, and so on. The photography class is by far my favorite. There is a dark room on campus that is always open for you to work on your art. The teacher is awesome and actually went to the school back in the day. The band has amazing performances where most of the crowd ends up dancing around. The plays vary from being very moving to musicals with dancing. All are very well put on for the student body and the larger Sedona area.
Extracurricular Opportunities:
1.) Describe the extracurriculars offered at your school - what did you like most about it?
Everyone participates in volunteer work each semester from the Big Brother Big Sister program to working at the Sedona International Film Festival. Both very fun! There are always chances to joins groups and clubs and even make up your own.
Dorm Life:
1.) Describe the dorm life in your school - what did you like most about it?
The dorms are very nice, you get to know the other students in your dorm really well and become, sometimes, friends for life. The type of room you receive varies between which dorm you get put in. Sears is all girls and has suites which are two rooms that share a bathroom and walk-in closet. All the other dorms are mostly rooms that you will have to share and have a bathroom down the hall. Each dorm has common rooms that members of the opposite sex are allowed to hang out in, not in the rooms. Each dorm also has washer/dryers and a refrigerator and microwave.
Dining:
1.) Describe the dining arrangements at your school.
Well no food is like the food from home but it's still good. The dining hall is set up in a buffet style so you can always go back and get more if you want. The desserts are always really good, they'll make birthday cakes for each student and faculty member on their birthdays. You'll soon find out which meals you like and which ones you don't. There is a list of which meals will be served outside the dining hall each week.
Social and Town Life:
1.) Describe the school's town and surrounding area.
On the weekends most people end up going to the movies, maybe Flagstaff, or bowling. The options change each week with the demands of the students. If students ask for more trips to Wal-Mart or somewhere then the faculty on duty that weekend will try and provide more trips. It just depends on what you tell the faculty. You can always go down to the creek and catch some sun.
2.) Describe the social life at your school - what did you like most about it?
Once going to boarding school you will find that you become close with everyone very quickly. Especially in such a small school. You end up eating, going to class with, and living in the dorms with the same people. If you're not a social person others will surely try and bring you out. After a month or so you will know most of the students at school and by the end of the year you will know everyone's name, even if you don't always hang out with them. It's a nice feeling when you know every person and have that group of really close friends.
Daily Schedule:
Weekday
7:45 AM
Morning Meeting in the Chapel
1:00 PM
Classes start again
6:30 PM
Night classes (if you have them)
Weekend
10:00 AM
Brunch-required (check-in)
10:15 PM
Get back from movies
Verde Valley School is a very unique day and boarding school in Sedona, AZ. Throughout my four years, 2 of being a day student and 2 of boarding, I fell in love with VVS and. . .
Verde Valley School, founded in 1948 is located in a secluded valley twelve miles from Sedona, Arizona - so its location is both unique and magnificent. From its inception, Verde Valley has been focused on. . .
Verde Valley School offered me deep academic challenges rooted in student choice and responsibility. The school and EVERYONE in it served to open my eyes to the diversity and possible integration of people and disciplines. . .
Show more reviews (

9 reviews

)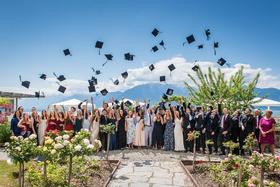 Nurturing Futures: A Journey through Boarding at Haut-Lac School in Switzerland
Nestled in the hills overlooking Lake Geneva in the French-speaking part of Switzerland lies an educational gem that embodies a unique blend of academic excellence, cultural richness and a profound sense of community. Founded over 30 years ago, Haut-Lac International Bilingual Day and Boarding School is now home to both 600 day students and a maximum of 30 boarders from around the world.
What To Wear at Your Job Interview
Navigating job interviews can be stressful, but knowing what to wear shouldn't be. Our comprehensive guide covers the essential dress code tips for men and women interviewing at boarding schools. Make your first impression count with style and professionalism.
Navigating the Modern Maze: Emerging Challenges for Boarding Schools
Explore the pressing challenges facing boarding schools, from marketing difficulties and rising insurance costs to facility maintenance and recruitment of competent trustees and teachers. This article delves into these complex issues and proposes innovative strategies to overcome them.