Verde Valley School - Review #2
About the Author:

College Enrolled
Stanford University
Home Town, State (Country)
Flagstaff, AZ
Years Attended Boarding School
2
Activities During Boarding School
While at VVS I sat on the school's disciplinary committee, helped create the yearbook my senior year, tutored one of my peers weekly in calculus, and was senior class treasurer. I found that VVS provided me with a substantial amount of opportunity to get involved with the institution, and in retrospect, am very glad that they so strongly promoted leadership. Outside of attending VVS, during my high school years, I was a nationally competitive baton twirler. Seeing that I had been a full time athlete and twirling for eight years before attending high school, I had no intentions of giving up my hobby to attend private school. It was wonderful to find that VVS was so understanding as an institution, and could provide me with a great education, as well as a flexible schedule that allowed me to continue attending practice almost daily.
Review

Description

Northern Arizona University

I loved going to this school. You really feel connected with the teachers since the class size is around 10-13. The faculty also ends up being your coaches and even your dorm parents. While I. . .

Stanford University

This school is quite possibly located in one of the most scenic places in the country, and the outdoor activities available to the students of VVS make it an incredible place. . .

School of the Museum of Fine Arts/ Tufts University

The geographical location of VVS is the most obvious aspect that sets it apart from other schools. When I first visited it, all of my mental images of what boarding schools are like were. . .

Reed College

Verde Valley School (VVS) is located in the most stunning setting that one could imagine, nested between the Sedona red rocks, juniper trees, and amazing varieties of cacti. The buildings are simple yet functional in. . .

George Washington University

Verde Valley's focus on a person as a global citizen greatly affected me and has stayed with me through today, both in my college degree and my profession. Through reaching to attain the vision. . .

Show more reviews

(6

reviews)
April 20, 2018
Actually, there is no secret to getting your child into boarding school. Just a lot of hard work and a heavy commitment of time.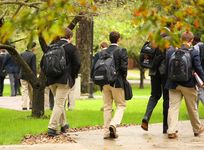 March 22, 2018
Some cynics think single-sex education is old-fashioned. The Kiski School shows how educating boys in a single-sex school is successful.
March 08, 2018
The wide range of fine academic, athletic, and other facilities found in boarding schools underscores the determination of schools to provide the very best for their students.