Reflections and Advice:
1.) What do you think makes your school unique relative to other boarding schools?
Verde Valley specializes in intercultural and international studies. A key aspect of the program are annual field trips to learn first hand about cultures other than one'sown or to study the natural environment. The field trips may be to mexico, to work with indian schools or a multitude of other options. Being able to follow your interests allow you to foster knowledge and skills in virtually any area that interests one. The students run much of the school as a student community. Weekly maintenance crews, landscaping, kitchen work, class room cleaning, admin assistance, all teach responsibility, team work and ownership.
2.) What was the best thing that happened to you in boarding school?
The school saved me from the mediocrity of public education. It allowed me to explore my interests and be creative in ways I never could have in any other environment. If you wanted to explore some endeavor chances are you could find support for your dreams and pursue it. The school made the rest of my life possible and gave my a permanent place to call home and a network of friends for life.It gave me a love of languages and cultures that has served me throughout my international peripatetic career.
3.) What might you have done differently during your boarding school experience?
Don't worry. You'll love it. Don't do anything stupid that will get you kicked out because you'll regret it the rest of your life.
4.) What did you like most about your school?
Everything. The physical environment, the people, the culture, the focus.
5.) Do you have any final words of wisdom for visiting or incoming students to your school?
Enjoy. Climb all the mountains and swim in the creek.
Academics:
1.) Describe the academics at your school - what did you like most about it?
The best part of academics at VVS was the small class size. Everyone participated. It wasn't possible to be ignored or to not be part of the class. The teachers were always there and available. The classes often interacted, one with the other and the classes in sociology, and anthropology were intriguing. The emphasis on gaining proficiency in a foreign language has served me throughout my life.
Athletics:
1.) Describe the athletics at your school - what did you like most about it?
The emphasis was on enjoying sports. Soccer was the main event but basketball, horseback riding, trampoline, hiking, track and climbing were all available and actively participated in.
Art, Music, and Theatre:
1.) Describe the arts program at your school - what did you like most about it?
The school's theatre is beautiful. The students produced many events ranging from plays, dance, music and presentations by invited speakers on many subjects. I enjoyed and still vividly recall many of the films we saw in the weekly evening art cinema showings. The various films of Igmar Bergman and Satyajit Ray still reverberate in my mind.
Extracurricular Opportunities:
1.) Describe the extracurriculars offered at your school - what did you like most about it?
The student government was great. We had weekly student body meetings run by the students to discuss issues. We ran the meetings according to Roberts Rules of Order. The meetings were substantive and real. Volunteer opportunities off campus existed mostly during project period or field trips and ranged from working in Indian schools to homeless shelters or migrant field laborers assistance.
Dorm Life:
1.) Describe the dorm life in your school - what did you like most about it?
The dorms were relaxed with private or shared rooms. Each dorm has a faculty house attached to the dorm for supervision. The dorms were located in different parts of the campus with the seniors having their own dorms and the underclass students there own. The rooms were of adequate size and comfortable. I never had any complaints except that you could hear your neighbors bit too well at times.
Dining:
1.) Describe the dining arrangements at your school.
We had one common dinning hall for all students. The students took turns working as table waiters, dish washers, and kitchen assistants; usually two weeks per semester. The food was good and in adequate supply. Breakfast was buffet and lunch and dinner informal sitdown. The view of cathedral mountain from the dinning hall was awesome.
Social and Town Life:
1.) Describe the school's town and surrounding area.
The surrounding area has changed a lot since I was there. It is much more developed. But Sedona is still beautiful. The surrounding mountains and environment is the most beautiful in the world. Weekly trips into town were available for whatever needs one might have but I preferred to explore the mountains and photograph the hills to trips into town.
2.) Describe the social life at your school - what did you like most about it?
The best description of the social life is that it is like having 120 brothers and sisters. You will make friends you will have for life. It is a community of friends.
Daily Schedule:
Weekday
3:30 PM
Sports or work projects
Weekend
9:00 AM
Climb a mountain, run to the creek, work in the photo lab
1:00 PM
work on lapidary or silver project. read, study
7:00 PM
optional evening program
Verde Valley School is a very unique day and boarding school in Sedona, AZ. Throughout my four years, 2 of being a day student and 2 of boarding, I fell in love with VVS and. . .
Verde Valley School, founded in 1948 is located in a secluded valley twelve miles from Sedona, Arizona - so its location is both unique and magnificent. From its inception, Verde Valley has been focused on. . .
Verde Valley School offered me deep academic challenges rooted in student choice and responsibility. The school and EVERYONE in it served to open my eyes to the diversity and possible integration of people and disciplines. . .
Show more reviews (

9 reviews

)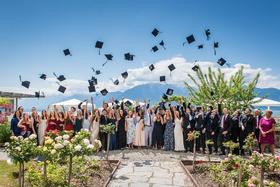 Nurturing Futures: A Journey through Boarding at Haut-Lac School in Switzerland
Nestled in the hills overlooking Lake Geneva in the French-speaking part of Switzerland lies an educational gem that embodies a unique blend of academic excellence, cultural richness and a profound sense of community. Founded over 30 years ago, Haut-Lac International Bilingual Day and Boarding School is now home to both 600 day students and a maximum of 30 boarders from around the world.
What To Wear at Your Job Interview
Navigating job interviews can be stressful, but knowing what to wear shouldn't be. Our comprehensive guide covers the essential dress code tips for men and women interviewing at boarding schools. Make your first impression count with style and professionalism.
Navigating the Modern Maze: Emerging Challenges for Boarding Schools
Explore the pressing challenges facing boarding schools, from marketing difficulties and rising insurance costs to facility maintenance and recruitment of competent trustees and teachers. This article delves into these complex issues and proposes innovative strategies to overcome them.