Reflections and Advice:
1.) What do you think makes your school unique relative to other boarding schools?
The relationships you develop with the faculty members at Middlesex are simply amazing. It seems like every faculty member knows who you are and always cares about how you're doing--it doesn't matter whether its Tom Kane, the head of the drama department, or Joe Lang, the athletic director--everyone cares. Furthermore, students are able to develop outstanding relationships with faculty members through sports, dorms, and other extracurricular activities. I personally feel like I made almost as many friends among the faculty members as I did among my peers. The faculty are all at Middlesex because they want to be working with kids, and developing relationships with them on many levels. The teachers, however, are not only good people, but they're also excellent teachers who really know what they're doing in the classroom.
2.) What was the best thing that happened to you in boarding school?
Without a doubt, the relationships at Middlesex are the key to your experience. Whether it's blossoming friendships with teachers, or your buddies in your class, you are guaranteed to walk away with a number of people who you will remember and stay in touch with forever. In all these relationships, people encourage you to grow as a person and develop who you really are.
3.) What might you have done differently during your boarding school experience?
If I could go through my first couple of months at Middlesex again, I would have spent more time getting to know people from outside my dorm and my classes. There are a lot of people who I met later on in my Middlesex career who I wished I had met earlier on.
4.) What did you like most about your school?
The people. Virtually everyone is friendly, and fun to interact with. I enjoyed my experience so much that I have considered becoming a teacher just because of some of the teachers I had at Middlesex.
5.) Do you have any final words of wisdom for visiting or incoming students to your school?
The facilities at Middlesex are great, as they are at all schools, but when you visit Middlesex, make sure you look at students and how they interact with each other and the faculty members on campus.And make sure you take a class with Doc Freiberger and give him a hard time about how bad the Giants are.
Academics:
1.) Describe the academics at your school - what did you like most about it?
As I said before, the teachers are all excellent. It seems like every class is engaging and interesting--the small class sizes ensure that everyone is involved. The small class sizes also allow teachers to make sure that every student stays on track. If you have a number of papers due at the same time, or big tests, it is very easy to simply go and talk to the teacher and work something out. In this respect the teachers are very forgiving; they do, however, hold students to a very high standard of work.The writing program is a great strength of the Middlesex experience. Every sophomore must take a class called "Writing Workshop" in which he/she gets instruction on paragraph structure and techniques, and also grammar and elements of style. At the end of the class, each student must pass a test to graduate from the class. If he does not, he is forced to return to the program until he passes the test. The writing doesn't stop there, however. Students write papers in many classes, not just English. Sometimes the number of papers written can be overwhelming, but I assure you that you will become a better writer than you were when you entered Middlesex. I personally attribute much, if not all, of my writing skills to my teachers at Middlesex.
Athletics:
1.) Describe the athletics at your school - what did you like most about it?
There are some people at Middlesex who don't like the athletic requirement (freshmen and sophomores are required to play 3 sports a year, juniors 2, and seniors 1), but I am a big fan of it. I think that having every student play a sport allows them to connect with other students, stay active, and participate in competitive athletics. I picked up lacrosse as a sophomore, and even though I wasn't the best player, I still enjoyed playing the sport all the way through to my senior year.The coaches at Middlesex, like the teachers, are excellent. Most of them are, in fact, faculty members, so sports are another excellent way to connect with your mentors from the classroom. Once again, the coaches are not simply good athletes, but also good people, who understand the difficult times that high-schoolers sometimes have. The programs are also always competitive in virtually every sport because of the level of coaching at Middlesex.
Art, Music, and Theatre:
1.) Describe the arts program at your school - what did you like most about it?
In my mind, the best part of the arts department was the amount of student participation and the availabilities to participate. It is easy for every student to take music lessons, or try out for the play, or just go down to the studio and paint. The "Elements of Style" classes, mandatory introductory classes in music, theatre, drawing, and art history, allow students to explore areas of the arts that they might not have before.For me, one of the great pleasures of my senior year was carving my plaque (every student is required to carve a wooden plaque to be hung in the school as a graduation requirement). I am not particularly gifted as an artist, but I truly enjoyed going to the plaque room on a weekly basis and working on my plaque. To me it symbolized a way for me to leave my mark on the school for generations to come, and a way to connect my personal life to Middlesex.
Extracurricular Opportunities:
1.) Describe the extracurriculars offered at your school - what did you like most about it?
There are a ton of extra-curricular options at Middlesex. People are always excited to share some part of their lives with others at school, whether it's the sewing club or Asian society. With this many clubs, it's easy to stay active and find some way to enjoy things other than homework or video games. For me, the climbing club served as a good excuse to take people out and show them the nuances of rock climbing. While there aren't a ton of great rock climbing locations around Concord, my friends and I still found places to go climbing in Estabrook Woods, one of the great resources of the school.
Dorm Life:
1.) Describe the dorm life in your school - what did you like most about it?
The dorms at Middlesex are really cohesive. In your time at Middlesex, you certainly will get to know your dorm-mates very well and will become friends with a large number of them. The dorms are very small (25 kids) so it is easy to know and bond with everyone in the dorm, whether they are a freshman or a senior. Kids in dorms bond over sports games on tv, movies, practical jokes, or just hanging out in rooms. The faculty who are on duty in the dorms are also very friendly people. Many of them enjoy watching sporting events with students, or just sitting in the common room and chatting with the kids when they come to check in. The dorms are yet another excellent way for students to develop relationships with their teachers.
Dining:
1.) Describe the dining arrangements at your school.
To be quite honest, the food at Middlesex is not superb, but there is certainly always something to eat. The salad bar is open at all meals; there is a deli bar, a pasta bar, two soups of the day, and a full complement of cereals and ice cream. Students at Middlesex do have to try pretty hard to go hungry. The cooked meals actually can be pretty good too.The small size of the school ensures that whenever you go to the dining hall, you'll know someone there and be able to strike up a conversation over a meal. Kids often stay long after they've finished eating, just talking with their friends who they might not get to see as much otherwise.
Social and Town Life:
1.) Describe the school's town and surrounding area.
The school runs a shuttle to the town of Concord every day. The town of Concord is a pretty thriving place, with plenty of restaurants, ice cream shops and other places to visit. If you're ever around for a tour, a stop at Sorrento's Pizza or Bedford Farms ice cream is an excellent detour--I have eaten many meals there with my parents and friends.
2.) Describe the social life at your school - what did you like most about it?
At Middlesex, kids are kids, and are willing to have fun. Students spend a ton of time on the circle in the warm months, playing wiffle ball or frisbie or just hanging out and doing homework. Some of my favorite memories from Middlesex come from the times that I spent on the circle participating in various activities.
Daily Schedule:
Weekday
8:00 AM
First Class (40 minutes)
9:30 AM
Break/Senate/Chapel
10:00 AM
Class (until 12:15)
1:00 PM
Class (until 2:30)
Weekend
1:00 PM
Watch sports/start homework
3:00 PM
Play wiffle ball on circle
9:30 PM
Study Hours end/go to the Grill
10:30 PM
Check in at dorm/finish homework
Middlesex is probably the boarding school that is far ahead in terms of student body diversity, and I mean that in a very good way. Between geographical and socioeconomic diversity, you really learn a ton. . .
Great level of focus on developing clear and cohesive writing skills. Write countless essays and spend time working on the technicalities that improve your ability. Great long-standing traditions. We have a beautiful circle that allows. . .
The entire experience was not only unique, it was life changing! It opened my eyes and mind up to world I wasn't familiar with. I was able to meet, connect and bond with students from. . .
Show more reviews (

26 reviews

)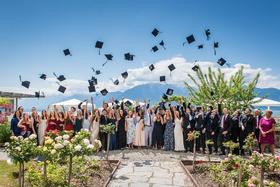 Nurturing Futures: A Journey through Boarding at Haut-Lac School in Switzerland
Nestled in the hills overlooking Lake Geneva in the French-speaking part of Switzerland lies an educational gem that embodies a unique blend of academic excellence, cultural richness and a profound sense of community. Founded over 30 years ago, Haut-Lac International Bilingual Day and Boarding School is now home to both 600 day students and a maximum of 30 boarders from around the world.
What To Wear at Your Job Interview
Navigating job interviews can be stressful, but knowing what to wear shouldn't be. Our comprehensive guide covers the essential dress code tips for men and women interviewing at boarding schools. Make your first impression count with style and professionalism.
Navigating the Modern Maze: Emerging Challenges for Boarding Schools
Explore the pressing challenges facing boarding schools, from marketing difficulties and rising insurance costs to facility maintenance and recruitment of competent trustees and teachers. This article delves into these complex issues and proposes innovative strategies to overcome them.