St. Andrew's-Sewanee School - Review #4
About the Author:

College Enrolled
Earlham College
Home Town, State (Country)
Nashville, TN, TN
Years Attended Boarding School
3
Activities During Boarding School
I played volleyball (captain 2 years), was active in student government, participated in PeaceJam, worked with admissions as a Blue and Gold Guide, was a Big Sister for middle school students, was a proctor, and was the school mascot.
Daily Schedule:
Weekday
| | |
| --- | --- |
| 8:00 AM | Chapel, Eucharist service |
| 9:00 AM | Class |
| 12:00 AM | Lunch, which could be 30 min or 2 hours depending on your schedule |
| 1:00 PM | Class |
| 3:00 PM | Volleyball |
| 6:00 PM | Dinner |
| 7:00 PM | Hanging out at the dorm or in the union |
| 8:00 PM | Study hours in the dorm |
| 10:00 PM | Study hours over |
| 11:00 PM | Lights out, but not really |
Weekend
| | |
| --- | --- |
| 11:30 AM | Brunch opens |
| 1:00 PM | Hanging out, maybe going to Sewanee, to Piney Point, to the res |
| 6:00 PM | Dinner |
| 7:00 PM | Cooking in the Union, frisbee on the quad, hanging out in Sewanee... |
| 10:00 PM | Bonfire |
| 12:00 PM | Dorm check in |
Review

Description

Tulane University

While at Sewanee, I spent the majority of my free time hiking with my friends, planning new community service opportunities with my peers, and getting to know myself. This school is like no other in. . .

The University of North Carolina at Chapel Hill

I was a four-year boarding student at SAS and I can't easily express how grateful I am for what I learned and how much I grew during my time there. I will certainly say that. . .

Davidson College

1)Each student has individual attention with their teachers and guidance counselors and 2)The weekends always full of activities 1)The St. Andrew's-Sewanee School community was like a big family. I came from a high school in. . .

Earlham College

SAS is unique in many ways through its history, location, student body, and academic structure. The things that stand out in my mind are the diversity of the students and the closeness of the community. . .

Schreiner University

There are several things that make St. Andrews unique. The classes are small and we hold regular discussions (which I found to be a wonderful way to learn). Teachers and students develop good relationships because. . .

Show more reviews

(0

reviews)
April 20, 2018
Actually, there is no secret to getting your child into boarding school. Just a lot of hard work and a heavy commitment of time.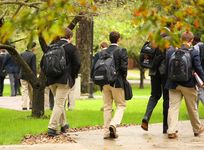 March 22, 2018
Some cynics think single-sex education is old-fashioned. The Kiski School shows how educating boys in a single-sex school is successful.
March 08, 2018
The wide range of fine academic, athletic, and other facilities found in boarding schools underscores the determination of schools to provide the very best for their students.