Reflections and Advice:
1.) What do you think makes your school unique relative to other boarding schools?
SAS is unique in many ways through its history, location, student body, and academic structure. The things that stand out in my mind are the diversity of the students and the closeness of the community.
2.) What was the best thing that happened to you in boarding school?
I was able to take on a number of leadership positions that have been extremely beneficial to me. I made some great friends there and was exposed to things that opened my eyes more to the wider world, and SAS was very accommodating of my decision to go abroad for a semester. The senior year activities, focused on a sense of place, have also really stuck with me and influenced thoughts and decisions of where I am and where I'm going. Those activities, along with the creedal statement, helped me understand myself better and have helped me make decisions that I have been very happy with.
3.) What might you have done differently during your boarding school experience?
I wish I had been more confident and open minded. There were lots of opportunities that I didn't take advantage of because I didn't know much about them or had no experience, but that was really a great place to try new things because there was generally a lot of support.
4.) What did you like most about your school?
I liked the people and the community. I had great relationships with teachers and advisors and appreciated being in a place that was different from traditional schools.
5.) Do you have any final words of wisdom for visiting or incoming students to your school?
I would advise doing a lot. Piney Point is a great hiking destination, and nearby Fiery Gizzard is one of the best trails ever. Take ceramics.
Academics:
1.) Describe the academics at your school - what did you like most about it?
SAS has a lot of really great teachers that were very available, so there was a lot of personal attention. There were a lot of hands-on projects and connections to things outside the classroom, from making sparklers in chemistry class to working on a documentary of the Highlander Folk School for a civil rights elective. I felt challenged and engaged most of the time. Classes are on a block schedule, so most meet for an hour and a half at a time which allows for much more flexibility of activities.
Athletics:
1.) Describe the athletics at your school - what did you like most about it?
I loved that it was so open and everyone was encouraged to be involved. I don't think I would have been seriously involved in athletics at a bigger or more competitive school, but I was able to not only participate but actually become captain of the volleyball team which I really enjoyed. There is a lot of support for all of the sports teams from the whole community, and though the school is small some teams are really successful, which is exciting for everyone.
Art, Music, and Theatre:
1.) Describe the arts program at your school - what did you like most about it?
I was only involved in visual arts which was one of the best parts of SAS. The art program is really amazing. I was consistently impressed with the quality of work that students produced. The teachers are phenomenal, they are engaged and very enthusiastic. A few of the teachers there were artists that did professional work, which I thought was really cool, and there was so much personal attention and assistance. The facilities were also really top notch, especially the ceramics studio. I didn't participate in music or theatre really, but was always really impressed by what the other students were doing. I actually think that in all aspects of the artistic program SAS surpasses my college.
Extracurricular Opportunities:
1.) Describe the extracurriculars offered at your school - what did you like most about it?
There were a lot of great student organizations on campus that were open to everyone and that I enjoyed. The location of the school also offers incredible opportunities for outdoor recreation of all types that I wish I had taken more advantage of. The school is small enough that if there is interest for an activity it's not hard to find a faculty member to sponsor or support you.
Dorm Life:
1.) Describe the dorm life in your school - what did you like most about it?
There was great dorm camaraderie most semesters.
Dining:
1.) Describe the dining arrangements at your school.
I don't remember the food being anything special, but there were always options. The people who worked in the cafeteria were great and were connected to the students. Meals were always really fun, a good social break in the day. There was no assigned seating and I liked the freedom and openness of the meal set up.
Social and Town Life:
1.) Describe the school's town and surrounding area.
There's not much of it, but Sewanee is open and walkable, which is nice, and there are some fun places to hang out. There is really great hiking all around, and the school has access to a reservoir with a dock which was really sweet, and every weekend there were opportunities to go to larger cities to see a movie or have dinner.
2.) Describe the social life at your school - what did you like most about it?
I liked the diversity of students and kind of being forced to interact with everyone around you. It was great to become friends with people from very different backgrounds and life situations, and the school and boarding population especially is small enough that there is some social cohesion throughout the community.
Daily Schedule:
Weekday
8:00 AM
Chapel, Eucharist service
12:00 AM
Lunch, which could be 30 min or 2 hours depending on your schedule
7:00 PM
Hanging out at the dorm or in the union
8:00 PM
Study hours in the dorm
11:00 PM
Lights out, but not really
Weekend
1:00 PM
Hanging out, maybe going to Sewanee, to Piney Point, to the res
7:00 PM
Cooking in the Union, frisbee on the quad, hanging out in Sewanee...
A school's culture is one of the most important feature of a learning environment and SAS's culture is kind, supportive, and encouraging. It's small enough to be personal and yet has enough space to create. . .
While at Sewanee, I spent the majority of my free time hiking with my friends, planning new community service opportunities with my peers, and getting to know myself. This school is like no other in. . .
I was a four-year boarding student at SAS and I can't easily express how grateful I am for what I learned and how much I grew during my time there. I will certainly say that. . .
Show more reviews (

3 reviews

)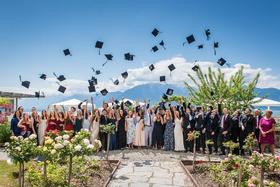 Nurturing Futures: A Journey through Boarding at Haut-Lac School in Switzerland
Nestled in the hills overlooking Lake Geneva in the French-speaking part of Switzerland lies an educational gem that embodies a unique blend of academic excellence, cultural richness and a profound sense of community. Founded over 30 years ago, Haut-Lac International Bilingual Day and Boarding School is now home to both 600 day students and a maximum of 30 boarders from around the world.
What To Wear at Your Job Interview
Navigating job interviews can be stressful, but knowing what to wear shouldn't be. Our comprehensive guide covers the essential dress code tips for men and women interviewing at boarding schools. Make your first impression count with style and professionalism.
Navigating the Modern Maze: Emerging Challenges for Boarding Schools
Explore the pressing challenges facing boarding schools, from marketing difficulties and rising insurance costs to facility maintenance and recruitment of competent trustees and teachers. This article delves into these complex issues and proposes innovative strategies to overcome them.