Reflections and Advice:
1.) What do you think makes your school unique relative to other boarding schools?
One truly unique aspect of Thacher is the horse program. Every freshman is required to take care of a horse for an entire year. From mucking stalls to riding through barrels, students learn the art of horseback riding and general care for an animal. Through this process, these students gain experience in leadership and responsibility. The other unique Thacher program is the outdoor program. Twice a year, students are required to go camping. Trips range from backpacking in Yosemite to horse-packing through the Sespe. Ambitious campers can earn their B and A campers, allowing them to take trips solo! Ultimately, the camping trips provide an atmosphere where students can bond and enjoy each others company, creating a tighter community back on Thacher's campus.
2.) What was the best thing that happened to you in boarding school?
Simply put, The Thacher School, I feel, made me a well-rounded kid. When I first arrived in Ojai, I was a nervous and shy individual who was beyond scared about being away from home, taking care of a horse, and meeting new people. However, over my four years of boarding school, I managed to gain insight into areas I would never have considered. The school allowed me to experience a wide breadth of classes and extra-curriculars, meet fantastic friends, and try new things. Quite frankly, I wouldn't change it for any other place!
3.) What might you have done differently during your boarding school experience?
As mentioned, when I came to The Thacher School, I was a very introverted individual. I constantly hesitated to join clubs, try new sports, and meet new people. Fortunately, the close-knit environment provided by Thacher forced involvement upon me; however, if I were to go through high school again, I would certainly get more involved faster than I did. The four years go by far quicker than I ever expected, so should I enroll in Thacher again, I would make the most of it immediately!
4.) What did you like most about your school?
The thing I liked most about Thacher was the people. Ultimately, the Thacher community is unlike any other. Because it's so small, the entire place is united at sports games, formal dinners, school plays, and even in the dorms. Friends become brothers and sisters, teachers fill in for parents, and together, the entire school becomes your family. Ultimately, the group of people I met at Thacher can never be replaced, and I cherish them as my closest friends.
5.) Do you have any final words of wisdom for visiting or incoming students to your school?
I suppose the easiest way to do this would be a list, so here goes:1. Make waffles and smoothies every weekend. Multiple times. 2. Lead a camping trip. Signing up for the standard outdoor programs is great, but when you lead a trip, you can control who you go with, where you go, and most importantly, how well you eat! 3. Get that silver dollar. I never did, and boy, do I regret it. (For those who don't know, the silver dollar is the ultimate feat performed on a horse, wherein a student, at a full gallop, leans off his horse and picks up a silver dollar from the ground. It's sweet.) 4. Eat as many cookies at the Mully's as is humanly possible. Cause they are SO good. 5. Lastly, as mentioned, get involved. Like camping? Get your Wilderness First Aid. Like acting? Star in the musical. Like sports? Earn that tri-varsity. Whatever it is, you can do it at Thacher.
Academics:
1.) Describe the academics at your school - what did you like most about it?
The academics at Thacher were simply stellar. There was a wide range of classes available, but more importantly, every teacher was dedicated to their profession. I never had a class where I'd zone out simply because the teachers were so engaging. Furthermore, since classes were small (usually less than 20 per class), the classroom was open for constructive discussion, whether about Nobunaga's reign of feudal Japan or Shakespeare's use of soliloquys in Macbeth. Regardless, the workload was always manageable, students helped each other succeed, and most importantly, classes were fun.
Athletics:
1.) Describe the athletics at your school - what did you like most about it?
Mandatory participation ensured students got their fair share of athletics. Personally, I loved it. There was a wide range of sports available (I played lacrosse and soccer and ran cross-country), as well as different levels of competitiveness. By no means was Thacher an athletic powerhouse, but regardless of our teams' strength, we always had a large turnout for our games. In fact, I cannot remember a single game where the bleachers weren't full! The facilities were great, and the coaches were even better. Sports brought Thacher students together outside of the classroom, and for me, they were an integral part of my high school career.
Art, Music, and Theatre:
1.) Describe the arts program at your school - what did you like most about it?
Despite my involvement in athletics, I managed to get quite involved in the arts as well. Every freshman takes 4 art classes, namely music, acting, and 2-D and 3-D visual arts. Afterwards, students can take classes such as chorus, advanced acting, or clay throwing. Over my four years, I personally was involved with the school's jazz band, the chorus, two plays, and the school musical. Despite the school's small size, the teachers were dedicated and well versed in their arts, and just as with athletics, if you wanted to be involved, you certainly could be.
Extracurricular Opportunities:
1.) Describe the extracurriculars offered at your school - what did you like most about it?
Aside from athletics and the arts, a large extra-curricular was community service. Students could easily sign up for a wide variety of programs, ranging from tutoring preschoolers to assisting at a retirement home. They could do as much or as little as desired; some students helped once a month, others on a day-to-day basis. As for student organizations, there was a wide variety of clubs on campus. Clubs organized trips to the beach (Surf Club), weekend backpacking trips (Camping Club), and regular cooking classes (Cooking Club). And if your interests weren't already catered to, you could always start your own club!
Dorm Life:
1.) Describe the dorm life in your school - what did you like most about it?
Dorm life was the best part of school. The dorms themselves were quite nice (I can say this because my dorm at college is far worse!), but more importantly, the dorms were a great place to be. They provided a place to hang out, watch movies, throw a frisbee, and generally relax with your friends. As a senior, you have the option to be a prefect, and as freshmen head prefect, I ensured that Lower School ran smoothly. But looking back, freshmen year, we all played pick-up lacrosse games near our dorm, and afterwards, had a cookout of burgers and hot-dogs. Sophomore year, our dorm head (the teacher in charge of the dorm) would provide us with cereal every single night. Junior year, we used to enjoy watching movies on the big screen TV. Regardless, dorm life was the best, regardless of your year.
Dining:
1.) Describe the dining arrangements at your school.
Food was fantastic. Four nights a week we had formal dinner, where all students would dress up for a meal with the faculty. It was a great way to meet other students, as well as bond with the teachers outside of a classroom setting. The cafeteria was always running smoothly, and it always produced great meals. Best of all was the weekend brunch, when students could make waffles, smoothies, or ask for steaks made to order. Again, coming from a college perspective, the food was far better than here!
Social and Town Life:
1.) Describe the school's town and surrounding area.
Ojai is a lovely little town in Southern California. Put simply, it's beautiful. Though it is quite small, there's a fair amount to do in town. Students usually go in for groceries, but for movies and food, most go to Ventura (about 20-30 minutes from Ojai). There were often buses to Ventura on the weekend, but otherwise, students usually found enough to do on campus.
2.) Describe the social life at your school - what did you like most about it?
The social life at Thacher was not that of a typical high school. Because Thacher was a co-ed boarding school, students were around each other in class, on the sports field, on the stage, at dinner, and during study hall. This provided ample time to do more than be friends; we became family. I truly feel that because students did everything together, from camping in the Sespe to traveling to sports tournaments, extremely strong bonds were formed among the student body, and all of us became best friends with each other.
Daily Schedule:
Weekday
6:00 AM
As a freshman, from 6 to 7, I mucked and fed my horse.
7:00 AM
From 7 to 8, I ate breakfast.
8:00 AM
8 to 10:30 was filled with classes.
10:30 AM
10:30 to 11 was assembly, where the whole school turned up for announcements.
10:00 AM
From 11 to 11:45, I ate lunch.
11:45 AM
Then from 11:45 to 3, I had more classes.
3:00 PM
3 to 5 was sports time, and afterwards, we frantically fed our horses and got ready for formal dinner.
6:00 PM
6 to 6:45 was formal dinner.
7:30 PM
7:30 to 9:30 was study hall, where we got our homework done.
9:30 PM
9:30 to 10 was spent relaxing, and by 10:15 we were in bed.
Weekend
8:00 AM
By 9 on the weekends, our horses were mucked and fed.
9:00 AM
Brunch usually took the better part of the morning.
1:00 PM
Sports games were typically played on the weekends, and we typically stayed for both varsity and jv games.
5:00 PM
An early dinner meant we could make the evening festivities.
6:00 PM
Weekend activities usually included trips to the movies, school dances, or massive capture-the-flag games.
11:00 PM
Check-in was at 11, as opposed to 10 on the weekdays.
The tight knit community is a really rare quality at high schools in general but especially boarding schools. The relationships with teachers and students is so close and the fact that there is very few. . .
The horse department at Thacher is both unique and outstanding. Unique because the school strives to keep the cowboy culture alive with over 100 horses and a fully outfitted western riding center. It is outstanding. . .
Thacher's community on campus is unlike any other, connections at the school go beyond merely knowing every student's name but having had interacted closely with everyone whether on a camping trip, in the dining hall. . .
Show more reviews (

23 reviews

)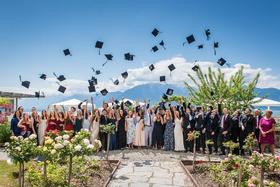 Nurturing Futures: A Journey through Boarding at Haut-Lac School in Switzerland
Nestled in the hills overlooking Lake Geneva in the French-speaking part of Switzerland lies an educational gem that embodies a unique blend of academic excellence, cultural richness and a profound sense of community. Founded over 30 years ago, Haut-Lac International Bilingual Day and Boarding School is now home to both 600 day students and a maximum of 30 boarders from around the world.
Navigating the Modern Maze: Emerging Challenges for Boarding Schools
Explore the pressing challenges facing boarding schools, from marketing difficulties and rising insurance costs to facility maintenance and recruitment of competent trustees and teachers. This article delves into these complex issues and proposes innovative strategies to overcome them.
What To Wear at Your Job Interview
Navigating job interviews can be stressful, but knowing what to wear shouldn't be. Our comprehensive guide covers the essential dress code tips for men and women interviewing at boarding schools. Make your first impression count with style and professionalism.