Reflections and Advice:
1.) What do you think makes your school unique relative to other boarding schools?
Westover has many traditions that make it unique from other boarding schools. The most defining being the West and Over spirit teams. As a new student, you are chosen to be on either the West or Over team. You remain a member of the a team until your senior year, when you considered a senior instead of a West or Over. The only difference between the Wests and Overs is that the Wests are green and the Overs are red. Being a member of these teams encourages new friendships and helps immediately establish new students as part of the Westover community.
2.) What was the best thing that happened to you in boarding school?
My friends were the absolute best thing that happened to me at Westover. They are lifelong friends and helped me grow into the young woman I am today. There is not a day that goes by that I don't think about them. Westover gave me the confidence to speak up for what I believe in and to challenge myself. I am not afraid to speak up in class or to ask questions. Westover taught me that there is more than one way to look at things.
3.) What might you have done differently during your boarding school experience?
I wouldn't have packed so much!
4.) What did you like most about your school?
Everything. I loved Westover. I very proud to be a Westover girl and to have had the opportunity to have a truly irreplaceable high school experience with a talented group of young women and dedicated and talented faculty and staff.
5.) Do you have any final words of wisdom for visiting or incoming students to your school?
Don't be afraid to try new things and ask for help if you need it!
Academics:
1.) Describe the academics at your school - what did you like most about it?
Because Westover is a small school, classroom discussions were a large part of academics. Westover students are encouraged to interact with one another and with the teachers. I felt comfortable asking questions in class and enjoyed receiving and giving help to fellow classmates. The active classroom setting helped me get through the rigorous academic schedule. It also promotes a non-competitive environment. I enjoyed watching others succeed and was awarded for my own successes. I also loved the choices of subjects I could choose from and the various levels at which courses were offered. As a junior and senior, the opportunity arises to take electives, specific term-long courses. Some of my favorites were Boom and Bust, a History elective about the 1920s and 1930s and an Art History Elective about Women in Art.
Athletics:
1.) Describe the athletics at your school - what did you like most about it?
My first year at Westover I was a member of the Dance Ensemble. I was exposed to various dance forms such as ballet, modern, tap, and hip-hop. All the dance classes accommodated dancers at various levels. The Dance Ensemble performs about six times a year. My sophomore year I decided to play sports. I was welcomed at Sports Camp to play soccer having never played. I learned how to play lacrosse at Westover as well. I really appreciated that I could be a part of a team without much prior experience. Westover is a great place to pick up sports or to continue playing.
Art, Music, and Theatre:
1.) Describe the arts program at your school - what did you like most about it?
One of my favorite things about my time at Westover was being in the Glee Club. It was my first time being a part of a large choral group. For those that love to sing, I definitely recommend trying out. The Glee Club meets three times a week and preforms about 8 times throughout the school year. The Glee Club also takes international tours. I had the opportunity to sing in Italy, Germany, and France. Singing in old Gothic Cathedrals and for international students overseas are memories that I will never forget. The Glee Club Director, Mr. Havery, taught me how to sing in harmony and gave me the opportunity to develop and grow as a singer. He is a wonderful director and has been teaching girls how to sing for many years.
Extracurricular Opportunities:
1.) Describe the extracurriculars offered at your school - what did you like most about it?
There are so many clubs and groups to join at Westover. I had trouble deciding which ones I wanted to join because I didn't have enough time to be on all the ones I wanted! My favorite extra-curricular activity was SINS (Sisters In Step). As a member of SINS we learned new step dances and preformed about 3 times a year. I was also a member of Chanterelle, an a cappella group as well as WALSA (Westover's African American and Latina Student Association). I also had the opportunity to do community service at the local soup kitchen. There really is something for everyone. Some other popular clubs are the Environment Action Committee and Amnesty International. Students are encouraged to start new groups.
Dorm Life:
1.) Describe the dorm life in your school - what did you like most about it?
I was a boarder and I absolutely loved it. I had the best of both worlds, I could be on campus in the dorms with the other boarders during the week, and then on the weekends I could go home or go stay at a day student's house. I felt very at home at Westover and loved living with my friends. The rooms are nice and big with big closets. I never felt like I didn't have enough space. The dorm parents are helpful and easy to talk to. I became very close with all of them through living on corridor. They are really great about making you feel at home. Every night after study hall, the dorm parents open their apartments and you can go in and watch TV and have a late night snack. As a day student you have a room on corridor right alongside the borders. About 7 day students will share a room where there are lockers and couches. It was great having all of us on the same hallway. There is no separation between the boarders and the day students. The day students are welcome to sleep over anytime, especially in the winter time when the weather is bad.
Dining:
1.) Describe the dining arrangements at your school.
The Westover dining services are superb. The kitchen staff is friendly and always prepared great food. When guests from other schools came to dinner they always remark on how delicious the food was. There are certain things that are always out for each meal and then there are dishes that change everyday. There is always a baked good in the morning as well as eggs, bagels, toast, fruit, sausage or bacon, and cereal. We have a morning break at 10 am and there is snack for us. And, there is always soup, rice, PB and J, salad bar, fruit and cold cuts at lunch and dinner.
Social and Town Life:
1.) Describe the school's town and surrounding area.
Middlebury is a small town, but there are a couple of restaurants within walking distances. Many of my friends lived nearby so I would go and hang out at their houses.
2.) Describe the social life at your school - what did you like most about it?
There are social events every weekend. Westover and surrounding boarding schools take turns hosting an event every Saturday night, whether it be a carnival, dance, casino night, movie night, or hypnotist! Sometimes trips to malls are organized for a Saturday or Sunday afternoon or trips to an amusement park. It was nice to have the opportunity to get off campus. I met some good friends through attending social events on the weekend.
Daily Schedule:
Weekday
Weekend
12:00 AM
Leave for an away game
4:00 PM
Come home from game
The Westover School provided me with an educational experience that has lasted a lifetime. My roommate from Westover is still my friend. The professors and staff are top educators and the school makes for being. . .
Westover School is unique because of its community. No other school I have visited or heard of has the atmosphere Westover has. Each of the students have unbreakable bonds with each other and the faculty;. . .
What stands out above all else is the quality of teaching at Westover. The faculty are passionate about their subjects, and inspire this passion in their students. The faculty are 100% dedicated to their students. . .
Show more reviews (

9 reviews

)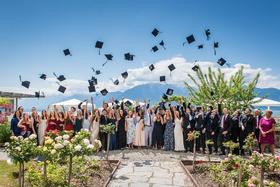 Nurturing Futures: A Journey through Boarding at Haut-Lac School in Switzerland
Nestled in the hills overlooking Lake Geneva in the French-speaking part of Switzerland lies an educational gem that embodies a unique blend of academic excellence, cultural richness and a profound sense of community. Founded over 30 years ago, Haut-Lac International Bilingual Day and Boarding School is now home to both 600 day students and a maximum of 30 boarders from around the world.
What To Wear at Your Job Interview
Navigating job interviews can be stressful, but knowing what to wear shouldn't be. Our comprehensive guide covers the essential dress code tips for men and women interviewing at boarding schools. Make your first impression count with style and professionalism.
Navigating the Modern Maze: Emerging Challenges for Boarding Schools
Explore the pressing challenges facing boarding schools, from marketing difficulties and rising insurance costs to facility maintenance and recruitment of competent trustees and teachers. This article delves into these complex issues and proposes innovative strategies to overcome them.