Reflections and Advice:
1.) What do you think makes your school unique relative to other boarding schools?
What stands out above all else is the quality of teaching at Westover. The faculty are passionate about their subjects, and inspire this passion in their students. The faculty are 100% dedicated to their students, and are always willing to meet to provide extra help, even at night or over a weekend.
2.) What was the best thing that happened to you in boarding school?
At Westover I gained a true sense of self. I also gained the skills and knowledge to be a leader in any area i pursue. It's something I see in all Westover girls - regardless of what they studied at Westover or in college - they are natural leaders that other people gravitate to.
3.) What might you have done differently during your boarding school experience?
My advice for kids going to boarding school is this: Go with an open mind. Be eager to learn, and not just in the classroom. The opportunities for learning are everywhere: classroom, sports field, dining room, a friend's dorm room. Take these four years to learn as much as you can about yourself, your friend, and the world. You will never have an opportunity like this again.
4.) What did you like most about your school?
I participated in Westover's Women in Science and Engineering (WISE) program, and it led to me pursuing engineering in college. My pursuit of sports in high school also instilled in me a true appreciate for having a physical outlet in my life. Today, I am an engineer and I also run a personal training business on the side. I don't think either of these career tracks would have happened if not for Westover.
5.) Do you have any final words of wisdom for visiting or incoming students to your school?
When picking a school, you want a school where you walk in and immediately feel at home. Where you feel inspired to learn, to play sports, to be a better person. Westover had that impact on me the second I walked in the doors. I felt uplifted, happy, and inspired. Don't settle for anything less!
Academics:
1.) Describe the academics at your school - what did you like most about it?
The workload and expectations set upon us were extremely challenging. As students we were held to extremely high standards, and the full effect of this wasn't realized until I got to college (Villanova University) and found my courses to be very easy by comparison to my high school classes. In college, I truly appreciated that Westover had taught me how to think critically, present my thoughts in writing, and speak in front of a group. One thing that stands out about Westover is that, for a small school, it offers a huge variety of courses. Students have the ability to personalize their academic pursuits to match their interests and strengths. I focused on math and science, while many of my friends focused on art, art history, or language. There were plenty of course options, including advanced and AP classes, in all these areas.
Athletics:
1.) Describe the athletics at your school - what did you like most about it?
I was always an athlete growing up, so it was important to me to find a school that would allow me to continue my pursuit of athletics while primarily focusing my efforts in the classroom. At Westover, all students were required to participate in sports, and sports were integrated into the regular schedule. This is something I truly appreciated, because having sports as part of my daily life was an outlet for me. Sports gave me a chance to clear my mind of academics and push my body to a new level. Fifteen years later, I still strive to maintain a balance of physical and mental challenge in my life.
Art, Music, and Theatre:
1.) Describe the arts program at your school - what did you like most about it?
Although I am not particularly artsy or musical, I found many opportunities to get involved at Westover. I participated in the Glee Club, an a cappella group, and the Handbell Ensemble. What I liked most about the arts and music program at Westover is that there were set times in the schedule for these classes, so I didn't have to stress about fitting them in as extracurriculars. All students were encouraged to participate, and student participation was extremely high.
Extracurricular Opportunities:
1.) Describe the extracurriculars offered at your school - what did you like most about it?
Many of our extracurricular activities focused on giving back to others. This instilled in me a passion for serving others.
Dorm Life:
1.) Describe the dorm life in your school - what did you like most about it?
The dorm life is one of the aspects I most loved about Westover. Having the chance to live with my best friends from age 14-18 was such a rewarding experience. Anytime we weren't in classes, on the sports field, or studying, we were hanging out with our friends. Through our conversations we explored the world, each other, and ourselves. We developed a sense of self and a confidence in ourselves and our beliefs that most girls age 14-18 can't dream of. Westover was definitely not a "suitcase school." Many of our students were from different countries and States and couldn't go home on weekends. Even day students often chose to spend part of all of their weekends at the school.The dorms themselves were very welcoming and felt like home. Rooms and closets were plenty large. Dorm parents were warm and caring and always available. After freshman year we were able to choose our own roommates.
Dining:
1.) Describe the dining arrangements at your school.
The dining room served buffet style meals for all breakfast and lunches, and for 4 dinners a week. Three dinners a week were "sit down" style meals (with assigned seating). I appreciated these meals because we had to sit down, slow down, and enjoy the company of students and faculty we might not otherwise interact with. I never had a complaint about the food at Westover - I always found plenty of options for things to eat. Sunday brunch was always my favorite because of the omelette station.
Social and Town Life:
1.) Describe the school's town and surrounding area.
Westover is located in Middlebury, CT which is a small town. There weren't a ton of options within walking distance, but that was never a problem, since the school itself was the center of the students' social lives. The school would offer bus rides to the local ball (approximatley 10 minutes away) on weekends.
2.) Describe the social life at your school - what did you like most about it?
There were plenty of opportunities to interact with other boarding schools, and there were often dances and other social activities planned with our brother schools. Additionally, Westover often had performances or events at the school on Friday nights. However, our social lives at Westover were mostly focused on our relationships with other Westover students. Similar to what I wrote above, having the chance to live with my best friends from age 14-18 was such a rewarding experience. Anytime we weren't in classes, on the sports field, or studying, we were socializing with our friends. We'd order dinner on the weekends, watch a movie, and talk all night. Through our conversations we explored the world, each other, and ourselves.
Westover School is unique because of its community. No other school I have visited or heard of has the atmosphere Westover has. Each of the students have unbreakable bonds with each other and the faculty;. . .
Westover School is unique, for one, because it is an all-girls school. Being one of the few remaining all-girls schools in the surrounding area, Westover strives to instill in students qualities of independence and confidence. . .
Form the moment you walk into the great yellow walls of Westover, you are greeted with smiles. Westover's community is close-knit and comfortable. We not only support each other, but also push our friends, teammates. . .
Show more reviews (

9 reviews

)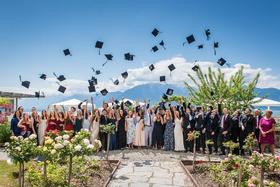 Nurturing Futures: A Journey through Boarding at Haut-Lac School in Switzerland
Nestled in the hills overlooking Lake Geneva in the French-speaking part of Switzerland lies an educational gem that embodies a unique blend of academic excellence, cultural richness and a profound sense of community. Founded over 30 years ago, Haut-Lac International Bilingual Day and Boarding School is now home to both 600 day students and a maximum of 30 boarders from around the world.
Navigating the Modern Maze: Emerging Challenges for Boarding Schools
Explore the pressing challenges facing boarding schools, from marketing difficulties and rising insurance costs to facility maintenance and recruitment of competent trustees and teachers. This article delves into these complex issues and proposes innovative strategies to overcome them.
What To Wear at Your Job Interview
Navigating job interviews can be stressful, but knowing what to wear shouldn't be. Our comprehensive guide covers the essential dress code tips for men and women interviewing at boarding schools. Make your first impression count with style and professionalism.