Reflections and Advice:
1.) What do you think makes your school unique relative to other boarding schools?
The Westover School provided me with an educational experience that has lasted a lifetime. My roommate from Westover is still my friend. The professors and staff are top educators and the school makes for being away from home fun exciting and educational. I would recommend Westover School for any young lady thinking about boarding school.
2.) What was the best thing that happened to you in boarding school?
The best thing that happened to me at boarding school was that I started a lifelong journey learning Spanish. I remember my first Spanish teacher at Westover like it was yesterday because she made a lasting impression to keep on studying languages even when it is tough. I speak fluent Spanish and some French from my studies at Westover.
3.) What might you have done differently during your boarding school experience?
I was a little homesick and I would have liked to join more activities or clubs to keep my mind off being homesick.
4.) What did you like most about your school?
The faculty and the classes were so influential on what I studied in college. All of the professors are experts in their subjects and I loved learning from the professors at Westover.
5.) Do you have any final words of wisdom for visiting or incoming students to your school?
Wake up for Sunday brunch because it is so yummy.
Academics:
1.) Describe the academics at your school - what did you like most about it?
Small classrooms and professors who care.
Athletics:
1.) Describe the athletics at your school - what did you like most about it?
If I were a ballerina this is where I would have flourished. I was on the JV Field Hockey Team and loved it.
Art, Music, and Theatre:
1.) Describe the arts program at your school - what did you like most about it?
We had performers come and show us their dance moves. I was never a dancer but being around so many talented dancers at Westover opened my eyes to the dance life.
Extracurricular Opportunities:
1.) Describe the extracurriculars offered at your school - what did you like most about it?
We went to dances at other boarding schools both male, female and Co-ed. We went to concerts and performances. Also we went to sporting events. Never a dull moment at Westover.
Dorm Life:
1.) Describe the dorm life in your school - what did you like most about it?
Dorm life was great at Westover. Thursday night dinners and Sunday morning brunch were special meals that brought teachers and students together.
Dining:
1.) Describe the dining arrangements at your school.
I never had to dine out while I was at Westover.
Social and Town Life:
1.) Describe the school's town and surrounding area.
Middlebury is a nice town. We used to walk to the convenience store in town and on the weekends the school provided transportation to the Mall in Hartford and other fun activities.
2.) Describe the social life at your school - what did you like most about it?
The social life at Westover teaches fun rivalry. As a new student you will become either a West or an Over to play games against eachother. It was very fun to be team and school spirited. I loved the old traditions.
Westover School is unique because of its community. No other school I have visited or heard of has the atmosphere Westover has. Each of the students have unbreakable bonds with each other and the faculty;. . .
Westover School is unique, for one, because it is an all-girls school. Being one of the few remaining all-girls schools in the surrounding area, Westover strives to instill in students qualities of independence and confidence. . .
Form the moment you walk into the great yellow walls of Westover, you are greeted with smiles. Westover's community is close-knit and comfortable. We not only support each other, but also push our friends, teammates. . .
Show more reviews (

9 reviews

)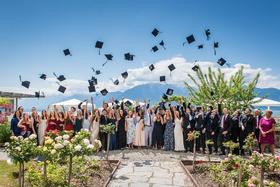 Nurturing Futures: A Journey through Boarding at Haut-Lac School in Switzerland
Nestled in the hills overlooking Lake Geneva in the French-speaking part of Switzerland lies an educational gem that embodies a unique blend of academic excellence, cultural richness and a profound sense of community. Founded over 30 years ago, Haut-Lac International Bilingual Day and Boarding School is now home to both 600 day students and a maximum of 30 boarders from around the world.
Navigating the Modern Maze: Emerging Challenges for Boarding Schools
Explore the pressing challenges facing boarding schools, from marketing difficulties and rising insurance costs to facility maintenance and recruitment of competent trustees and teachers. This article delves into these complex issues and proposes innovative strategies to overcome them.
What To Wear at Your Job Interview
Navigating job interviews can be stressful, but knowing what to wear shouldn't be. Our comprehensive guide covers the essential dress code tips for men and women interviewing at boarding schools. Make your first impression count with style and professionalism.