Reflections and Advice:
1.) What do you think makes your school unique relative to other boarding schools?
Westover is definitely a school set apart from most boarding schools. The faculty are unlike most a student may encounter. The school has "conferences" where teachers meet one on one with students to give them extra help, answer questions, or just to catch up. Conferences are definitely a huge part of the Westover experience because they not only enable students to excel in an academic way, but they also help to form a lasting relationship between teachers and students. Although most boarding schools encourage their students to partake in community service activities, Westover makes it a top priority for their students. Beginning freshman year, students participate in various events such as the special Olympics, soup kitchens, food drives, Relay for Life as well as the school's own charity event called "Dorcas." Community service is a huge part of the Westover experience; students learn to not only make the community outside of them better, but also to make Westover a more understanding, charitable place to live in.
2.) What was the best thing that happened to you in boarding school?
The best thing that happened to me at boarding school was simply choosing to go to a boarding school. At Westover I was pushed every day to work harder and to truly love to learn. When I began as a freshman, I was unsure of myself, especially regarding academics, and I came out of Westover confident in myself and very academically inclined. Westover has truly made me into a strong, confident young woman. At Westover, I made some of the best friends I will ever have. Being at a school as small and as close-knit as Westover, you share a unique experience that bonds you and your friends for the rest of your life. At Westover nearly everyone was friends and in any other school it would be completely different. Because of the diversity of the student body, I have been taught valuable lessons about accepting differences and just how to live with people from different social or ethnic backgrounds.
3.) What might you have done differently during your boarding school experience?
Honestly, I would not have changed a thing about my experience. The mistakes I made at Westover only caused me to grow and change. Westover is an extremely welcoming community, so most girls come out of their shells very quickly and often make good friends right when they get here. My best advice to kids going to any boarding school is to try to be outgoing and interact as much as you can with faculty as well as students, because the people you surround yourself with are the ones who make the biggest difference to your experience. Also, work may seem unbearable at times, but just know that all of the hard work pays off once you get to college.
4.) What did you like most about your school?
What I like most about Westover is the people I've met during my time here. Whether it's my friends at Westover, the faculty or friends I've made from other boarding schools, I have made bonds with people that will last for the rest of my life and they are undoubtedly what has made me who I am today. What I also loved about Westover was the rigor of its academics. Because of the challenges I faced academically, I was more than well prepared for college, and for that I am forever thankful.
5.) Do you have any final words of wisdom for visiting or incoming students to your school?
Westover has a lot more than meets the eye, so my advice would be to explore every opportunity you are presented. Go abroad for a term, stay for extra conference time, run for a position within the school--Westover is full of amazing opportunities that are too fulfilling to pass up.
Academics:
1.) Describe the academics at your school - what did you like most about it?
Although Westover academics are extremely demanding, they are also just as rewarding. While the material assigned is abundant as well as difficult, the faculty are passionate about what they teach, creating a learning atmosphere that is unlike any other. Westover also offers a wide variety of classes within each subject. The courses range from history classes such as "America in the 60's" to marine biology classes, or even classes dedicated to genocide. English is definitely a whole different subject at Westover--students take grammar intensively from the day they first enter the school, to the day they leave. While grammar is not commonly taught in most schools, students from Westover see the benefit on a daily basis when they enter college and then the professional world. While the workload at Westover may seem unbearable at times, graduated students constantly praise Westover for having prepared them for the work at college.
Athletics:
1.) Describe the athletics at your school - what did you like most about it?
Athletics were a major part of my experience here at Westover. Through my participation in both soccer and basketball, I created lasting bonds between my fellow teammates as well as my coaches. Although students are required to participate in a sport each season, students see the benefit by creating friendships between upperclassmen and underclassmen. Also, many students play sports they have never played before and excel to the point where some are even playing that same sport in college today. If a student is not athletically inclined, they can participate in programs such as Westover outdoor program, which is the oldest program in the country. Also, students may substitute drama or dance for competitive sports. Westover plays other prep schools who are able to recruit for athletics, making the prep school leagues extremely competitive. Throughout my time at Westover, I've played against girls in both soccer and basketball who have gone on to play at Penn State and Virginia tech and others. Westover may be a smaller school than most we play, but we definitely hold our own, participating in New Englands each year and often placing at the top of our league. The facilities at Westover are absolutely amazing. The Fuller Athletic Center was built in 2001 and is home to a beautiful workout room, new squash courts, training facility and rock climbing wall. Westover graduates still frequent the work out room because it is such a great space. The coaches at Westover are passionate about their sports. The coaches teach student-athletes how to channel their energy from the classroom out onto the field or court. They often stay after practices to help their athletes.
Art, Music, and Theatre:
1.) Describe the arts program at your school - what did you like most about it?
While at Westover I took quite a few photography classes. Mr. Gallagher, the photography teacher, is one of the best teachers I have ever studied under. He is extremely passionate about photography and is extremely knowledgeable about the subject. Mr. Gallagher has taught national award winning students year after year. It is clear his passion for photography translates to each and every one of his students. Westover's visual arts program is extremely impressive. Each student is required to take an art, but most students are extremely interested in art and choose to take more than the required amount. The art classes range from painting and drawing, to digital art all the way to ceramics and photography. In each area of the visual arts, students excel, often winning awards at the national as well as state level. Westover's visual arts program is extensive as well as extremely impressive.
Extracurricular Opportunities:
1.) Describe the extracurriculars offered at your school - what did you like most about it?
Westover has an abundance of clubs and volunteer opportunities. Clubs are often created by students and are aided by faculty members. Clubs are a huge part of student life--nearly every student is a member of at least one club on campus.
Dorm Life:
1.) Describe the dorm life in your school - what did you like most about it?
As a day student, I did not feel separated from the boarding students--day student lounges are on corridor with the boarders' rooms. As a day student you spend most of your time at Westover, so you almost feel as though you should live there. On each corridor there is a dorm parent as well as a student proctor, so if a student has a problem or just wants someone to hang out with, both the dorm parent and proctor are there to help. Dorm life is very fun, with corridor activities and just an all-around great environment. Dorm life creates a feeling of community within the students--they learn how to share a common space as well as how to respect each other.
Dining:
1.) Describe the dining arrangements at your school.
The dining hall at Westover is open for breakfast, lunch and dinner and it has a wide variety of food to tailor to special food needs. There is a salad bar, fruit, soup and sandwich option every day for lunch, so if students do not like the main course, they always have other things to eat.
Social and Town Life:
1.) Describe the school's town and surrounding area.
Westover is located in Middlebury, a great area in Connecticut. Middlebury is near larger cities like Waterbury, so students have things to do on the weekends. Middlebury is safe and quiet and the residents love Westover and its students.
2.) Describe the social life at your school - what did you like most about it?
Although people may think the social life at Westover may be lacking because it is an all girl's school, there is actually lots to do. There are lots of other prep schools close by, including Taft, Salisbury, Avon Old Farms, South Kent and many others. Each weekend the girls have an option of going to a dance hosted by another all girl's or all boy's school. If girls don't like going to dances, they can go to the mall, Broadway trips, or leave campus with a day student on weekends. What I liked most about the social life at Westover was I was able to truly bond with my girl friends and worry about school during the week, then when the weekend came I could meet new people from all around the country, or even all around the world. I made friendships with people from other boarding schools and I still keep in touch with them today. The friendships you make at boarding school last for the rest of your life.
Daily Schedule:
Weekday
7:30 AM
All-School Assembly
Weekend
12:00 AM
Leave for sports game
The Westover School provided me with an educational experience that has lasted a lifetime. My roommate from Westover is still my friend. The professors and staff are top educators and the school makes for being. . .
Westover School is unique because of its community. No other school I have visited or heard of has the atmosphere Westover has. Each of the students have unbreakable bonds with each other and the faculty;. . .
What stands out above all else is the quality of teaching at Westover. The faculty are passionate about their subjects, and inspire this passion in their students. The faculty are 100% dedicated to their students. . .
Show more reviews (

9 reviews

)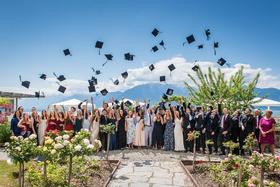 Nurturing Futures: A Journey through Boarding at Haut-Lac School in Switzerland
Nestled in the hills overlooking Lake Geneva in the French-speaking part of Switzerland lies an educational gem that embodies a unique blend of academic excellence, cultural richness and a profound sense of community. Founded over 30 years ago, Haut-Lac International Bilingual Day and Boarding School is now home to both 600 day students and a maximum of 30 boarders from around the world.
What To Wear at Your Job Interview
Navigating job interviews can be stressful, but knowing what to wear shouldn't be. Our comprehensive guide covers the essential dress code tips for men and women interviewing at boarding schools. Make your first impression count with style and professionalism.
Navigating the Modern Maze: Emerging Challenges for Boarding Schools
Explore the pressing challenges facing boarding schools, from marketing difficulties and rising insurance costs to facility maintenance and recruitment of competent trustees and teachers. This article delves into these complex issues and proposes innovative strategies to overcome them.