Reflections and Advice:
1.) What do you think makes your school unique relative to other boarding schools?
The guiding principle at Northfield Mount Hermon is the education of the "Head, the Heart, and the Hand." The School's classes - varied and challenging - take care of the Head; the Heart benefits from NMH's eclectic, genuine, bright collection of students, teachers and staff. The Hand is left to the Work Program. At NMH, students work four hours per week at an assigned "workjob," which could be anything from shelving books in Schauffler Library to picking raspberries down on the school farm. Although Workjob started out as a necessity when NMH was the Northfield Academy and Mount Hermon School - both intended to educate poor young women and men, respectively - the School maintains the tradition in order to teach its current students the value and the dignity of hard work. Everyone does their hours, whether once or twice a week during term or all in one session over spring break or summer vacation. My workjobs on the farm and in the School's radio station taught me common and uncommon things: how to clean up after horses and cows, how to scrub, how to throw a fundraiser, how set up an internet radio broadcast. In addition to new skills, the Workjob program also catalyzes strong relationships with adults who aren't necessarily teachers, but who have many things to teach; taking directions from a supervisor also provides practice for future paid jobs. My Workjobs gave me confidence in my ability to join the workforce, respect for those who do unglamorous jobs, and, perhaps most importantly, some mean weeding skills.
2.) What was the best thing that happened to you in boarding school?
I especially enjoyed traveling to South Africa as part of my Sophomore Humanities class. I applied for the trip because I never thought I'd visit South Africa, but the class and the trip opened my eyes to the history and personality of a very complex, hopeful country. Along with South Africa, NMH runs study abroad trips to Brazil, France, Germany, Costa Rica, Uruguay, China, Turkey, Greece, Ireland, and Italy.
3.) What might you have done differently during your boarding school experience?
I was extremely hesitant to leave my friends and go to NMH, but I'm so glad I did. If I could have done anything differently, I'd have tried to go into my Freshman year with a more open mind - I would have adapted more quickly and been more pleasant if I had.
4.) What did you like most about your school?
I loved the English classes I took at NMH. My five English teachers pared the unnecessary verbosity from my writing, gave me great books, and taught me to think about literature. It's on account of my English classes an NMH that I've ever produced a piece of writing with which I've been completely satisfied.
5.) Do you have any final words of wisdom for visiting or incoming students to your school?
For the past few winters, the Outdoor Education program's run skating on Shadow Lake. If the winter's cold enough that the lake freezes, absolutely go and skate. The air is fresh, the view is gorgeous, and it's not something you get to do every day.
Academics:
1.) Describe the academics at your school - what did you like most about it?
While NMH is an extremely supportive academic environment where you can find different help sessions every night of the week, what I found most appealing about the School is its rigor. I've always thrived under pressure, and pressure was what NMH was more than happy to apply. From Freshman year, when I grappled with Geometry and a much more stimulating English class than those I was used to, to Senior year, when I had four APs (Biology, European History, English Literature & Composition, and French) on my plate, I've always been stretched intellectually. In middle school, I found that bare minimum effort awarded me perfectly fine grades; at NMH, I fought for each A. Knowing the work behind my success gave me a feeling of deep worth. Of course, I was also learning quite a bit, and my teachers at NMH were thrilled to provide me with extra information, to push my education farther. There's also no rigid academic bureaucracy at NMH; the School was extremely obliging when I wanted to double up on subjects. Where my friends attending other schools found it impossible to circumvent those school's proscribed tracks, NMH'sEnglish and World Languages departments both let me leap through and over classes so I could get as far along as I wanted to. NMH'sfaculty members are not only brilliant teachers, but also extremely interesting people. They've traveled, written, composed, performed and researched around the world, and they love talking about their experiences. Classes at NMH are engaging: science classes work in the lab or the field twice a week at least, math teachers explain complicated topics with gusto; language classes rely not only on books, but on films, music, and art to provide language immersion. My NMH English and History teachers have addressed their classes as equals and have allowed students' ideas and fresh interpretations to shape the direction and content of their courses. NMH'sclasses have enthralled me, truly educated me, and sent me off to college superbly prepared.
Athletics:
1.) Describe the athletics at your school - what did you like most about it?
NMH has some very good sports teams, but Girls' Thirds Soccer was never really one of them; at our best, we won perhaps two games a season. However, playing Soccer on an NMH team was fun. We were, by the end of the fall, teams made up of friends; our coaches joked with us as we honed our soccer skills and stressed the importance of playing over winning. Three years of Thirds soccer let me continue on to JV, where the team was more successful but just as enjoyable. Belonging to such close, comfortable teams gave me the confidence to become a much better player. But just because my teams didn't win too many games doesn't mean NMH's athletic program is weak across the board. There are certainly strong teams to cheer for at NMH - Crew, Basketball, Track, Volleyball and Soccer, to name a few. If you are, unlike me, a talented athlete, NMH can give you the coaching, facilities, equipment, and teammates to help you improve and succeed.
Art, Music, and Theatre:
1.) Describe the arts program at your school - what did you like most about it?
When NMH closed the Northfield campus, the School lost a good part of its arts facilities. While the brand-new Rhodes Center for the Arts will more than correct the paucity, during my four years at NMH, the arts departments were a little scrappy; they were presented with challenge after challenge - no real theatre, no real dance studios, a makeshift costume shop - but they were never discouraged. The visual and performing arts departments at NMH produced outstanding work despite their handicap; they adapted beautifully. I can't even imagine how well the arts will to now that they have state-of-the-art studios, theaters, practice rooms, and gallery space. I expect the results will be terrific. I'm no visual artist, but in the painting class I took as part of Arts Foundations, a Freshman requirement, I was treated like one. The instruction, which clear and simple, was in no way patronizing; I always been grateful that my teacher helped me improve my minimal skills, rather than throwing up her hands in despair at my crude pieces. I spent a good deal of time doing plays and musicals at NMH, and each role I took on helped me grow as an actress. My directors were insightful, knowledgeable and experienced, but always up for incorporating a new idea. Also, the NMH theatre program doesn't just rely on high school staples. In my four years, the plays ranged from Stoppard to Sondheim. NMH also offers a wide selection of musical groups, everything from a cappella - Hogappella for boys and the Nellies for girls - to Korean drumming - the World Music Combo, each with wonderful conductors who choose challenging, beautiful, eclectic pieces. NMH has been called the Singing School, and the music department is never going to let us forget it. Not an assembly goes by without the whole school rising for anything from Jerusalem (our school song) to Journey's Don't Stop Believin'. The music department puts on numerous concerts throughout the year, with the two grandest being Christmas Vespers in December and Sacred Concert in May.
Extracurricular Opportunities:
1.) Describe the extracurriculars offered at your school - what did you like most about it?
NMH has a club for practically everything one could wish: numerous affinity groups, religious groups, clubs for each World Language, many, many community service opportunities ranging from local volunteer work to international humanitarianism, Big Brothers Big Sisters Student Congress, Model UN, a DIY group, even a radio station. The thing I loved about extracurriculars at NMH was how welcoming they are. I'd never said a word into a microphone in my life when I signed up to do a radio show as a Freshman, but WNMH provided me with all the training I needed; anyone can run for Student Congress; NMH Outreach has a volunteer opportunity to suit every personality. Everyone's excited and they all want you to get involved. In fact, the Activities Fair can be quite overwhelming, and I found that I didn't actually have time for all the clubs I wanted to join.
Dorm Life:
1.) Describe the dorm life in your school - what did you like most about it?
I didn't room at school, but as a Day Student, I nevertheless felt welcomed into the dorm community. Everyone's assigned an advisor (called a DL after D. L. Moody, the founder) who's associated with their dorm, and you meet with your DL group (usually around six people) once a week. Each floor of each dorm has a faculty apartment, and my friends who boarded often spent time in those apartments cooking, watching TV, or just hanging out. Every night, one of the teachers assigned to the dorm does Duty - they sit in the lounge, see students for help sessions, and do check in at the end of the night.
Dining:
1.) Describe the dining arrangements at your school.
NMH has one dining hall - Alumni Hall - where the whole school eats. There are no assigned seats nor required sit-down dinners; Alumni serves hot breakfast, lunch, and dinner, and the cereal, sandwich and salad bars are also open for "grazing" throughout the day. Having tried the food at a few other boarding schools and colleges, I can firmly say that NMH's food is pretty good. Alumni has a few star items - great stir fry, macaroni and cheese, pizza, soup, and polenta - and a great variety. Taco Thursday is quite popular, as is Chef's Choice, an opportunity for our chefs to show off their culinary inspiration. There's also a splendid soft-serve machine open intermittently throughout the year; often, the dining hall makes soft-serve from NMH Farm milk. There's also NMH Farm milk available for drinking, as well as regular milk, Lactaid, and soy milk. The vegetarian options are tasty and plentiful, and the dining hall is always happy to accommodate any and all dietary restrictions. They also take recommendations.
Social and Town Life:
1.) Describe the school's town and surrounding area.
NMH is rural - it doesn't have its own town. The closest towns - Greenfield and Turner's Falls - are less than glamorous, but do provide a cinema, some good restaurants, several supermarkets, and a few interesting shops. Slightly farther away are Amherst and Northampton, which offer independent movies, concerts, and great shops and restaurants. There's a biweekly public bus to Greenfield; the school runs weekly trips to the Holyoke and Hampshire malls and less frequent trips to Northampton and Boston; there's cab service to all the surrounding towns.
2.) Describe the social life at your school - what did you like most about it?
I made some incredibly close friendships in my years at NMH, but I also developed a very large group of acquaintances - people with whom I'd be comfortable sharing a dinner table or a study session. I've met them on sports teams, at rehearsals and club meetings, in the dorm, and in classes. After a year or two, I could also put a name to nearly every face I saw, and had spoken to a good amount of the student body, and I'm not a particularly outgoing person. I thought I'd find it difficult to make friends, but I settled quite easily into NMH and after a month, I found that I'd found a really great group of friends almost without trying.
Daily Schedule:
Weekday
7:00 AM
Wake up; at breakfast by 7.30
9:45 AM
Second period (starts at 9.35)
1:45 PM
Fourth period (starts 1.55). Mondays & Fridays I had NMH Singers; otherwise, I'd be doing homework
4:00 PM
Sports practice (until 5.45)
6:45 PM
Concert Choir (Mondays & Thursdays, ends at 8.15) after that, homework
Weekend
9:00 AM
Get on the bus for a soccer game
2:00 PM
Get back from soccer; bum around until dinner
8:00 PM
Radio show ends; hang out with friends until sign-in
One of the unique aspects of attending NMH is the Work Job Program. It is a true equalizer and ensures that every member of the community contributes to and appreciates the work involved in operating. . .
NMH allows students to dive into the community and passions. The college like scheduled of four classes allowed me to seamlessly transition into college academics. Also NMH has a four hour per week work program. . .
Northfield Mount Hermon School helped me become the man I am today.The best thing about NMH was its sense of community. I like to think that I knew almost everyone there, while everyone knew me. . .
Show more reviews (

12 reviews

)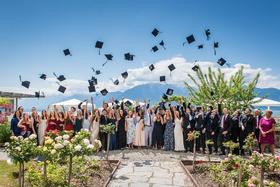 Nurturing Futures: A Journey through Boarding at Haut-Lac School in Switzerland
Nestled in the hills overlooking Lake Geneva in the French-speaking part of Switzerland lies an educational gem that embodies a unique blend of academic excellence, cultural richness and a profound sense of community. Founded over 30 years ago, Haut-Lac International Bilingual Day and Boarding School is now home to both 600 day students and a maximum of 30 boarders from around the world.
What To Wear at Your Job Interview
Navigating job interviews can be stressful, but knowing what to wear shouldn't be. Our comprehensive guide covers the essential dress code tips for men and women interviewing at boarding schools. Make your first impression count with style and professionalism.
Navigating the Modern Maze: Emerging Challenges for Boarding Schools
Explore the pressing challenges facing boarding schools, from marketing difficulties and rising insurance costs to facility maintenance and recruitment of competent trustees and teachers. This article delves into these complex issues and proposes innovative strategies to overcome them.