Reflections and Advice:
1.) What do you think makes your school unique relative to other boarding schools?
Pomfret's unique location, in the quaint and quiet Northeast corner of Connecticut, allows for the school campus to have a strong and pronounced community feeling. The three-tiered emphasis of academics, athletics and the arts is all advanced within this community setting, providing both a supportive base for structured growth and the framework for advancement by independent exploration. Specifically, what makes Pomfret unique is its people. Students, faculty and staff join together to build and grow a community of high ideals and standards which contribute towards the Pomfret experience.
2.) What was the best thing that happened to you in boarding school?
Attending Pomfret was a tremendous opportunity to achieve a high school education within a supportive and encouraging community environment that valued all contributions, no matter the medium or discipline they came from. Growth occurred from the opportunity to take leadership roles. I graduated with a strong sense of participation, contribution and ownership of the school which has helped me to advance in the different opportunities I have pursued since graduation.
3.) What might you have done differently during your boarding school experience?
My strongest advice to incoming an incoming Pomfret student is to take advantage of every aspect of the experience from the beginning and not to feel that because one is a first-year student, his/her participation in an activity is somehow not as valued. Although it is important to become adjusted with a new environment, a student does not have to wait until their junior or senior year to begin their active involvement in their school community
4.) What did you like most about your school?
The relationships that I developed at Pomfret have remained with me through my college years. More importantly, my connection with the school and my wanting to contribute to its continued success has also remained intact and grown. Pomfret has a strong Alumni network willing to provide assistance back to the school, including to current students and fellow Alumni. A Pomfret education is just the beginning of a lifelong relationship with the school.
5.) Do you have any final words of wisdom for visiting or incoming students to your school?
Take full advantage of all that Pomfret has to offer. The areas in which Pomfret struggles are also the areas where members of the community have not stepped up to provide their full support. For example, the student life committee provides a wealth of opportunities for students to participate with but it often struggled with levels of interest because of a lack of student-driven leadership, which drives momentum. Pomfret has a unique spirit which is worth discovering--and which is found, for each student, in a different place at a different time.
Academics:
1.) Describe the academics at your school - what did you like most about it?
Pomfret puts forward a rigorous and thorough Academic program that provides students with an extremely solid curriculum base in all core disciplines, with some room available to pursue a particular passion or area of interest. Teachers are passionate about the subjects that they teach, offering their insight into the subject matter alongside a demonstration of high levels of preparation during each class. Class sizes are small, providing students with the opportunity to interact with fellow classmates, and the teacher, both inside and outside the boundaries of the traditional classroom.
Athletics:
1.) Describe the athletics at your school - what did you like most about it?
Pomfret's athletic program, built around team-building and participation, demands the inclusion of all students, no matter their level of athleticism. Team sports for both boys and girls help to build a camaraderie which, again, transcends its traditional confines to promote and advance a strong sense of school pride and spirit. Win or lose, Pomfret teams demonstrate a high level of performance and sportsmanship and are appropriately recognized by the community for their excellence.
Art, Music, and Theatre:
1.) Describe the arts program at your school - what did you like most about it?
The arts program at Pomfret is a requirement for all students and, as such, exposes students to programs that they would not have otherwise experienced in a traditional curriculum or in what may be their preferred course of study. Examples of arts classes that I took and that exposed me to different mediums included: Digital Graphics and Introduction to Photography. Each trimester, the school community gathers for a sit-down dinner before viewing the student theatre production--thereby showing support to the student actors and showing the high emphasis that the arts has amid the hectic schedule of boarding school life.
Extracurricular Opportunities:
1.) Describe the extracurriculars offered at your school - what did you like most about it?
A demanding schedule amid the three core pillars of the Pomfret education make time for extracurricular activities difficult to achieve. Nevertheless, the Student Activities Office and different faculty advisors encourage students to participate in activities that fit their interests. This is perhaps the greatest area that Pomfret allows its students the ability to demonstrate and capitalize on their leadership. It is not uncommon for a student to create a club or organization (with the blessing of a faculty advisor) and manage all aspects of its operation.
Dorm Life:
1.) Describe the dorm life in your school - what did you like most about it?
As a day student for four years, I am not able to comment on this aspect of the Pomfret experience except to note that my status as a day student did not detract from my standing or ability to participate at any level in any activity or event.
Dining:
1.) Describe the dining arrangements at your school.
Although it is sometimes criticized and mocked by some students, and within the pages of student-produced publications, the dining services at Pomfret work hard to meet the needs and desires of the students. A variety of food is available and the dining staff is accommodating to the sometimes changing schedules of the Pomfret lifestyle. Examples would include when athletic teams return home late from an away game and the dining hall remains open to make sure the team is feed. Another example, during my time, occurred when a winter flu sickened a large part of the campus and the dining hall adjusted its menu to have soft foods available.
Social and Town Life:
1.) Describe the school's town and surrounding area.
Pomfret is isolated, although recent efforts have been made to make the School and its students a greater part of the surrounding Northeastern Connecticut community. Students rarely leave campus during the week, except for away athletic contests, and only travel to nearby Putnam or Danielson on the weekends to visit Wal-Mart or Target. The town of Pomfret and the Connecticut Quiet Corner region has a rich small-town, New England history and feel, especially during the crisp days of autumn or the still nights of winter.
2.) Describe the social life at your school - what did you like most about it?
The addition of the Olmsted Student Union helped to increase the social life of the school by providing a central meeting and gathering place. Student activities also provide fun and casual opportunities for students to interact, including dances, which occur almost weekly.
Daily Schedule:
Weekday
7:30 AM
Breakfast-Dining Hall
9:30 AM
Senior Chapel-all school in attendance
3:15 PM
Classes End/Students Change for Athletics
3:30 PM
Afternoon Activities & Athletics
7:00 PM
Evening Activities before Study Hall (8pm)
Weekend
1:00 PM
Afternoon Athletics Begin--including Home Contests
5:00 PM
Afternoon Athletics Conclude
7:00 PM
Evening Activities Begin
11:00 PM
Evening Activities Continue
Pomfret is unique because of the focus on STEM topics in all aspects of learning. Pomfret has shifted its use of technology in the classrooms to reflect the importance of math and engineering into the. . .
The sense of community is something that is discussed a lot at Pomfret, but for a good reason. I toured a multitude of schools across both Canada and the United States and nothing compared to. . .
We have a special program--called project Pomfret, in which students focus all their time in the two and a half weeks between thanksgiving and Christmas breaks on a project, i.e. geocaching, teaching children, learning about. . .
Show more reviews (

5 reviews

)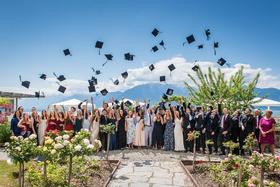 Nurturing Futures: A Journey through Boarding at Haut-Lac School in Switzerland
Nestled in the hills overlooking Lake Geneva in the French-speaking part of Switzerland lies an educational gem that embodies a unique blend of academic excellence, cultural richness and a profound sense of community. Founded over 30 years ago, Haut-Lac International Bilingual Day and Boarding School is now home to both 600 day students and a maximum of 30 boarders from around the world.
What To Wear at Your Job Interview
Navigating job interviews can be stressful, but knowing what to wear shouldn't be. Our comprehensive guide covers the essential dress code tips for men and women interviewing at boarding schools. Make your first impression count with style and professionalism.
Navigating the Modern Maze: Emerging Challenges for Boarding Schools
Explore the pressing challenges facing boarding schools, from marketing difficulties and rising insurance costs to facility maintenance and recruitment of competent trustees and teachers. This article delves into these complex issues and proposes innovative strategies to overcome them.