Reflections and Advice:
1.) What do you think makes your school unique relative to other boarding schools?
Pomfret is unique because of the focus on STEM topics in all aspects of learning. Pomfret has shifted its use of technology in the classrooms to reflect the importance of math and engineering into the academic curriculum. Pomfret is unique because of its inherent sense of duty, not only to oneself but to the community. All individual accomplishments are celebrated by the entire student body. Pomfret is unique because of the campus that was designed by Frederick Law Olmsted (architect of Central Park among other masterpieces). The layout of the campus (over 500 acres) helps the buildings feel close enough so that your next class is never that far away while giving you the feeling that you are in a grand place that is important.
2.) What was the best thing that happened to you in boarding school?
The best thing that happened to me at Pomfret was getting into Georgetown. I read Bill Clinton's biography at the encouragement of a teacher my Sophomore year and was incredibly inspired by this man. Knowing that he went to Georgetown, I made it my goal to get in and go into politics or non-profit work. I worked with my college counselors and my teachers to get the grades and letters of recommendation necessary but was nervous I would not get in because so many other students were applying. When I got my acceptance letter I cried, and my advisor cried with me. Setting a goal and seeing it all the way through taught me such a valuable lesson about hard work.
3.) What might you have done differently during your boarding school experience?
If I could do anything differently at Pomfret. I would have gotten involved with clubs and activities sooner. I signed up mostly my junior year to make my transcript look better for colleges, but I found that I really enjoyed my time with the various clubs and also volunteering. I wish I had started my freshman year.
4.) What did you like most about your school?
I liked the sense of community at Pomfret. I genuinely felt that this was my home away from home. I went to a private day school before Pomfret and always heard the administration droning on about community and togetherness, but never felt it. At Pomfret I did. From the headmaster, Mr. Rishards, to an incoming freshman, everyone at Pomfret cares about one another. I also loved the bucolic environment. I look at 10+ boarding schools in CT and MA (Taft, Choate, Loomis, Deerfield, Westminster) and I truly think Pomfret has the most amazing campus.
5.) Do you have any final words of wisdom for visiting or incoming students to your school?
The Bricks is by far the best dorm for upperclassmen. Get to know Mrs. Jones at the school store, she is the nicest woman ever. If you're a runner, run the Angel Loop in the fall and you will be overwhelmed by the beauty of Pomfret, CT.
Academics:
1.) Describe the academics at your school - what did you like most about it?
The academics are challenging at Pomfret, which is to be expected when most students are applying to top-tier colleges. I love how accessible the teachers are, most are dorm parents or do duty during study hall so you can set up office hours with them for extra help. Students are great about setting up their own study groups in one of the libraries. The focus on STEM learning has been a shift in the positive direction, we use computers and programming in almost every class. Teachers come from all over the world and have advanced degrees. Pomfret offers some of the most AP classes of any boarding school, which is one of the reasons I decided to attend. The workload is high, but students have a two-hour study hall every Monday-Thursday.
Athletics:
1.) Describe the athletics at your school - what did you like most about it?
Pomfret is very competitive athletically, boys hockey won New Englands in 2016, football won New Englands in 2017, and Volleyball won New Englands in 2015. Facilities are top-notch: a new turf playing field complex opened in 2016, along with amazing squash and wrestling that opened a few years prior. The hockey games get the most attendees and everyone goes crazy when there are games on Saturday nights. Westminster School is our rival and those games get heated, although Westminster has had the upper hand the past few years, Students are required to play a sport, and there are enough teams for everyone to at least learn something new.
Art, Music, and Theatre:
1.) Describe the arts program at your school - what did you like most about it?
Students are required to participate in some form of arts every semester. I am a cellist, so that is what I have focused on, but I have also enjoyed chorus and studio art (painting and ceramics.) The facilities are amazing. Hard auditorium is a great performing space, as is the chapel.
Extracurricular Opportunities:
1.) Describe the extracurriculars offered at your school - what did you like most about it?
I was a member of the Pomfret Political Action Club and I was the head of the Key Club. There are over 50 clubs at Pomfret that meet once or twice a week. The clubs are very well funded and most have custom t-shirts or Patagonia jackets and involve trips to Boston or NYC. For example, the Political Action Committee went to NYC to protest in Central Park, it was such an amazing experience. I also spent a lot of time hiking, skiing, and camping trips with the Pomfret outdoors club, participating in trips to the Adirondacks and Vermont.
Dorm Life:
1.) Describe the dorm life in your school - what did you like most about it?
Dorm life at Pomfret is my home away from home. I grew up in NYC, so my dorm room is actually larger than my room at home! Students at Pomfret get along, and I have never had any issues with roommates. In fact, our dorm does a lot together including volunteering (collecting money for the Salvation Army by caroling) and going to the mall together on Sundays. Most of the dorms are historical buildings so the rooms are not huge, but they have all been updated on the inside and have super-fast wifi and nice TVs and furniture in the shared space. The room selection process is smooth, and I would say that most students get their first choice of dorms and you can always choose your roommate. All dorms have a "dorm parent" who is a faculty member that lives adjacent to the dorm. they are available 24/7.
Dining:
1.) Describe the dining arrangements at your school.
Food options are great at Pomfret. All food is organic and locally sourced (one of the benefits of being located in the country). Pomfret also has its own greenhouse that is used for Bio classes but also creates sustainable vegetables that are used in the dining hall. There are three main meal times per day, but the dining hall is always open. The "tuck shop" is open at the student center for snacks or casual meals like pizza or burgers on the weekends.
Social and Town Life:
1.) Describe the school's town and surrounding area.
Pomfret is a beautiful little rural town that is a 10-minute walk from campus. There is not much there besides a few restaurants and coffee shops which are frequented by the students. Jim Calhoun (UConn's famous basketball coach) and a few famous artists have houses in Pomfret because of its beauty. Putnam (15 mins away) is larger and offers all the basics like a target, movie theater, restaurants, and coffeeshops. Its very pretty at all times of the year, but very quiet.
2.) Describe the social life at your school - what did you like most about it?
Pomfret is a very open and welcoming community and I think this in large part due to the teachers/administrators. Much is done during orientation to help the different forms (grades) bond as a singular unit, and then also as an entire school community. Pomfret is not the most diverse school, but it is something that is constantly being worked on. Most social events revolve around sporting events like hockey games. The administration does a good job of putting on events like concerts on the quad, dances, field days, casino nights, etc.
Pomfret is unique because of the focus on STEM topics in all aspects of learning. Pomfret has shifted its use of technology in the classrooms to reflect the importance of math and engineering into the. . .
The sense of community is something that is discussed a lot at Pomfret, but for a good reason. I toured a multitude of schools across both Canada and the United States and nothing compared to. . .
We have a special program--called project Pomfret, in which students focus all their time in the two and a half weeks between thanksgiving and Christmas breaks on a project, i.e. geocaching, teaching children, learning about. . .
Show more reviews (

5 reviews

)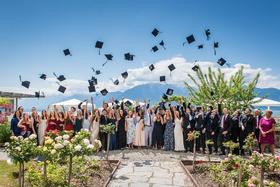 Nurturing Futures: A Journey through Boarding at Haut-Lac School in Switzerland
Nestled in the hills overlooking Lake Geneva in the French-speaking part of Switzerland lies an educational gem that embodies a unique blend of academic excellence, cultural richness and a profound sense of community. Founded over 30 years ago, Haut-Lac International Bilingual Day and Boarding School is now home to both 600 day students and a maximum of 30 boarders from around the world.
What To Wear at Your Job Interview
Navigating job interviews can be stressful, but knowing what to wear shouldn't be. Our comprehensive guide covers the essential dress code tips for men and women interviewing at boarding schools. Make your first impression count with style and professionalism.
Navigating the Modern Maze: Emerging Challenges for Boarding Schools
Explore the pressing challenges facing boarding schools, from marketing difficulties and rising insurance costs to facility maintenance and recruitment of competent trustees and teachers. This article delves into these complex issues and proposes innovative strategies to overcome them.