Reflections and Advice:
1.) What do you think makes your school unique relative to other boarding schools?
My boarding school search took me to schools across the nation. After touring several schools, and not being attracted to one, my family and I came to Blair. The admissions people were extremely friendly, and arranged for me to spend the day and night attending classes with a girl that was from my neck of the woods. I found that day that Blair offered a warm environment. The next day I told my parents this is where I wanted to spend my high school years. Blair encouraged me to expand my interests. Participating in athletics is required; I was in great shape and had tons of energy. That winter, I participated in theatre - a program which has expanded greatly. I played my flute in a small ensemble. By my senior year, I was directing my own play with a small group of students, playing my flute as an independent study, and taking challenging courses. The new library had been finished, and the performing arts center provided growth for the extracurricular programs I was interested in. Blair is different from other boarding schools. Students strive to achieve good grades; being on the high honor roll does not mean you are a "nerd." It is rewarded by your peers. Students help each other learn. If you are having problems in a subject, it is not usual to find a student-led study session. Between classes, you can always find someone to play pool with at the Can (Campus Center)! . Blair's faculty is wonderful. My husband and I still keep in contact with many of our old teachers. For chemistry and physics, we were always performing experiments in the labs. For English class, we went and saw a production of King Lear as we read the play. American history and politics classes took trips into DC, while art classes used New York City's art museums. I enjoyed my years at Blair. I would encourage anyone who is interested in a middle sized boarding school to give it a look!
2.) What was the best thing that happened to you in boarding school?
Boarding school taught me to be independent. Even though I was surrounded by rules, it was up to me to get my homework done, get enough sleep, and participate in class. I learned that if I worked hard, I could make great grades. I am not as shy as I was before boarding school. I found my voice, and learned to vocalize what I enjoy. I fell in love with theatre at school, and founded my own troop when I got to college.
3.) What might you have done differently during your boarding school experience?
I would have participated in some more activities, or branched out more. Most of my friends were a year older, and graduated by my senior year. I did not know my own class that well, and regretted not knowing some of them better.
4.) What would you never want to change about your school?
I came to Blair because I liked the atmosphere. I think if it became more competitive amongst the students, it would change the flavor of the school.
5.) What things could be improved about your school?
I think that some of the facilities are slightly dated (i.e. sports facilites). However, Blair is working on updating the campus.
6.) Do you have any final words of wisdom for visiting or incoming students to your school?
If you can, visit campus, and spend the night with a student. It gives you a whole new perspective of what it is really like to be at boarding school. Check out the today board in Clinton Hall. This shows you all of the various activities that are happening on the weekend, and what is happening that day. Annie Hall, Armstrong-Hipkins, the Romano dining hall (between Locke and Insley Dorms) and the Library are the newest facilities. A great spot on campus is Blair Lake. You can stand on the bridge over the waterfall, and see the old mill. Blair is a very pretty campus. If you would like a Blair tee shirt, stop in the bookstore in Clinton Hall. If you would like to grab a bite to eat, stop at the Campus Center in Ivy Hall. Locke and Insley are the freshman and sophomore dorms. They have both been renovated.
Academics:
1.) What did you like best about your school's academics?
Blair challenged me. Most of my teachers were excellent. There are a wide variety of classes offered. There are many AP courses offered, and still growing. My senior year, a C++ course were offered. The environment is not competitive; the environment encourages everyone to do well in the class.
2.) What did you like least about the academics in your school?
By my senior year, the workload was quite heavy. I was taking some challenging classes, and bit off a bit more than I could chew. I still got it all finished!
Athletics:
1.) What did you like best about your school's athletics?
I am not an athlete. However, my coaches at Blair made sports fun. Unfortunately, I was injured my junior year at Blair, and had to take it easy. I still participated in sports through being team manager. If you are interested in medicine, you can work in the gym, assisting in sports medicine. Blair offers the following: Crew, cross country, track & field, soccer, basketball, football, softball, baseball, ice hockey, field hockey, lacrosse, wrestling and outdoor skills. Once a year we have a huge competition with our rival school, Peddie. We compete in all fall sports for a cup. It is a fun time at Blair. Field hockey, basketball, football, and wrestling are extremely competitive and have gone to state championships.
2.) What did you like least about the athletics in your school?
For some teams, spots are limited. It is extremely hard to play varsity sports. There are not enough tennis courts to support the interest. However, Blair is looking to expand in this field.
Art, Music, and Theatre:
1.) What did you like best about your school's art program?
I loved Blair's art programs. I participated in plays and music. Since I have graduated, all of the arts programs have bloomed. The chorus has gone and traveled, giving concerts across the US. The new arts building created more space for pottery and drawing. It provides practice rooms for music lessons. There is a main stage theatre, area for building sets, and black box theatre for minor performances. Once a year there is a student art show. Plays and musicals range from three to five a year. Students can participate in the technical crew, learning to build sets and work on lights. I took acting classes, and my husband took technical theatre classes. He even designed a set for a production. I played my flute at Blair for two years. The first year I was in a flute ensemble. The second year, I did an independent study with a friend who played guitar. We learned how to transpose music, and a faculty member took us to a recording studio to make a tape.
2.) What did you like least about your school's art program?
Sometimes the plays have a limited roles. You can, however, participate in plays through tech crew or assistant director.
Extracurricular Opportunities:
1.) What did you like most about the extracurricular activities offered at your school?
There are many activities to choose from. There is a community service organization. They have gone on Habitat for Humanity trips and worked at local soup kitchens. There are clubs for every interest. I was a part of the Blair Academy Players, for acting. I was a tour guide, and gave many tours in my day! I was asked to be a member of Blue & White Key, the Blair honor group. As a member, I worked many Blair functions, mixing with prospective teachers and parents. There are singing clubs, student newspaper & magazine, model UN, and a Society of Skeptics. I would say that 99% of students participate in some sort of activity. Those who do not join clubs usually did not stay. If there is a club that you would like to make, I am sure that a faculty member would support its creation. Clubs are usually open to new members all year long.
2.) What did you like least about the extracurricular activities offered at your school?
Blair will keep you busy. Sometimes the extracurricular activites were hard to balance with the normal work load.
Dorm Life:
1.) What was the best thing about dorm life in your school?
Dorm parents and friends are the best part of dorm life. My dorm parents really became my surrogate parents. You could always find them wandering through the dorm, checking on everyone. Their door was always open, you could always talk with them. All the dorms have a common room. Often, on Saturday nights, some of us would gather and watch movies. It was nice to be able to hang out with the girls. Dorm rules are fair. Curfew is at ten thirty on weeknights, and lights out is at eleven. I was worn out by the end of the day, and had no problem with going to bed at eleven. Study hour is from 8 to 10, usually enough time to finish work. Rooms are of a good size. There is one new dorm on campus and two are renovated. The furniture I used was a loft bed with a desk underneath. With that set up, my roommate and I had a chair, two wardrobes and two dressers, with plenty of space left. Coed visiting hours happened every couple of weeks for two hours. Otherwise you are not allowed to have boys or girls in your room. They can visit you in the common room.
2.) What did you like least about dorm life?
Living with seventy girls! Living in the dorm can get old. Luckly, you can close the door. A word of a advice - if you do not get along with your roommate, switch rooms!
Dining:
1.) What was the best thing about your dining arrangements?
The dining hall food at Blair was delicious. It is better than the food on my meal plan at College. At lunch, you can either get hot food, or make a sandwich or salad. They would always offer some sort of pasta, potato or soup as well. Formal dinner was my favorite. It is a sit down meal, that is served family style. They served a wide range of hot meals, from spaghetti and meatballs, to meatloaf, to London broil. The dining room has straight tables, and a few round. They just expanded the dining room, and it is great. There is assigned seating the first few weeks of school. It allows you to meet people that you might not meet through sports and classes. Formal dinners, which take place twice a week, are assigned seating as well. All other meals, you can choose where to sit.
2.) What did you like least about your dining arrangements?
Sometimes you would not like the selections served at formal dinner. That is when everyone would make a mad dash for the Campus Center.
Social and Town Life:
1.) How welcome did you feel by the other students when you first arrived at the school
When I first arrived at school, it was easy to fit in. Most of the girls that I lived with were in my same shoes - new. The first night at Blair, there are class parties. This makes it easy to meet new people. Coming in as a freshman, there is a retreat to a local camp. This creates a strong freshman class bond. The students at Blair are generally friendly.
2.) Describe the level of diversity and integration of students in your school:
As a boarding school in New Jersey, it was fairly diverse. You find many kids from different backgrounds. Everyone was interested to hear about where you were from, as well as your ideas and opinions. The International Student club helped as well. You got to meet kids from all over the world - including New Jersey!
3.) Describe typical fun activities you did on a weekend:
On the weekend, we would go to the mall on a school trip, or hang around on campus. We would play frisbee, sled in the winter, or watch movies in the campus center. Sometimes, we would go to a friend's house. I was always busy with friends on the weekend.
4.) What was the town like?
Blairstown is very small. People will go down to the grocery store or to the deli for sandwiches. Otherwise, it does not offer a whole lot. Luckily, there are weekend excursions. Students can sign up for mall and movie trips and the occasional trip to the outlet stores. There are some small restaurants in the town, but usually Blair offers good food.
Daily Schedule:
Weekday
7:00 AM
Wake up, breakfast
7:30 AM
School meeting, Armstrong Hipkins
11:00 AM
Free Block; study or group meeting
3:00 PM
Philosophy of Religion
7:00 PM
Free time, hang out at the campus center
10:30 PM
All students back to dorm, get ready for bed
Weekend
1:00 PM
Club trip or Mall trip
10:00 PM
Meet with friends at campus center
11:00 PM
Everyone back in dorm
Blair's emphasis on community made it stand out. For me, that started on my tour, when everyone seemed to know everyone else as we walked around the 400-acre campus. The friendly atmosphere and. . .
Blair Academy is a beautiful school that provided a lot of nourishment for students looking for an alternative to local private/public schools. Blair was the perfect size school with students from around the world. . .
The Campus is a park like setting with a growing infrastructure that helps it adapt to our ever changing world. It is somewhat isolated so campus life is our focus.. . .
Show more reviews (

6 reviews

)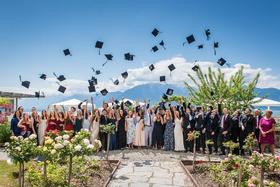 Nurturing Futures: A Journey through Boarding at Haut-Lac School in Switzerland
Nestled in the hills overlooking Lake Geneva in the French-speaking part of Switzerland lies an educational gem that embodies a unique blend of academic excellence, cultural richness and a profound sense of community. Founded over 30 years ago, Haut-Lac International Bilingual Day and Boarding School is now home to both 600 day students and a maximum of 30 boarders from around the world.
What To Wear at Your Job Interview
Navigating job interviews can be stressful, but knowing what to wear shouldn't be. Our comprehensive guide covers the essential dress code tips for men and women interviewing at boarding schools. Make your first impression count with style and professionalism.
Navigating the Modern Maze: Emerging Challenges for Boarding Schools
Explore the pressing challenges facing boarding schools, from marketing difficulties and rising insurance costs to facility maintenance and recruitment of competent trustees and teachers. This article delves into these complex issues and proposes innovative strategies to overcome them.