Reflections and Advice:
1.) What do you think makes your school unique relative to other boarding schools?
Blair's emphasis on community made it stand out. For me, that started on my tour, when everyone seemed to know everyone else as we walked around the 400-acre campus. The friendly atmosphere and welcoming feeling certainly contributed to my decision to attend Blair over other schools. While at Blair, I truly felt like the faculty and staff cared about my well being, and made sure that if I or another student were struggling, they would go out of their way to help them. Teachers routinely host groups of students for dinner at their houses or do other activities that forge bonds that last long past graduation.
2.) What was the best thing that happened to you in boarding school?
I found my passion and what I wanted to do in college. I grew a lot as a person and became much more independent. I could tell a huge different between myself and other people my freshman year of college, as they hadn't ever been away from home for more than a few days before. I believe I'm much more mature and self-driven than I would be if I hadn't gone to boarding school.
3.) What might you have done differently during your boarding school experience?
Don't be afraid to try new things and meet new people. My first few weeks I was quiet and didn't meet a tone of friends. While everything ended up being ok for me, I would advise kids going to boarding school to leave their comfort zone.
4.) What did you like most about your school?
The sense of community and the relationships I made with the people I met.
5.) Do you have any final words of wisdom for visiting or incoming students to your school?
When Mr. Pagotto says that he has apples in his office during the fall, take one! They're great, and no one ever actually takes him up on the offer. It's also a good excuse to talk to him, and he's a great guy.
Academics:
1.) Describe the academics at your school - what did you like most about it?
Blair's emphasis on conceiving a rigorous-yet-specific plan for each student gives everyone the tools they needed to succeed when they leave for college. For the small size, Blair offers a wide variety of classes, meaning that one can explore a variety of interests while at school. For example, I found my future college major, Cinema and Media Studies, by taking a class on World Religion through Film. Along with countless other examples, the school works with each student to find the path right for them. The workload wasn't easy (and made a freshman year of college simple by comparison), but I found that the environment wasn't very competitive at all.
Athletics:
1.) Describe the athletics at your school - what did you like most about it?
Blair athletics has a great mixture of world-class and friendly to-novice teams. Our wrestling team, for example, is the best high school wrestling program of all time. Our basketball team is also incredible, with all starting five players getting division on scholarships my junior year. However, I was also able to play sports I had never played before and feel welcomed. Our JV basketball team wasn't very good, but I enjoyed my time. There is mandatory participation in 2 of 3 seasons in the school year (fall, winter, spring), but being in the musical/play or being a team manager counts for that requirement.
Art, Music, and Theatre:
1.) Describe the arts program at your school - what did you like most about it?
While I didn't do any theater or music, the visual arts program at Blair is stellar. We opened a new visual arts building my senior year that includes a green-screen room, an audio recording room, a full media lab, and tons of video production equipment. Blair also has a dark room where I fell in love with film photography. The photo teacher, Mr. Trish, does a great job and I highly recommend taking one of his classes!
Extracurricular Opportunities:
1.) Describe the extracurriculars offered at your school - what did you like most about it?
Since sport participation is only mandatory for 2 of 3 seasons, you can be a part of a club for the third season. This includes everything from hiking to video production to yearbook. While there aren't a ton of clubs due to the school's small size, they're a nice reprise from playing sports if you're not into that.
Dorm Life:
1.) Describe the dorm life in your school - what did you like most about it?
The new dorms are really nice. My senior year, I had a private room with my own bathroom and shower. Life in the dorms also fosters a great sense of community that carries throughout the entire school. While not all the dorms are as nice as others, you'll probably get a chance to live in a good one for 2 or 3 of your years. You don't get a chance to pick your room, but you do get to pick your roommate, which is a really easy process.
Dining:
1.) Describe the dining arrangements at your school.
The school had a nice variety at every meal, with a salad and sandwich bar as well as a hot food buffet. While there wasn't a huge variety of the meals they would serve on the hot food line, but they were good. You could sit anywhere and with anyone for meals, except on Tuesday nights, when we had assigned tables and had to wear formal outfits.
Social and Town Life:
1.) Describe the school's town and surrounding area.
Blairstown, while small, is very quaint. The restaurants in the area are solid and the Ho-Ho's is great for Chinese food. It's also the town where the original Friday the 13th was filmed and you can even see Blair's campus in the movie! Every time the 13th lands on a Friday, the town is filled with tourists and there's a big celebration. On one of those days, I snuck out with my friends for a midnight screening of Friday the 13th at the local movie theater and it was a blast.
2.) Describe the social life at your school - what did you like most about it?
The sense of community was the highlight of the social life at Blair. While Blairstown was small and there wasn't much to do off campus, we all had fun with each other in the dorms and around campus. I made lots of close friends through the days we would spend hanging out in the dorms.
Blair's emphasis on community made it stand out. For me, that started on my tour, when everyone seemed to know everyone else as we walked around the 400-acre campus. The friendly atmosphere and. . .
Consistent with its relatively small student body as compared to many other boarding schools, Blair is a place that knows the value of both its community and the relationships cultivated therein. From the moment I. . .
The amazing student-faculty relationships definitely made Blair special for me; the faculty are not only your teachers but also your coaches and mentors and dorm-parents, and all of that inter-relatedness allows the students and faculty. . .
Show more reviews (

6 reviews

)
Mastering the Boarding School Selection Process: A 5-Step Guide
Discover the ultimate 5-step guide to choosing the perfect boarding school for your child. Explore essential factors, such as academics, campus facilities, extracurricular activities, and more. Make an informed decision to provide your child with an enriching and transformative educational experience. Read now!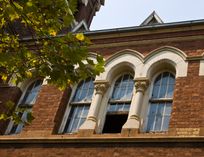 5 Founders and Their Boarding Schools
What prompts somebody to start a boarding school? The motives range from idealism to munificence right on through to capitalism. The common thread seems to be ample capital and a vision of what education can do.