Reflections and Advice:
1.) What do you think makes your school unique relative to other boarding schools?
Blair Academy is a beautiful school that provided a lot of nourishment for students looking for an alternative to local private/public schools. Blair was the perfect size school with students from around the world as well as local to New Jersey. Students were encouraged to explore their athleticism and creativity with a required after school activity. This could be either a seasonal sport or theater. Another unique feature is Blair's Advisory system. Students are asked to choose a faculty member they feel connected and comfortable with. This sets up a stable relationship with faculty to learn and grow with their mentor-ship. Various 1-1s and activities are hosted throughout the year.
2.) What was the best thing that happened to you in boarding school?
I was the one who really wanted to send myself to boarding school. I was looking for an opportunity to move from NC and meet some new people to gain new experiences. Because I went to Blair I was introduced to the North! I do not think that I would have gotten into Bucknell University or have even known what Bucknell was without Blair. The college admissions office introduced me to the school based on the things that I was looking for in a school.I met a lot of lifelong friends and also went on great trips. Going to Kenya really changed my perspective on the world and my thirst for travel. It helped determine my International Relations major in college. Additionally, my Chinese classes in high school helped me get a Chinese major at Bucknell and study abroad in Shanghai.Boarding school really forces you to be independent from your family. You find other people to build relationships with. You learn how to bond with faculty and how to get involved in various activities offered. It did help me prepare for college. I learned time management at a very early age.
3.) What might you have done differently during your boarding school experience?
I would tell students to really take advantage of the different offerings. There is so much going on at the school that they are offering for the students. Don't just sit and watch TV when there are activities planned for you to learn and have fun ! Do get to know your teachers and the faculty. You will find there is a lot you may have in common with them.
4.) What did you like most about your school?
I loved how the school was so small but I never felt trapped. There was so much going on that I was very happy where I was. I really appreciated the faculty that I was able to build life long friendships with. It is exciting to go back and see the teachers who I met my freshman year. I loved the school spirit! My college did not have as much school spirit as Blair did.
5.) Do you have any final words of wisdom for visiting or incoming students to your school?
The campus is beautiful and they have built a lot of dorms since I left! Walk around and try to picture the campus during all seasons.
Academics:
1.) Describe the academics at your school - what did you like most about it?
I enjoyed the academics at Blair because they provided a wide variety of options. I took everything from Ceramics to Chinese. The classes were small which allowed students to thrive and bond with the faculty. The teachers really understood the boarding school lifestyle because many of them had worked there for a long time and lived on campus or were also students at a boarding school.I enjoyed the opportunity to sit with my adviser and choose classes that fulfilled the requirements that I was most interested in. The workload was manageable and because of my schedule I always had time within the day to do homework or find time to meet with my teachers.I was even able to travel to China with my Chinese teachers and to Kenya with my History teacher. These types of travel really helped to build the relationship with faculty and also hammered the full classroom experience.They did limit the amount of AP classes that you were to take -- opposed to many of the public schools in my neighborhood. That was frustrating, but I also think the courses were more competitive because the classrooms were smaller. They could only offer so many classes of AP US History. This may have been beneficial to many students because the smaller the classroom the more attention each student was receiving.
Athletics:
1.) Describe the athletics at your school - what did you like most about it?
There was a diverse amount of sports available at Blair that were unavailable at my local schools. I had played competitive soccer my whole life and I was excited to get to play JV my freshman year. After a few practices and games I asked to practice with the Varsity team and I began to travel with them. The JV team was not a competitive team and many people who were required to choose an after school activity chose JV. We had averaged two games/one game a week and practiced all other days but Sunday. This kept me very active and in shape. We were a competitive team and it was nice to have teammates of all ages. Teachers were required to coach a team as well, and that sometimes lead to sub-par coaches.In terms of other sports they had tennis, squash, basketball, spring and winter track, swimming, lacrosse and more. Teams are a great way to meet new people and this really facilitated a communal feeling on campus.
Art, Music, and Theatre:
1.) Describe the arts program at your school - what did you like most about it?
The arts program was pretty good. I was part of one theater production that had great props and costumes. They had parts for all levels of participation. I took a painting class, ceramics, and video class. The curriculum really encourages students to take varying forms of art. They had great resources and I never felt like we were missing something. Some of the classes did have additional costs.I think sometimes the athletics out shined a lot of the art programs. Having the ability to take art classes during the day allowed for me to also participate in sports and not have to choose one or the other. I think this is a really great option for students interested in both.
Extracurricular Opportunities:
1.) Describe the extracurriculars offered at your school - what did you like most about it?
There was a great senior led council that would really pump up the school every week. They would lead different sketches and get students excited and happy about being there. They would plan different activities. There were student councils for every grade. I enjoyed how students had a lot of say in the activities going on.It cannot be easy to entertain hundreds of students with a lot of energy. I remember a Chopped competition in the dining room that was pretty fun and unique. They always had weekly postings of the different activities going on all around campus.
Dorm Life:
1.) Describe the dorm life in your school - what did you like most about it?
The dorm life was a really great time. In terms of female living, the freshman and sophomores really lived in the same dorm when I went there. Roommates were paired before arriving. The beds were lofted and you had a desk underneath. The rooms were fairly small but I purchased additional plastic shelving I used for all four years. There were a lot of young girls in one building and this often caused some issues.Back then they would shut off the internet at 11:00pm. This would help with people going to sleep. Study hall would be from 8:00-10:00 where students were expected to stay in there room and put their phones in the hall. I'm not sure how they control this now with all the different technology and messaging devices.I did find that I was incredibly tired my first two years. You were constantly doing something and were always with someone. It was pretty rare that you were alone and this was exhausting. I took a lot of naps.There wasn't much access to late night food and if there was freshman and sophomores were not able to go out after a certain time during the week. Every year you would submit who you wanted to live with. Usually this process worked well, but sometimes there was some drama. Students were able to transfer our of their room -- I never heard of a case where students were stuck in a harmful living situation. The dorm parents were very involved.I applied to live in the Junior door my senior year as a leadership position as a prefect. These were pretty competitive and there was an application process for students to be placed in other dorms to be a mentor/friend to younger students. They would have dorm duty one night with a faculty member and help with homework or bond with the other students. Prefects had a few perks but it was more of a great opportunity to show your leadership skills off and have a chance to bond with younger students.
Dining:
1.) Describe the dining arrangements at your school.
The food was ok. The cafeteria opened about 11:30 I believe. You could serve yourself at a few stations or go through the line. I did gain weight my freshman year, but not from the cafeteria. We would often order Chinese food from the local fast food place and have it delivered. We had seated formal dinner about once every two weeks I think? This would be led by a senior at your table and a faculty member. Students were be randomly placed at different tables to get to know one another. This was also an opportunity for faculty to get to know other students.Otherwise there was not assigned seating. There were other dining options to eat at the student center. You had to pay for this additional food. The dining room did not have the best hours, so many people did end up buying food at the center. Especially during the week. This food was not as healthy and you had a lot of fast food type options.
Social and Town Life:
1.) Describe the school's town and surrounding area.
There was not much to do around in the town. There were pretty small eating places -- nothing too much like a restaurant. There were pretty runs that you could go on. I always felt safe in the area. However, there were not too many options of local activities. They would take buses to the grocery store every weekend or to the mall about 30 minutes away.
2.) Describe the social life at your school - what did you like most about it?
The social life was very concentrated because it was such a small school and you were spending so much time with everyone. I enjoyed the opportunity to meet different people from around the world. They did have various required activities that encouraged students to get to know one another. I do think it would be a lonely place for shyer people. Although they had activities going on, you would need a buddy to attend them usually.
Blair's emphasis on community made it stand out. For me, that started on my tour, when everyone seemed to know everyone else as we walked around the 400-acre campus. The friendly atmosphere and. . .
Consistent with its relatively small student body as compared to many other boarding schools, Blair is a place that knows the value of both its community and the relationships cultivated therein. From the moment I. . .
The amazing student-faculty relationships definitely made Blair special for me; the faculty are not only your teachers but also your coaches and mentors and dorm-parents, and all of that inter-relatedness allows the students and faculty. . .
Show more reviews (

6 reviews

)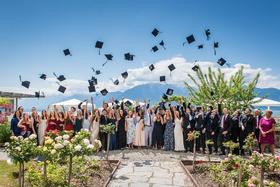 Nurturing Futures: A Journey through Boarding at Haut-Lac School in Switzerland
Nestled in the hills overlooking Lake Geneva in the French-speaking part of Switzerland lies an educational gem that embodies a unique blend of academic excellence, cultural richness and a profound sense of community. Founded over 30 years ago, Haut-Lac International Bilingual Day and Boarding School is now home to both 600 day students and a maximum of 30 boarders from around the world.
What To Wear at Your Job Interview
Navigating job interviews can be stressful, but knowing what to wear shouldn't be. Our comprehensive guide covers the essential dress code tips for men and women interviewing at boarding schools. Make your first impression count with style and professionalism.
Navigating the Modern Maze: Emerging Challenges for Boarding Schools
Explore the pressing challenges facing boarding schools, from marketing difficulties and rising insurance costs to facility maintenance and recruitment of competent trustees and teachers. This article delves into these complex issues and proposes innovative strategies to overcome them.