Reflections and Advice:
1.) What do you think makes your school unique relative to other boarding schools?
The Campus is a park like setting with a growing infrastructure that helps it adapt to our ever changing world. It is somewhat isolated so campus life is our focus.
2.) What was the best thing that happened to you in boarding school?
Again, for me growing up, diversity meant Caucasian Protestants and Catholics. Blair was an explosion of diversity I really was not even aware existed. For that, I am truly thankful for Blair being a part of my life.
3.) What might you have done differently during your boarding school experience?
The world in the late 60s was wildly changing and I think Blair was a very good place to experience that. I am not sure what I would have done differently. I think what I got from being there was all good. Today I think that concentration on academics would be a bit easier and that would be something I wish I did a better job with.
4.) What did you like most about your school?
Having the freedom to grow my own way with good guidance and exposure to a bigger world for me. Many of the teachers where very good role models and people I will never forget.
5.) Do you have any final words of wisdom for visiting or incoming students to your school?
It has been too long for me and there have been so many changes in and around the campus, I cannot really be helpful on where to go or what to do. I will say keep and open mind, be flexible and you will find places that work well for you in academics, sports, extracurricular activities and getting to learn how to cooperate with a diverse and ever changing group of people.
Academics:
1.) Describe the academics at your school - what did you like most about it?
I think the level of our teaching staff was and is truly equipped to prepare us for further education. The diversity of staff and students helped me form a far healthier world view than I could have found in my public school.
Athletics:
1.) Describe the athletics at your school - what did you like most about it?
I was not an athlete per se (I learned that in Latin by the way) but appreciated the team camaraderie I found as well as the benefit of learning to help each other be better at what we were all trying to do. Athletics was mandatory of course but the staff worked hard to find a place for each and every one of us. A real effort was made to leave no one behind.
Art, Music, and Theatre:
1.) Describe the arts program at your school - what did you like most about it?
The variety of arts programs and our exposure to many different forms of art helped me grow to appreciate more of that world around me. Theater, music, poetry and more were always all around us.
Extracurricular Opportunities:
1.) Describe the extracurriculars offered at your school - what did you like most about it?
More and more programs have appeared on campus over the years. I recall photography, hiking, our newspaper and a number of other interests addressed and I sure that has only grown since.
Dorm Life:
1.) Describe the dorm life in your school - what did you like most about it?
For me, learning both to live independently (I always did my own laundry in town for instance) and to share with others was nothing short of helpful for the rest of my life. I will never forget my parents driving away my first day at Blair and being a bit scared not knowing what to expect next. As a sophomore, I was not equipped with much world experience nor had I ever needed to share a room with anyone. When I got to college, others floundered with this new experience but I was already an old hand.
Dining:
1.) Describe the dining arrangements at your school.
The regimentation of meals kept one on our toes to be dressed appropriately and in the right place at the right time. Sit down family style meals was a great training ground for learning bits the social graces and taking turns serving and busing our tables was another great lesson in sharing the work load we would encounter the rest of our lives.
Social and Town Life:
1.) Describe the school's town and surrounding area.
The town of Blairstown was a bit rudimentary but had things to enjoy about it. One of my weekly rituals was carting my laundry to the town laundry mat (I don't recall anyone else doing that as most used the school's service) and getting a peppersteak sandwich at the diner between cycles. The pathways around campus and the town provided lots of distraction of course as well.
2.) Describe the social life at your school - what did you like most about it?
My first 2 years there Blair was a school for only boys. My senior year, it reopened to coeds though with 400 boys and maybe about 2 dozen girls, social life was a bit lopsided. Dances with girls schools were always more like hit and run events so that part of my growing up had to wait a bit. Today of course there is a robust mix of boys and girls so that is likely a real improvement.
Blair's emphasis on community made it stand out. For me, that started on my tour, when everyone seemed to know everyone else as we walked around the 400-acre campus. The friendly atmosphere and. . .
Blair Academy is a beautiful school that provided a lot of nourishment for students looking for an alternative to local private/public schools. Blair was the perfect size school with students from around the world. . .
The Campus is a park like setting with a growing infrastructure that helps it adapt to our ever changing world. It is somewhat isolated so campus life is our focus.. . .
Show more reviews (

6 reviews

)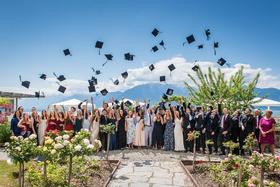 Nurturing Futures: A Journey through Boarding at Haut-Lac School in Switzerland
Nestled in the hills overlooking Lake Geneva in the French-speaking part of Switzerland lies an educational gem that embodies a unique blend of academic excellence, cultural richness and a profound sense of community. Founded over 30 years ago, Haut-Lac International Bilingual Day and Boarding School is now home to both 600 day students and a maximum of 30 boarders from around the world.
What To Wear at Your Job Interview
Navigating job interviews can be stressful, but knowing what to wear shouldn't be. Our comprehensive guide covers the essential dress code tips for men and women interviewing at boarding schools. Make your first impression count with style and professionalism.
Navigating the Modern Maze: Emerging Challenges for Boarding Schools
Explore the pressing challenges facing boarding schools, from marketing difficulties and rising insurance costs to facility maintenance and recruitment of competent trustees and teachers. This article delves into these complex issues and proposes innovative strategies to overcome them.