Reflections and Advice:
1.) What do you think makes your school unique relative to other boarding schools?
Chatham Hall's advisor program is something really unique that has been so helpful to me - one of the best parts about my experience here actually. Students select an advisor and the groups meet twice weekly for meals as well as other times during the week. In many cases the advisor helps take the place of a parent during the transition to this new world. I think Chatham Hall faculty members are completely dedicated to this and are always there to talk or help work through a problem. The closeness of the group really becomes your family away from home.
2.) What was the best thing that happened to you in boarding school?
I came here as an over-sensitive, clingy girl and through the support of my friends and the faculty here I have grown in so many ways. More than anything, I am comfortable with myself and have used that to my full advantage in trying new things and really savoring all the unique offerings.
3.) What might you have done differently during your boarding school experience?
My main advice would be to dive in with both feet right away your freshman year - don't let time slip by.
4.) What did you like most about your school?
Our community and the friends I have made are what I cherish most about Chatham Hall.
5.) Do you have any final words of wisdom for visiting or incoming students to your school?
Our chapel (St. Mary's Chapel) is so beautiful and peaceful and spiritual - you have to visit it to fully appreciate it.
Academics:
1.) Describe the academics at your school - what did you like most about it?
One thing that I think is special and unique about Chatham Hall is the reward you receive relative to the work you put in. There are so clearly benefits to becoming fully involved here and I can say that this has been a huge part of my development as a student here. My freshman year I struggled with sciences and I think I even fought against doing well in the classes. However, as a junior and senior I let myself become much more involved and that new energy (mixed with our great teachers) helped me to achieve a level of understanding with the material that I hadn't imagined would be possible. Chatham Hall also offers some really great and unique electives. I've taken everything from ceramics to astronomy to film noir here and each class has been so interesting.
Athletics:
1.) Describe the athletics at your school - what did you like most about it?
I was part of the varsity volleyball team all four years at Chatham Hall. The group was very diverse and it helped us to learn from each other while working together to reach a common goal. Traveling to our away games was always fun. Even though our team struggled from time to time we all really enjoyed getting the chance to be together.
Art, Music, and Theatre:
1.) Describe the arts program at your school - what did you like most about it?
I never really thought of myself as an artistic person but I have to admit, I've been pleasantly surprised with how much fun I've had in arts classes and after school activities. My participation in both the dance troupe and the musical productions came about in a very natural, organic way. Another great thing about Chatham Hall arts, or just about anything for that matter, is the opportunity to try - a real chance to experiment with different things that you think you might be interested in without the fear of failure.
Extracurricular Opportunities:
1.) Describe the extracurriculars offered at your school - what did you like most about it?
Community service is not required at Chatham Hall but that said, every time you do one of the activities - whether it's working at the local food bank or at the Boys & Girls Club - you get a great chance to hang out with your friends while also doing something you can feel good about. I've tried several different volunteer activities and I've enjoyed them all. I think this experience will also help encourage me to volunteer my time beyond Chatham Hall.
Dorm Life:
1.) Describe the dorm life in your school - what did you like most about it?
I think that Chatham Hall's system of distributing rooms & roommates is very fair. Essentially, it comes back to the get what you give aspect that I mentioned. If you keep your room clean and stay on top of respecting your roommates stuff then you earn the right to selections at the end of the year. Our houseparents are approachable and very helpful.
Dining:
1.) Describe the dining arrangements at your school.
Chatham Hall is big on comfort food - I really love our pizza - there is always a great selection of different kinds. And every Sunday morning there is a big brunch. Our dining hall and kitchen were just recently renovated and they are absolutely gorgeous - in fact, I've heard quite a few people say that they are nicer than college facilities that they've visited.
Social and Town Life:
1.) Describe the school's town and surrounding area.
The town of Chatham is small, no doubt about it, but I think it's really charming. There are a few restaurants and a cool new coffeehouse. Plus there is a monthly open mic of which I was actually the MC for one time. It was a lot of fun.
2.) Describe the social life at your school - what did you like most about it?
I'm really happy with my life here. I'm sure my life is a little different than the typical high school student in a big public high school but I am also completely aware of all of the amazing opportunities that I have access to here. I am so close with my friends and enjoy their company so much that i never get bored. There are tons of cultural activities planned through-out the year and none of them are dull. I've sat in an amazing high-tech military helicopter, feed a giant buffalo and sat on the stage of the Black Friars Shakespeare theater in just the last six months.
Daily Schedule:
Weekday
10:30 AM
English elective - Absurdity & Beyond
12:30 AM
AP Human Geography
Weekend
The most important facet of life at Chatham Hall is the strong sense of community. At atmosphere of care, trust, and kindness is the foundation upon which our school is built. This makes. . .
Chatham Hall's advisor program is something really unique that has been so helpful to me - one of the best parts about my experience here actually. Students select an advisor and the groups meet twice. . .
I feel like our school's Honor Code is stronger than any other school I came across when I was researching schools to possibly attend. It makes for a more trusting and tight knit community. I was. . .
Show more reviews (

2 reviews

)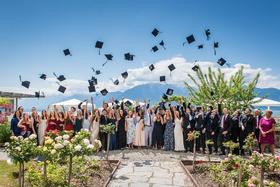 Nurturing Futures: A Journey through Boarding at Haut-Lac School in Switzerland
Nestled in the hills overlooking Lake Geneva in the French-speaking part of Switzerland lies an educational gem that embodies a unique blend of academic excellence, cultural richness and a profound sense of community. Founded over 30 years ago, Haut-Lac International Bilingual Day and Boarding School is now home to both 600 day students and a maximum of 30 boarders from around the world.
What To Wear at Your Job Interview
Navigating job interviews can be stressful, but knowing what to wear shouldn't be. Our comprehensive guide covers the essential dress code tips for men and women interviewing at boarding schools. Make your first impression count with style and professionalism.
Navigating the Modern Maze: Emerging Challenges for Boarding Schools
Explore the pressing challenges facing boarding schools, from marketing difficulties and rising insurance costs to facility maintenance and recruitment of competent trustees and teachers. This article delves into these complex issues and proposes innovative strategies to overcome them.