Reflections and Advice:
1.) What do you think makes your school unique relative to other boarding schools?
The moment you step foot on Chatham Hall's campus you immediately feel at home. You feel the warmth of the community and feel accepted by everyone. Chatham Hall made me the person I am today. I married my husband with seven of my closest Chatham Hall girls next to me. Chatham gave me lifelong friendships that I cherish every day. It taught me to not be afraid to speak up against injustice and to seek higher purpose in my life. I learned how to be confident and pursue my dreams.
2.) What was the best thing that happened to you in boarding school?
I met my very best, life-long friends.
3.) What might you have done differently during your boarding school experience?
Immerse yourself fully in the experience - it goes by quickly!
4.) What did you like most about your school?
The people and the culture.
5.) Do you have any final words of wisdom for visiting or incoming students to your school?
Check out the tea room - the best place for studying and relaxation.
Academics:
1.) Describe the academics at your school - what did you like most about it?
I loved that I was always challenged academically and was able to pursue my interests in math and science.
Athletics:
1.) Describe the athletics at your school - what did you like most about it?
The athletics program was very robust and I was able to participate in lots of different sports at varying levels of competitiveness.
Art, Music, and Theatre:
1.) Describe the arts program at your school - what did you like most about it?
There are so many amazing ways to engage in the arts at Chatham Hall! Between the visual arts, dance, and music there is truly something for everyone.
Extracurricular Opportunities:
1.) Describe the extracurriculars offered at your school - what did you like most about it?
There were always ample opportunities to explore whatever activities you were interested in.
Dorm Life:
1.) Describe the dorm life in your school - what did you like most about it?
The dorms at Chatham Hall are such a blast! You get to live with your best friends :)
Dining:
1.) Describe the dining arrangements at your school.
Yardley dining is amazing! From the Thanksgiving dinner and cherries jubilee to the breakfast for dinner each meal is an opportunity to engage and connect with other members of the community.
Social and Town Life:
1.) Describe the school's town and surrounding area.
The town of Chatham is small and quaint. Very charming and full of fun traditions!
2.) Describe the social life at your school - what did you like most about it?
Weekends were full of opportunities for fun social events. Mixers, movies, concerts - there is always something fun to do!
The most important facet of life at Chatham Hall is the strong sense of community. At atmosphere of care, trust, and kindness is the foundation upon which our school is built. This makes. . .
Chatham Hall's advisor program is something really unique that has been so helpful to me - one of the best parts about my experience here actually. Students select an advisor and the groups meet twice. . .
I feel like our school's Honor Code is stronger than any other school I came across when I was researching schools to possibly attend. It makes for a more trusting and tight knit community. I was. . .
Show more reviews (

2 reviews

)
Mastering the Boarding School Selection Process: A 5-Step Guide
Discover the ultimate 5-step guide to choosing the perfect boarding school for your child. Explore essential factors, such as academics, campus facilities, extracurricular activities, and more. Make an informed decision to provide your child with an enriching and transformative educational experience. Read now!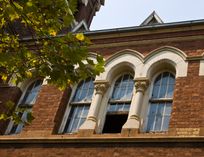 5 Founders and Their Boarding Schools
What prompts somebody to start a boarding school? The motives range from idealism to munificence right on through to capitalism. The common thread seems to be ample capital and a vision of what education can do.