Reflections and Advice:
1.) What do you think makes your school unique relative to other boarding schools?
The most important facet of life at Chatham Hall is the strong sense of community. At atmosphere of care, trust, and kindness is the foundation upon which our school is built. This makes Chatham a wonderful place to try new activities, explore a rigorous curriculum, and enjoy a new level of independence. Chatham's close-knit community is supported by a strong Honor Code and the Purple & Golden Rule. The Honor Code is distinctive at this school not for its words (I will not lie. I will not cheat. I will not steal. I will report all infractions of honor.), but for its nature. Students and faculty alike see the Honor Code as a way of life, rather than a rule. The Purple & Golden Rule takes integrity a step further by outlining principles of respect. The girls at Chatham Hall take their responsibility to one another and the school's values very seriously. The thing that I loved most about Chatham was feeling as if I had a family and a home.
2.) What was the best thing that happened to you in boarding school?
As an eighth grade student, I had specific reasons for applying to boarding schools. I wanted to find a place that would challenge me intellectually, prepare me for a top university, and give me valuable experience living away from home. I found all of that in Chatham Hall and easily made the decision to attend. As an incoming freshman, however, I had no understanding of all of the other wonderful things Chatham had to offer. For four years, I was able to live in a warm, encouraging community where others wanted me to succeed just as much as I did. Looking back, I know that Chatham is the place where I learned to value relationships in a way that I never had before. This school is an amazing place to learn, and an even better place to grow and form connections with passionate, kind people. I was looking for a school, and I found that. I also found an extended family.
3.) What might you have done differently during your boarding school experience?
My advice is to consider the whole picture. It is important to keep sight of the end-goal during high school: collegiate and/or professional preparation. However, a boarding school experience is not complete without taking full part in a community. In my first year, I was very cautious and occasionally avoided doing things for fun if I thought they might interfere with my academics. While I am glad that I kept my priorities, I learned over the course of four years that balancing academics and other aspects of life is what boarding school is really about. After all, your school will also be your home!
4.) What did you like most about your school?
I have already discussed the amazing sense of community at Chatham Hall. It is something that even visitors pinpoint as a distinguishing feature of the school. Beyond the community, I really enjoyed finding my passions and testing my academic and personal abilities in such an exciting and safe place.
5.) Do you have any final words of wisdom for visiting or incoming students to your school?
1. Dabney is the best dorm-- always. 2. Try not to charge too much to your student account at the snack bar and bookstore. 3. Read The Columns and The Iris. 4. Don't be afraid to open up. 5. Take electives freshman year, too, in case you don't have time for all of them later. 6. Learn, learn, learn! 7. Have fun!
Academics:
1.) Describe the academics at your school - what did you like most about it?
The thing I most enjoyed about academics at Chatham was the level of discussion. The small class size allows each student to contribute her ideas. We also use Harkness-style tables in many classrooms. Though the physical set-up of classes helps to foster an open environment, the true drive behind discussion is how invested students and teachers are in the material. Classes at Chatham Hall were great because I had such passionate people in the room with me. Our faculty is really committed, many stay for extra help during study hours. They also care about their classes, and because of this, they make classes challenging and engaging.As I got into my junior and senior years, I also got to enjoy a more diverse course selection. There are electives offered in the English, History & Geography, Music, Theatre, and Science departments. Even more unique is Chatham's outstanding option to craft an independent study. Students are always encouraged to explore their interests one-on-one with a teacher. There are even several school-funded grants and scholarships available to support travel-based independent studies.
Athletics:
1.) Describe the athletics at your school - what did you like most about it?
All students are required to participate in athletics for all three seasons. There are about five options per season, including some substitutes such as theatre. Athletic teams meet for two hours each weekday, plus games/meets/matches. While I was not a particularly athletic person before attending Chatham, I always felt comfortable trying new sports. Chatham is not well-known for most sports, but the equestrian program is very strong.
Art, Music, and Theatre:
1.) Describe the arts program at your school - what did you like most about it?
The Black Box Theatre and Van Voorhis Lecture Hall (which functions as a limited theater space) house the performing arts at Chatham. Annually, the school has a fall play, a winter musical, three seasonal dance performances (at minimum), two art gallery showings (at minimum), and two vocal/instrumental concerts (at minimum)-- all of which feature student artists. There are also several opportunities each year to enjoy the work of visiting artists, including a yearly Writer in Residence. The school is paying more and more attention to the arts, and several seniors in recent years have been accepted to visual art, design, music, and performing arts programs. I really enjoyed all of these programs and thought that they provided a good balance with my other academic interests. As a writer and performer, I always felt as if there was a way for me to share and strengthen my skills.
Extracurricular Opportunities:
1.) Describe the extracurriculars offered at your school - what did you like most about it?
For a school of its size, Chatham offers a wide array of extracurricular activities. There is really something to fit every type of person with very diverse interests. I also found that their are activities suited to a range of commitment levels. While some activities, especially take-in/application-only/elected positions require very large amounts of time and work, others require nothing more than brief monthly meetings. Most Chatham girls are involved in many clubs, with a few extracurricular interests that are high-priority.
Dorm Life:
1.) Describe the dorm life in your school - what did you like most about it?
Dorms are set up in a traditional hallway style with communal bathrooms on each floor. Freshmen must live in doubles, but a limited number of single rooms are available for subsequent years. There are two dorm buildings, each with two floors of dorms. All freshmen live on the lower floor of either building. Older girls may live on any floor. Roommates are assigned for freshmen, but afterwards, girls may select their roommates. Rooms are allotted based on "room score." A room score is the average of two girls (roommates) scores for the year's room inspections, which are cleanliness checks performed thrice weekly by house faculty. This system works very well since cleanliness is often rewarded with larger rooms. There are rules regulating bedtimes, which vary by grade, and check in times.What I loved most about dorm life at Chatham was the opportunity to share in everyone's experience. As a freshman, I liked having seniors on next door and across the hall who could offer advice. Similarly, as a senior, I really enjoyed connecting with younger girls and hearing their excitement and concerns. Often, girls sit in the hall playing instruments, working on homework, and sharing stories (or snacks!).There are also great resources on dorm. Each hall has its own house faculty member, a woman who teaches and/or coaches in addition to serving as a guide for the hall. Student Honor Council, which consists of 12 seniors who are trained in peer mediation and advising, is also distributing evenly amongst the dorms.
Dining:
1.) Describe the dining arrangements at your school.
The dining hall offers three meals a day Monday-Saturday at given times. On Sunday, there are two meals: brunch and dinner. Students have unlimited access to the dining hall, and meals are generally buffet style, with the exception of special occasions and formal seated dinners. Seated meals are required, with assigned tables. Wednesday dinners and Monday lunches are seated meals with your advisee group (a faculty advisor and his/her four to six advisees). Thursday lunch is a seated meal with a rotating group that changes every three weeks.The dining hall food is usually very good. I enjoyed the variety of options available, which included vegetarian, vegan, and gluten-free diet support. The dining hall staff, contracted through a catering company, works hard to meet everyone's dietary needs and incorporate local (and even school-grown) foods. Other features include the daily salad bar, soup station, sandwich and bagel bar, and fresh fruit options.
Social and Town Life:
1.) Describe the school's town and surrounding area.
Chatham Hall is in the very small town of Chatham, Virginia. The advantage of this is that I always felt amazingly safe, whether eating in town with a friend or running off-campus courses for cross country. Students are allowed to walk to the main street of town (around 10 minutes) on weekends, where there are four restaurants and a couple of other stores. Seniors have extended bounds that include a local grocery store. Chatham Hall is included in the town's main public events, such as the annual 5k and Christmas in Chatham (a student favorite).
2.) Describe the social life at your school - what did you like most about it?
The best thing about social life at Chatham is that it is inclusive. The size and structure of the school makes it easy to get to know everyone on some level. On the weekends, girls often send out mass emails to see if other students are interested in watching a movie, ordering food, or participating in some other sort of activity. On weekend activities, there is usually a good variety of girls signed up, whether it is for shopping, hiking, or going to see an off-Broadway show in Durham. There are about five activities on and off campus each week, and most of them are free.As far as interacting with boys goes, there are school- and conference-sponsored mixers fairly regularly throughout the year. Formals and conference trips to Virginia attractions are other ways to spend time with students from other boarding schools.
The moment you step foot on Chatham Hall's campus you immediately feel at home. You feel the warmth of the community and feel accepted by everyone. Chatham Hall made me the person I am today. . .
Chatham Hall is the place you go to more fully realize yourself in a place full of friends, mentors, creative thinkers and FUN. Wellness and spiritual life, sports, arts, service to wild intellectual curiosity, an. . .
The most important facet of life at Chatham Hall is the strong sense of community. At atmosphere of care, trust, and kindness is the foundation upon which our school is built. This makes. . .
Show more reviews (

2 reviews

)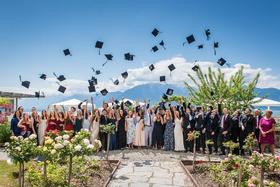 Nurturing Futures: A Journey through Boarding at Haut-Lac School in Switzerland
Nestled in the hills overlooking Lake Geneva in the French-speaking part of Switzerland lies an educational gem that embodies a unique blend of academic excellence, cultural richness and a profound sense of community. Founded over 30 years ago, Haut-Lac International Bilingual Day and Boarding School is now home to both 600 day students and a maximum of 30 boarders from around the world.
What To Wear at Your Job Interview
Navigating job interviews can be stressful, but knowing what to wear shouldn't be. Our comprehensive guide covers the essential dress code tips for men and women interviewing at boarding schools. Make your first impression count with style and professionalism.
Navigating the Modern Maze: Emerging Challenges for Boarding Schools
Explore the pressing challenges facing boarding schools, from marketing difficulties and rising insurance costs to facility maintenance and recruitment of competent trustees and teachers. This article delves into these complex issues and proposes innovative strategies to overcome them.