Reflections and Advice:
1.) What do you think makes your school unique relative to other boarding schools?
Northfield Mount Hermon's commitment to establishing a campus community is one of its most remarkable features. Many schools tout the extension of learning beyond the classroom through special events and programming, but at NMH it is instilled in the very nature of the place. For over 230 years it has been the core of the educational experience at the school and that vision as strong today as when D.L. Moody founded it in 1879. Students and faculty alike take ownership and responsibility for their contributions to one another's lives, growing together. No personal accomplishment goes unrecognized, no difficulty unsupported, because it is impossible to entirely isolate oneself from the fellow students, faculty and staff of the community. There is a sense of family, of belonging, that pervades everything from academics to athletics to the arts to dorm life and the deep personal relationships students develop with faculty and staff, and with one another.
2.) What was the best thing that happened to you in boarding school?
The best part of NMH was its openness. If you were willing to work for something or stand up for something, your fellow students responded with support and praise, even if they disagreed with your views. Students, both outright and through example, encourage one another to get involved and to excel, and expect both from one another. What the institution that is NMH provides is the forum for this to take place. At no other school could I have done so much and yet felt so confident in having full support for my willingness to accomplish it all. Somewhere else I might have been forced to choose between my passions rather than encouraged and assisted in enjoying them all. NMH doesn't try to turn out an ideal NMH graduate who is an archetype of the values of the school. In fact, it seeks to do the opposite, fostering the personal talents and interests of each individual and helping them to grow and develop them throughout their time at the school. I think this makes NMH a very special place, and I am extraordinarily grateful for it.
3.) What might you have done differently during your boarding school experience?
I would have relaxed. I would have realized that the most important thing was to be myself and to let everything come to me. It's easy to get caught up in meeting people and trying to impress them, going to new classes with lots of homework, trying out for sports teams, interacting with kids four years older than you, etc. I would have taken a step back and taken a deep breath every once in a while.
4.) What did you like most about your school?
The people. Students, Faculty, Staff, Administrators; by the time I left it felt like an enormous family. I felt like everyone had my back. I made very strong friendships and felt like I was part of something bigger than myself, and that I was important. That is purely a testament to the people around me who were interested in what I did and what I had to say, just as I enjoyed listening and following their exploits. That culture leads to a more enriching educational experience than can be found elsewhere, and it was the single most important part of my NMH experience. It was home.
5.) Do you have any final words of wisdom for visiting or incoming students to your school?
Even if you are not a student planning to participate in the arts, you should visit the new arts center. It is an incredibly impressive building. Also stop by the school farm. There is a lot of history there, and its a different lens through which to see NMH's values hard at work.
Academics:
1.) Describe the academics at your school - what did you like most about it?
The academic program at NMH is at once rigorous and supportive. Many of my most difficult classes, even those with which I struggled, were my favorite courses because my teachers spent what I realize now to be an incredible amount of extra effort, though at the time they made it seem to be the norm. You are encouraged to push yourself, and NMH teachers and advisors expect you to challenge yourself, but they are with you all the way, expecting you to succeed and finding a way to help you get there. The commitment of the faculty to each student is remarkable. The first class of each term teachers gave out their home and cell phone numbers in addition to email. By far, the best part of the academic experience at NMH is the quality of teaching, and the engagement with which material is presented by the faculty. It is difficult not to become excited during the learning process when it is clear that your teacher can't wait to begin the day's lesson and is sorry to finish it because the information that day (and every day) is so fascinating to them. In two words, NMH academics are thoroughly engaging.
Athletics:
1.) Describe the athletics at your school - what did you like most about it?
NMH has a strong tradition of athletic competition that has only been improving over the last several years. There is a wide range of sports in which the school competes, often with three, sometimes four teams allowing students to develop their athletic talents. The best part of the athletic program is the pride the school takes in its athletes and that students take in one another. Accomplishments are always celebrated and it isn't uncommon to find the football team supporting the soccer team, or the hockey team coming up from the rink to watch the basketball team after having just played a game of their own. In the last several years the facilities at NMH have improved significantly with the addition of six new athletic fields (two turf) with plans to continue updating the rest of the facilities in the next few years.
Art, Music, and Theatre:
1.) Describe the arts program at your school - what did you like most about it?
The Northfield Mount Hermon Arts program is one of the finest in the country, let alone New England. In 2009 the $35 million Rhodes Arts Center was first opened, giving the faculty and students of the arts program the facilities they deserved. Even before the opening of the new building, the NMH arts faculty have consistently garnered a reputation for excellence and fostering impressive student artistic growth throughout the years. There are a myriad of opportunities, both academic and extracurricular, to participate in both the visual and performing arts. The faculty are demanding and care very deeply about students' development as artists. There are frequent opportunities to showcase student talent, be they art shows or theater, music or dance performances, all of which enjoy large turnouts from the student body.The new Arts Center speaks for itself, and I highly recommend that any prospective artist make a visit to see it in person. Technologically state of the art, its performance spaces are designed for maximum functionality. The building is filled with large windows looking across campus and offering sweeping views of the Connecticut River Valley, and the visual art studios are bathed in beautiful natural light at all hours of the day.NMH'sart program has always been an enormous source of pride for the school and its commitment to the program remains unquestioned. My experience with the arts at NMH left me believing that there was little the school wouldn't do to further the work of students involved in the arts program. This commitment is reflected in the significant amount of capital invested in the arts' new home on campus. The new building is almost as impressive as the quality of the arts program itself.
Extracurricular Opportunities:
1.) Describe the extracurriculars offered at your school - what did you like most about it?
NMH has a unique work program. When the school was founded students worked during the day, taking classes in the evening. The school wouldn't have functioned without student work. That tradition has lived on and every student continues to fill a 4-hour per week work requirement. Students work in the dining hall, on the school farm, in classroom buildings and in dorms. Students develop relationships with the staff members who help keep the school running every day and find a greater appreciation for the amount of effort that goes into their education. This is a strong component of the NMH community and contributes to the sense of belonging and ownership that students feel toward their educational experience.Student groups are both popular and easy to create on campus. The school offers a significant amount of support to students who want to create a new organization, specifically one that's geared toward bettering either the campus or surrounding community.
Dorm Life:
1.) Describe the dorm life in your school - what did you like most about it?
Most rooms at NMH are doubles, with a smattering of triples and singles scattered across campus. Each and every dorm on campus has its own distinct character and dorm loyalty is strong. Campus intramural events pit dorms against one another and students take great pride in a house victory. Each dorm has three to four seniors who have been selected as Student Leaders, leadership positions that act as liaisons between the dorm staff and students, and students who've trained to be peer mediators and technology assistants. Dorm faculty live in apartments in the dorms and are a familiar presence.All Freshmen live together in one boys dorm and one girls dorm. After that first year students are allowed to select their roommate, dorm and room, with rising seniors getting the first pick.
Dining:
1.) Describe the dining arrangements at your school.
NMH has one main dining hall (Alumni Hall) where breakfast lunch and dinner are served daily. The food is excellent compared with other boarding schools, with a wealth of options every day, including vegetarian (not just salad), glutin-free and nut-free food. The salad bar is extensive as is the sandwich bar. The dining hall serves as much locally grown produce as possible and is committed to responsible and healthy eating habits. The food at special functions is particularly good. Ask any student about the food at the annual Founder's Day dinner/dance, "Dwight Night" and they'll rave about the quality of the offerings. Between mealtimes the dining hall is open for "grazing hours" in which salad, sandwiches, cereal and fruit is available.
Social and Town Life:
1.) Describe the school's town and surrounding area.
The school is in Gill, MA, a small rural town with very little besides a couple of small restaurants. Greenfield, MA is about 15 minutes away by car (students frequently travel by taxi) and has a multitude of restaurants, shopping, a movie theater and other local entertainment which students frequently enjoy during weekends. Some students venture further south to the Northampton area, Western Massachusetts' cultural epicenter. The school is removed and self-contained yet is within easy traveling distance of the amenities of larger towns.
2.) Describe the social life at your school - what did you like most about it?
The Social life at NMH is based in community. By the end of each year you know nearly every member of the community by face if not by name and this helps to foster a more inclusive, supportive environment. Naturally, students gravitate toward particular other individuals who become their closest friends, but exclusivity is a rarity on campus. Much of the social culture revolves around the activities that students are involved in and the dorms they live in. Your friends are the people you compete or perform with, have class with, and the people you live with.
Daily Schedule:
Weekday
1:00 PM
NMH Singers/Jazz Band
7:00 PM
Theater Rehearsal/Choir/Jazz Band
10:00 PM
End of Study Hall
Weekend
1:00 PM
Baseball/Soccer Game
8:00 PM
Concert/Student performance/Special Campus evening event
One of the unique aspects of attending NMH is the Work Job Program. It is a true equalizer and ensures that every member of the community contributes to and appreciates the work involved in operating. . .
NMH allows students to dive into the community and passions. The college like scheduled of four classes allowed me to seamlessly transition into college academics. Also NMH has a four hour per week work program. . .
Northfield Mount Hermon School helped me become the man I am today.The best thing about NMH was its sense of community. I like to think that I knew almost everyone there, while everyone knew me. . .
Show more reviews (

12 reviews

)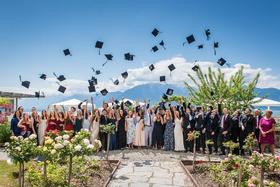 Nurturing Futures: A Journey through Boarding at Haut-Lac School in Switzerland
Nestled in the hills overlooking Lake Geneva in the French-speaking part of Switzerland lies an educational gem that embodies a unique blend of academic excellence, cultural richness and a profound sense of community. Founded over 30 years ago, Haut-Lac International Bilingual Day and Boarding School is now home to both 600 day students and a maximum of 30 boarders from around the world.
What To Wear at Your Job Interview
Navigating job interviews can be stressful, but knowing what to wear shouldn't be. Our comprehensive guide covers the essential dress code tips for men and women interviewing at boarding schools. Make your first impression count with style and professionalism.
Navigating the Modern Maze: Emerging Challenges for Boarding Schools
Explore the pressing challenges facing boarding schools, from marketing difficulties and rising insurance costs to facility maintenance and recruitment of competent trustees and teachers. This article delves into these complex issues and proposes innovative strategies to overcome them.