Reflections and Advice:
1.) What do you think makes your school unique relative to other boarding schools?
NMH has a very open community. Students and faculty are closer than at other schools I've been to or had friends at--I keep in touch with several of my favorite teachers. There's a lot less separation between different groups of students, and everybody knows everybody else. That's probably because NMH is the only New England boarding school that started out as a farm school, giving poor kids the chance to work for their meals and education. The farm is still there, and NMH is still a great opportunity.
2.) What was the best thing that happened to you in boarding school?
I made friends at NMH, both students and teachers, and I still keep in touch with many of them on a daily or weekly basis. Also, NMH made me a better leader and more confident person.
3.) What might you have done differently during your boarding school experience?
Nothing that really matters--a bunch of little things I don't remember any more.
4.) What did you like most about your school?
I'm not sure what I liked most. The people are up there--the kids and teachers are the ones who make it such a great place, and, if you go, you'll keep in touch with them for a while.
5.) Do you have any final words of wisdom for visiting or incoming students to your school?
Eat at the dining hall, and get to know the kitchen staff--it helps. Also, do Ultimate Frisbee with Mark Yates. Oh, and get raspberry jam from the farm--I still do.
Academics:
1.) Describe the academics at your school - what did you like most about it?
NMH taught me how to manage my time. I took 5 AP classes and 7 AP exams senior year. I was on a first-name basis with most of my teachers, and they were always available to sit and talk--after class, in the dining hall, or even in their apartments in the dorms.
Athletics:
1.) Describe the athletics at your school - what did you like most about it?
I started both cross country and Ultimate Frisbee at NMH, and I loved both of them. Competing versus the other New England boarding schools was challenging and worth the effort. Having teachers as coaches was motivating and helped me get to know them.As for resources: The fields are great, and there are plenty of them. Some students are recruited for football and basketball--for basketball, NMH is usually in single-digits of national rank.
Art, Music, and Theatre:
1.) Describe the arts program at your school - what did you like most about it?
I didn't really do art at NMH. That said, NMH has a great arts program and a $29m arts center. The kids who do art love it, and they're my friends--read the other reviews.
Extracurricular Opportunities:
1.) Describe the extracurriculars offered at your school - what did you like most about it?
There's a wide enough range of ECs to suit anybody: I was involved in several (see above) and there were people who were just as involved whose activities were completely different. Kids do art, community service, sports, or something else entirely.
Dorm Life:
1.) Describe the dorm life in your school - what did you like most about it?
I loved living in dorms. Being able to walk next door and find friends is great. Kids at NMH are especially friendly and easy to get to know. Many teachers live on campus, and every floor has a faculty apartment. I liked most of them, but it's easy enough to avoid the ones you don't like.Rooms have internet, dorms have lounges with computers/printers/TV/etc. The late-night Chinese food was a staple of my junior year diet--delicious, and (I think) chicken.
Dining:
1.) Describe the dining arrangements at your school.
I haven't ever eaten better than I did at NMH. Amazing chefs + fresh ingredients = happy students. Some ingredients are even from the school farm! The dining hall is open all day, and there are 'grazing hours' between meal times.It's one giant room, and you can always find friends to sit with. On weekends, some people go there just to hang out. You can also get food from the snack bar in the student center.
Social and Town Life:
1.) Describe the school's town and surrounding area.
NMH is beautiful. The campus is surrounded by New England farms, the Connecticut River, and the Berkshires. I've never seen a campus as pretty, not even after touring 20+ colleges and boarding schools.Greenfield is 10 minutes away and has the basics (restaurants, movie theater, department store, etc.) To get there, NMH has taxi service and a bus stop.
2.) Describe the social life at your school - what did you like most about it?
I picked NMH because I thought the kids would be the best to live with, and, although I'll never know, I think I was right. What I liked best was that it was easy to wander around the dorms or to the dining hall and find things to do.
Daily Schedule:
Weekday
7:00 AM
Wake up (6 AM if more homework)
1:45 PM
Newspaper (twice a week), then homework
7:00 PM
Debate (only Wednedsays, otherwise homework)
11:00 PM
Sleep (12 AM if there's more homework)
Weekend
9:00 AM
(Saturday) Usually sports and then homework.
9:00 AM
Depending on the day: Homework, workjob, debate tournament, or free time
One of the unique aspects of attending NMH is the Work Job Program. It is a true equalizer and ensures that every member of the community contributes to and appreciates the work involved in operating. . .
NMH allows students to dive into the community and passions. The college like scheduled of four classes allowed me to seamlessly transition into college academics. Also NMH has a four hour per week work program. . .
Northfield Mount Hermon School helped me become the man I am today.The best thing about NMH was its sense of community. I like to think that I knew almost everyone there, while everyone knew me. . .
Show more reviews (

12 reviews

)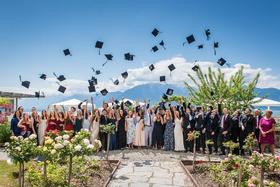 Nurturing Futures: A Journey through Boarding at Haut-Lac School in Switzerland
Nestled in the hills overlooking Lake Geneva in the French-speaking part of Switzerland lies an educational gem that embodies a unique blend of academic excellence, cultural richness and a profound sense of community. Founded over 30 years ago, Haut-Lac International Bilingual Day and Boarding School is now home to both 600 day students and a maximum of 30 boarders from around the world.
What To Wear at Your Job Interview
Navigating job interviews can be stressful, but knowing what to wear shouldn't be. Our comprehensive guide covers the essential dress code tips for men and women interviewing at boarding schools. Make your first impression count with style and professionalism.
Navigating the Modern Maze: Emerging Challenges for Boarding Schools
Explore the pressing challenges facing boarding schools, from marketing difficulties and rising insurance costs to facility maintenance and recruitment of competent trustees and teachers. This article delves into these complex issues and proposes innovative strategies to overcome them.