Reflections and Advice:
1.) What do you think makes your school unique relative to other boarding schools?
Anyone who attends Stevenson is incredibly fortunate. Stevenson's location in the heart of the Monterey Peninsula is just steps from some of the most beautiful beaches in the world while quite accessible to the town itself. Stevenson is comprised of beautifully constructed buildings which are most conducive to both academic and boarding successes. Stevenson's brilliant teachers are a pleasure to learn from and utilize many unique and progressive methods for teaching. The faculty is incredibly friendly and genuinely cares about student growth, well-being, and achievement. As a student at Stevenson, you are able to pursue any and all interests you may have coming into the school as well as discover new creative outlets while studying there. Their diverse array of both academic and extra-curricular activities allow students to have boundless choices for involvement, leadership, and a well-rounded education. The strict and yet liberal academic and living environment at Stevenson school make it a truly ideal experience for boarding school.
2.) What was the best thing that happened to you in boarding school?
Stevenson allowed me to become both independent in thought but also in lifestyle. Stevenson also gave me the opportunities and skills to discover new passions and explore my own ability to participate or lead in my community. I will be forever thankful for these often overlooked and yet crucial elements to my development.
3.) What might you have done differently during your boarding school experience?
Get involved: participate in activities you know you love and explore others that might surprise you.Keep an open mind: you will meet people from all over the world, experience (and even live with) new cultures, and learn in new ways - get excited!
4.) What did you like most about your school?
It's diversity in activities, instruction, and relationships and its genuine investment in my well-being.
5.) Do you have any final words of wisdom for visiting or incoming students to your school?
Wake up early and go for runs along the beachDiscover Pacific GroveTake photographyGo on the wilderness expeditionAsk lots of questions
Academics:
1.) Describe the academics at your school - what did you like most about it?
While the academics at Stevenson are rigorous, they are presented in unique engaging lessons which make class enjoyable. I loved the flexibility we were given to explore our own interests within assignments and build our own projects. I also really enjoyed living with the faculty on campus as it made academics more of a lifestyle than a separate realm. Teachers are always present to ask for advice, academic support, or to simply chat. They are an terrific source of encouragement and positive energy on campus.
Athletics:
1.) Describe the athletics at your school - what did you like most about it?
Anyone and everyone is required to participate in some sort of extra-curricular activity every semester at Stevenson. While this can have its draw-backs at the end of the school day, it forces students to release their energy, be physically active, and explore their interests. Stevenson has almost every sport you could want and if they don't offer it, you are still able to pursue it wherever you would like with a waiver. All sports are both JV and Varsity. Practice is everyday after school for at least an hour. All of the coaches are teachers.
Art, Music, and Theatre:
1.) Describe the arts program at your school - what did you like most about it?
This area is one of Stevenson's strongest assets. Every year there are two plays and one musical. Every 3 or 4 years the musical goes on tour; the two years I went on tour were to Hawaii, and Scotland and England. Classes in the performing arts include chorus, chamber singers, dance (3 levels), acting (3 levels), and band (3 types). The school also offers drawing, painting, pottery, photography, and sculpture. The school has very talented instruction in these areas allowing incredible depth for student growth.
Extracurricular Opportunities:
1.) Describe the extracurriculars offered at your school - what did you like most about it?
The extra-curricular activities at the school are varied and offer many opportunities for growth and leadership. These opportunities include dorm-life, clubs, advising, student government, and wilderness expeditions. Any student is able to join or create a club and the level of involvement is up to each member. All students are eligible and encouraged to apply for all levels of leadership in any field. These opportunities are competitive and strongly resemble real-world application processes including applications, personal statements, and interviews (it greatly prepared me for life after high school!).
Dorm Life:
1.) Describe the dorm life in your school - what did you like most about it?
The rooms are huge and gorgeous. All rooms come fully furnished with a desk, twin bed, and dresser for each student. Every room has windows and all of the dormitories are some of the nicest buildings I have ever seen. Every student is able to select his or her roommate after freshman year. Singles exist and are assigned mainly to prefects and upper-classmen. Students are welcome to have mini-fridges and microwaves in their rooms as well as your choice of food items. Rooms undergo inspection every day for cleanliness and must pass a once a week inspection for a higher level of cleanliness. However, all doors have locks and are your personal space. Students are able to hang any art/posters/lights and rearrange furniture to their liking. Any extra furniture a student wants to bring is welcome too.
Dining:
1.) Describe the dining arrangements at your school.
You can always eat anything at anytime and the food is pretty tasty. There is always a salad bar, fresh fruit, pasta bar, rice cooker, bread station, cereal bar, a hot meal and desert. The cafeteria is open for breakfast, lunch, and dinner. None of the meals are mandatory; however, it is required that all students check-in with the on-duty faculty at dinner. There is one formal dinner that everyone must attend on Monday night with an according dress code. All students have assigned seats at this meal. At all other meals students are free to sit where they like.
Social and Town Life:
1.) Describe the school's town and surrounding area.
Monterey is a great place to be situated. The county includes Pebble Beach, Pacific Grove, Carmel, Monterey, and Seaside. Transportation to all of these places are offered either by a shuttle bus that runs every hour on the weekends or by special trips that can be planned in advance. Students are able to travel with fellow students who have cars any day during certain times through a sign-in/sign-out process. The surrounding towns offer great restaurants, jewelry, clothes, groceries, and other necessity stores. Del Monte Center is a typical outdoor mall and is a place where you will be spending a lot of time.
2.) Describe the social life at your school - what did you like most about it?
The school is a great size - just small enough to know everyone but large enough to find your own niche in any social group. I loved being able to live with my classmates. I found it allowed me to form closer bonds with them then I otherwise would have anywhere else. Also, because of the school's flexible traveling and guest policies, it is relatively easy to visit other friends or have them stay with you.
Daily Schedule:
Weekday
3:00 PM
After school activity starts
4:30 PM
After school activity ends
Weekend
1:00 PM
Go (grocery) shopping/ See friends
Every teacher is always accessible and they are always friendly. I felt so at home there. They also have a counseling center where they take ideas from students about how to improve the school psychologically. . .
RLS gave me the perfect gateway experience from high school to college. The living environment, the professors, the class structure and electives selections were stellar. Best all around experience of my life to date. . .
Stevenson is a stunning atmosphere both beauty and quality of life. The school is situated in Pebble Beach, on the beautiful Monterey Peninsula. However, the scenery is not the most beautiful part about Stevenson. The. . .
Show more reviews (

8 reviews

)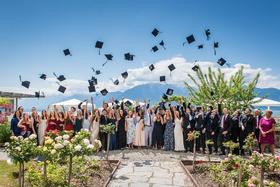 Nurturing Futures: A Journey through Boarding at Haut-Lac School in Switzerland
Nestled in the hills overlooking Lake Geneva in the French-speaking part of Switzerland lies an educational gem that embodies a unique blend of academic excellence, cultural richness and a profound sense of community. Founded over 30 years ago, Haut-Lac International Bilingual Day and Boarding School is now home to both 600 day students and a maximum of 30 boarders from around the world.
What To Wear at Your Job Interview
Navigating job interviews can be stressful, but knowing what to wear shouldn't be. Our comprehensive guide covers the essential dress code tips for men and women interviewing at boarding schools. Make your first impression count with style and professionalism.
Navigating the Modern Maze: Emerging Challenges for Boarding Schools
Explore the pressing challenges facing boarding schools, from marketing difficulties and rising insurance costs to facility maintenance and recruitment of competent trustees and teachers. This article delves into these complex issues and proposes innovative strategies to overcome them.