Reflections and Advice:
1.) What do you think makes your school unique relative to other boarding schools?
Williston's location gives the students a variety of resources and opportunities. Located in the Pioneer Valley, Williston is only minutes away from the Five Colleges. Up until a few years ago, the school's relationship to them was largely informal. However, in the past few years, Williston has really worked to strengthen its relationship with the Five Colleges, bringing in professors to give speeches and sending field trips to the great museums and theaters of Smith, Mt. Holyoke, Hampshire, Amherst, and UMASS. Williston's proximity to Northampton, a neat little city with a great variety of food and art, gives students a great place to hang out on the weekends.
2.) What was the best thing that happened to you in boarding school?
Williston encouraged me to try new things. Most notably, thanks to the breadth of options in the Athletic program, I was able to join the cross country team as a sophomore. I discovered to my surprise that I had a talent for, and enjoyed running. Some of my favorite times at Williston came on long runs or workouts with the XC team. I could have continued to play soccer and would have enjoyed it, but if I had not been pushed to try a new sport, I would not have discovered something that I love.
3.) What might you have done differently during your boarding school experience?
I would have been more open to trying new activities at first.
4.) What did you like most about your school?
The Williston community is a truly special and unique place. Everyone on the faculty from the longest tenured member to the newest intern cares about every single student. Many faculty families live in dorms and school-owned houses throughout campus, so students get to know them inside and outside the classroom. The student community at Williston is also very dynamic. Students come from all around the world and the country, and getting to know such a wide range of great people is something I will always cherish.
5.) Do you have any final words of wisdom for visiting or incoming students to your school?
I would recommend that you see a night game, if possible. Also, make sure to meet with a faculty member from a specific sports, academic subject, or extracurricular activity of yours if you are interest in it.
Academics:
1.) Describe the academics at your school - what did you like most about it?
At Williston, students take five classes per semester. Most classes are full year classes, electives (which are offered in the Religion & Philosophy, History, Science, and Art departments) are a semester long. Each class meets four times per week, with three 45 minute classes and one 70 minute session. Williston offers a wide variety of electives every year, in addition to its strong core curriculum. A typical schedule for most students includes courses in English, Foreign Language (Latin, French, Chinese and Spanish), History, Math, and Science. The teachers at Williston are invested in every part of the academic experience. Not only do teachers love teaching, but teachers love to meet with students for extra help before school, during free periods, or in the evening. While students certainly take great pride in their own grades, they are more competing with themselves rather than other students. Students love to work together on problem sets or to study for exams.
Athletics:
1.) Describe the athletics at your school - what did you like most about it?
Williston athletics program offers something to everyone. The varsity teams are very competitive, playing in Division II NEPSAC. Common opponents are Suffield, Westminster, Deerfield, Berkshire, NMH, and Wilbraham & Monson. Williston and Suffield are big rivals—one weekend every fall, Williston and Suffield play for the Francis-Kinne Cup. Lower level sports teams are less competitive and since Williston has 7th and 8th grades, there are often three or four levels in many sports. The athletic facilities at Williston are phenomenal. Williston has built two artificial turf fields, new tennis courts, and one of the best high school tracks in New England. In addition to the playing fields, there are miles of running and hiking trails by the fields. Coaches, especially on the varsity level, are very knowledgeable about their sport, usually having played at at least the Division III level in college.
Art, Music, and Theatre:
1.) Describe the arts program at your school - what did you like most about it?
While I did not participate very much in the art or theatre programs, I always enjoyed attending plays and listening to music groups during assemblies. Students put on three plays every year. In the winter each year, students can elected to participate in the play as part of the afternoon program. In the fall and spring, the plays practice at night after athletics. Williston offers a wide variety of musical groups. I participate in the Wind Band for a year; this was a concert band with brass, woodwinds, and percussion sections. In addition to this are the Jazz band and a chamber orchestra. Williston has three singing groups, the Caterwaulers, Widdigers and the Teller chorus. Students also jam in the practice rooms during the Activities period. Each musical group performs periodically during assembly.
Extracurricular Opportunities:
1.) Describe the extracurriculars offered at your school - what did you like most about it?
Williston offers a wide variety of student organizations. These typically meet during activities period after school and before sports on Monday and Thursday. Some clubs offered are the Willistonian (school newspaper), Improv Club, Amnesty International, Gay/Straight Alliance, and the Fellowship of Christian Athletes. During my time on the Academic Team, Williston did everything it could to support our efforts.
Dorm Life:
1.) Describe the dorm life in your school - what did you like most about it?
N/A I was a day student.
Dining:
1.) Describe the dining arrangements at your school.
Williston offers buffet style dining for three meals a week on school days, and a brunch and dinner on the weekend. The food at Williston is very good. Breakfast is my favorite meal at the dining hall, although taco lunches and chicken parmesan dinner are big hits as well. A wide variety of food is offered at every meal. At lunch, in addition to the hot entrees there is a deli, equipped with a Panini machine. Every dinner there are a few main foods to choose from no matter what the night.
Social and Town Life:
1.) Describe the school's town and surrounding area.
Williston is nestled in the heart of Easthampton and the Pioneer Valley. As a small city with about 16,000 residents, Easthampton has plenty places to eat and hang out at. Easthampton also has a very strong art scene, which has developed in the past few years. Williston students often hold exhibitions in various art galleries around town. Nearby Northampton has a ton of awesome restaurants and is a great place to walk around on the weekend.
2.) Describe the social life at your school - what did you like most about it?
At Williston, making friends is very easy. From day one on campus, student proctors and teammates welcome new students with open arms. I am very close friends with some of the first people I met when I came onto campus in seventh grade. The school offers many dances on weekends as part of the activities program. Night games are also big events at Williston. Students often paint themselves blue and green and head off to hockey, football, or basketball games to cheer on the Wildcats.
Daily Schedule:
Weekday
9:00 AM
Intro to Classic Music
11:15 AM
Lunch after a free period spent hanging out or getting ahead on homework
2:00 PM
Academic Team Weekly Meeting
5:45 PM
Eat dinner at the dining hall then go home
7:00 PM
Work on homework (~3 hours total per night)
Weekend
8:30 AM
1st Classes on Saturday (Every Other Week), otherwise sleep
11:30 AM
Saturday Classes are over, or I am coming into Williston for a game
7:00 PM
Get back from an away game or hang out with friends
8:00 PM
Go to a night game, dance, or other weekend activity
Williston has a great balance of day students and boarding students, which allow students to know and learn more about the area. With a widespread campus in a safe neighborhood and numerous stores and restaurants. . .
Williston was the best community I could've ever established an identity with. My parents teach at the school, so we actually had a house on the campus. I developed close relationships with not only. . .
At a first glance, The Williston Northampton School appears similar to most college preparatory schools. It contains a beautiful New England campus, wonderful and caring teachers, and great athletic and artistic facilities. However, as many. . .
Show more reviews (

14 reviews

)
Mastering the Boarding School Selection Process: A 5-Step Guide
Discover the ultimate 5-step guide to choosing the perfect boarding school for your child. Explore essential factors, such as academics, campus facilities, extracurricular activities, and more. Make an informed decision to provide your child with an enriching and transformative educational experience. Read now!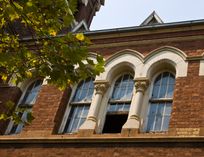 5 Founders and Their Boarding Schools
What prompts somebody to start a boarding school? The motives range from idealism to munificence right on through to capitalism. The common thread seems to be ample capital and a vision of what education can do.