Reflections and Advice:
1.) What do you think makes your school unique relative to other boarding schools?
The one aspect that sets Williston apart from other schools is its genuine effort to celebrate on-campus multiculturalism. Whether through its annual Diversity Day, weekend events, or after school workshops Williston is continually making strides towards unity on-campus.
2.) What was the best thing that happened to you in boarding school?
The best thing that happen to me at Williston is finding my passion. At Willistion the seeds of advocacy, and social consciousness were placed within me. If it were not for my experiences with T.R.I.B.E and the Diversity committee I do not think I would have ever thought to pursue a career in law.
3.) What might you have done differently during your boarding school experience?
My advice for the future generations of Williston are to be fearless in all you do. Don't settle for mediocrity and most importantly HAVE FUN!!!
4.) What did you like most about your school?
What I liked most about Williston is the life changing relationships and friends that I made while there.
5.) Do you have any final words of wisdom for visiting or incoming students to your school?
Egg, Cheese, Bacon aka ECB!!!! So yummy, you have to do it at least once.
Academics:
1.) Describe the academics at your school - what did you like most about it?
The academic offerings at Williston are pretty standard. However, the Social Science and English departments have the most passionate and talented faculty members on campus. The course offerings from these two departments are challenging and truly pushes students to think in a more socially conscious way.
Athletics:
1.) Describe the athletics at your school - what did you like most about it?
Williston offers a good variety of sports programs. The offerings range from judo to water polo, you really won't have great difficulty finding a sport to be interested in. Now in regards to the competitiveness I would say Williston ranks in the middle range. Williston has a few sports that are top-notch, among these are girls soccer and volleyball. What really makes Williston sports stand out is the overall goodwill and encouragement that you see between players and coaches on and off the field.
Art, Music, and Theatre:
1.) Describe the arts program at your school - what did you like most about it?
The programming that comes out of the Arts department is really mind blowing. The visual arts often exceed what one might expect from a group of high school students. The creativity and ingenuity displayed in the art speaks volume about the high level instruction the art students at Williston are receiving. The productions from the theater department exude such a level professionalism that the performances were always filled to capacity.
Extracurricular Opportunities:
1.) Describe the extracurriculars offered at your school - what did you like most about it?
There is an abundance of student organizations to choose from at Williston. During my time there you could find anything from the DJ club to the Robotics club. What particularly makes these groups so cool is the fact the advisers really give the students full control of designing programs and events that allows them to express there individuality and point of view.
Dorm Life:
1.) Describe the dorm life in your school - what did you like most about it?
My dorm life was great! I mean this might sound super cheesy, but I really felt at home at Williston. The in dorm events, were always so much fun. I remember having dance parties and funny holiday get togethers and tons other cool stuff. My dorm parents were funny, cool, and always there to with advice.
Dining:
1.) Describe the dining arrangements at your school.
The food at Williston was solid. There was a great variety of food that also included some campus faves (STIR FRY NIGHT!!). Overall the taste was good, the staff was super friendly and accommodating to my needs.
Social and Town Life:
1.) Describe the school's town and surrounding area.
The immediate town of Easthampton is limited in its offerings for hanging out. However, it is close enough to Northampton, the Holyoke mall, and nearby colleges that you really can always find something to do off campus.
2.) Describe the social life at your school - what did you like most about it?
The social life is very close knit. I mean everybody knows everyone and usually are friendly. There is always somewhere for you to fit in at Williston.
Daily Schedule:
Weekday
Weekend
Williston has a great balance of day students and boarding students, which allow students to know and learn more about the area. With a widespread campus in a safe neighborhood and numerous stores and restaurants. . .
Williston was the best community I could've ever established an identity with. My parents teach at the school, so we actually had a house on the campus. I developed close relationships with not only. . .
At a first glance, The Williston Northampton School appears similar to most college preparatory schools. It contains a beautiful New England campus, wonderful and caring teachers, and great athletic and artistic facilities. However, as many. . .
Show more reviews (

14 reviews

)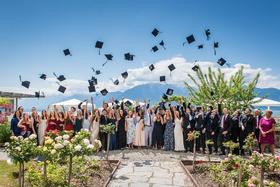 Nurturing Futures: A Journey through Boarding at Haut-Lac School in Switzerland
Nestled in the hills overlooking Lake Geneva in the French-speaking part of Switzerland lies an educational gem that embodies a unique blend of academic excellence, cultural richness and a profound sense of community. Founded over 30 years ago, Haut-Lac International Bilingual Day and Boarding School is now home to both 600 day students and a maximum of 30 boarders from around the world.
What To Wear at Your Job Interview
Navigating job interviews can be stressful, but knowing what to wear shouldn't be. Our comprehensive guide covers the essential dress code tips for men and women interviewing at boarding schools. Make your first impression count with style and professionalism.
Navigating the Modern Maze: Emerging Challenges for Boarding Schools
Explore the pressing challenges facing boarding schools, from marketing difficulties and rising insurance costs to facility maintenance and recruitment of competent trustees and teachers. This article delves into these complex issues and proposes innovative strategies to overcome them.