Reflections and Advice:
1.) What do you think makes your school unique relative to other boarding schools?
The Masters School prides itself on using the Harkness method of teaching. Rather than sit at individual desks, students face each other around a large table. This style prompts discussion and keeps each student engaged. The great thing about the Harkness method is that it gives students the opportunity to question and delve deeper into class material. Unlike most schools where students are expected to take in information, memorize it, and spit out facts on an exam, Masters students are pushed to go above and beyond to ask, "Why?"
2.) What was the best thing that happened to you in boarding school?
Two of my favorite (and most life changing) courses were American Studies (11 grade) and Masters Thesis (12 grade). My American Studies course was a combination of English and History. Outside of class, each student worked on a research paper that followed a current event from September until April. The write up incorporated interviews from experts, companies, etc. As a broadcast journalism major, this experience was fantastic. I became used to conducting interviews, critiquing and editing my own work, and much more. Masters Thesis was a similar experience but consisted of two parts. The first semester focused on a 30 page research paper on a topic of my choice and the second semester was devoted to a final project. This allowed me to direct my own production of Evita within the school. The final performance took place in Estherwood, the school's on-campus mansion. Without this class I would have missed an opportunity to research a topic entirely out of interest and unrelated to a set course.
3.) What might you have done differently during your boarding school experience?
The middle school transition was extremely difficult for me. If I could do it over, I would have been more open to the unique teaching style from the start.
4.) What did you like most about your school?
The freedom. Masters encourages students to be independent thinkers and to explore topics beyond the classroom. Teachers trust the students and that makes a huge difference in the learning experience. Students are allowed to express their creativity inside and out of the classroom and that's what turns work into fun.
5.) Do you have any final words of wisdom for visiting or incoming students to your school?
Follow a student for a day! It will give you a much better sense of a day at Masters. The people are welcoming and are always willing to answer questions.
Academics:
1.) Describe the academics at your school - what did you like most about it?
The best thing about the academics is the experience, and I mean that in two different ways. First, Masters takes you outside the classroom. Interactive learning is a big factor in the curriculum and it makes all the difference. This could mean that students go to the Hudson River for a science class or visit a Mexican restaurant for a Spanish trip. For English, students may go to the city to see a production of Hamlet. Even if it's just a beautiful day teachers will teach their class outdoors on the quad. Masters makes learning interesting. Secondly, after three semesters in college I can safely say that Masters over prepared me. We would write eight pages in a day's notice for AP Lit, but when I got to BU I would overhear complaints about a three page paper due in two weeks. I owe my time management skills to Masters as well. Even in the chaos that is college I still manage to stay organized. Overall, the learning process at Masters is invaluable.
Athletics:
1.) Describe the athletics at your school - what did you like most about it?
Because I took multiple dance classes outside of school I was excused from school sports. Students who spend more than 4 hours a week at an extracurricular activity are eligible for Athletic Option. If approved, students are exempt from participating in Phys. Ed or a Masters School sports team.
Art, Music, and Theatre:
1.) Describe the arts program at your school - what did you like most about it?
The Arts at Masters is very diverse. I participated mostly in performing arts: Dobbs 16, Cleftomaniacs, Glee Club, voice and piano lessons, the drama program, etc. The school really allows each student to develop his/her artistic capabilities.
Extracurricular Opportunities:
1.) Describe the extracurriculars offered at your school - what did you like most about it?
They gave me a chance to meet and get to know other students who I may not have interacted with otherwise.
Dining:
1.) Describe the dining arrangements at your school.
The dining hall is incredible. Definitely not your average middle/high school cafeteria. The food is always great and there are endless amounts of options. If you take a tour be sure to stop in!
Social and Town Life:
1.) Describe the school's town and surrounding area.
Dobbs Ferry is probably the smallest town I have ever known, which means everything is within a ten minute walking distance. Sometimes after school we would grab a slice of pizza or get some snacks from Stop and Shop. On nice days we would go sit by the waterfront. It's a beautiful town and perfect for students when they want a little break from the rigorous school day!
2.) Describe the social life at your school - what did you like most about it?
My favorite part about the Masters School is the people you get to know and love. Because the school is so small, you get to know your fellow students very well, which is most certainly not a bad thing. We became a family and would look out for each other and hang out outside of school whenever possible. The friendships I made during my five years are still strong. We still see each other over breaks and when we do, it's as if we never left in the first place. They are truly great, intelligent people and made my time at Masters unforgettable.
Daily Schedule:
Weekday
3:30 PM
Take the train home
Weekend
9:00 AM
Teach dance classes
12:00 AM
End dance classes
12:30 AM
Relax/Start homework
6:00 PM
Go out with friends
The Masters School can be quickly distinguished from other schools by the style of teaching that takes place. After a quick tour of classes, one will notice that there are no desks. Instead, each classroom. . .
The Masters School prides itself on using the Harkness method of teaching. Rather than sit at individual desks, students face each other around a large table. This style prompts discussion and keeps each. . .
One unique aspect of the Masters School for which I was personally very grateful was our Morning Meeting. This was a gathering of the entire upper school and faculty in the theater, three times weekly. . .
Show more reviews (

5 reviews

)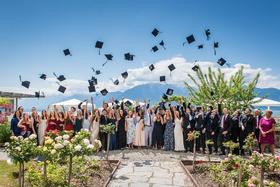 Nurturing Futures: A Journey through Boarding at Haut-Lac School in Switzerland
Nestled in the hills overlooking Lake Geneva in the French-speaking part of Switzerland lies an educational gem that embodies a unique blend of academic excellence, cultural richness and a profound sense of community. Founded over 30 years ago, Haut-Lac International Bilingual Day and Boarding School is now home to both 600 day students and a maximum of 30 boarders from around the world.
What To Wear at Your Job Interview
Navigating job interviews can be stressful, but knowing what to wear shouldn't be. Our comprehensive guide covers the essential dress code tips for men and women interviewing at boarding schools. Make your first impression count with style and professionalism.
Navigating the Modern Maze: Emerging Challenges for Boarding Schools
Explore the pressing challenges facing boarding schools, from marketing difficulties and rising insurance costs to facility maintenance and recruitment of competent trustees and teachers. This article delves into these complex issues and proposes innovative strategies to overcome them.