Reflections and Advice:
1.) What do you think makes your school unique relative to other boarding schools?
My favorite parts about Stevenson are the beach near-by and the friendly environment. When I was at Stevenson, I walked or ran down to the beach at least three times a week. The view down to the beach is BEAUTIFUL! Also, there is a market about fifteen minutes down towards the beach from school which I went to at least once or twice a week. They have the best sandwiches. The teachers are always available and they are willing to spend extra time on your work with you. When you are struggling in life, academics, or any other matter, the teachers notice right away even if you don't say anything. Especially getting extra helps during study hall from on-campus teachers helped me a lot over the last four years.
2.) What was the best thing that happened to you in boarding school?
The very best part about boarding school is that you are always near your teachers and peers. When you are homesick, you can just open your door and walk into the hall way and there you are with a bunch of your friends and teachers who are always supporting you. Also, the freedom you earn by being away from your parents is always great. You can not only learn how to live independently but also learn many life skills.
3.) What might you have done differently during your boarding school experience?
If I can go back to my sophomore year, I would never slack off in doing my homework or daily readings. Once you start to fall, it is really hard to get back on track. So when you go to a boarding school, please don't let yourself fall down the pit.
4.) What did you like most about your school?
I absolutely love everything about Stevenson. I never regretted even a second for choosing Stevenson over many other schools. The teachers are great, Stevenson offers many different opportunities, and the school helps you to carry out the potentials you have.
5.) Do you have any final words of wisdom for visiting or incoming students to your school?
My favorite room at school is the little theater. We have our choir classes there. It is a nice and cozy room where you can go to play piano or guitar or any other instruments! It is open for everyone even on the weekends.
Academics:
1.) Describe the academics at your school - what did you like most about it?
My freshman year was very easy for me. However, as I hit sophomore and junior year, it became more and more challenging. When I started to slip, my teachers noticed that I wasn't doing my works properly and they jumped in to help me out. The homework load ranges from an hour to five hours per night but if you use your free periods effectively and do your work on time and beforehand, you will be able to handle the load that the teachers give you.
Athletics:
1.) Describe the athletics at your school - what did you like most about it?
For my junior and senior year, I joined the golf team at our school. The best thing about joining the golf team is that you get to play on Spyglass course and their driving range for free! Also, if you are really into golf, I strongly suggest that you come to Stevenson because the coaches are really supportive and they will gladly do anything to help you excel in your golf career.
Art, Music, and Theatre:
1.) Describe the arts program at your school - what did you like most about it?
I was deeply involved in the music program at Stevenson. In fact, I took six music classes my senior year! I especially enjoyed my time in choir. Stevenson offers three different levels of choir, Mixed chorus, Chamber singers, and jazz choir. We have two performances per year. For Chamber singers, we get to go caroling during Christmas season. This year, I went to a jazz festival with the jazz choir. We performed and watched other groups perform. It was a great experience. I also participated in musical as a pit orchestra member. Instead of doing an after school sports, I chose to do the pit orchestra for the winter season. There are a lot more choices and varieties of music classes at Stevenson.
Extracurricular Opportunities:
1.) Describe the extracurriculars offered at your school - what did you like most about it?
I was involved in community service through the community service committee and the Red Cross club. The community service committee is part of our student council. We organize at least two weekend volunteer events for both day and boarding students. We also have big fund raiser events throughout the school year to support a specific organization. I organized blood drives at the Red Cross Club. Through blood drive, we encourage students to donate blood or help out and try to let them know how important donating blood is.
Dorm Life:
1.) Describe the dorm life in your school - what did you like most about it?
At Stevenson, there are six different dorms; Casco, Douglas, Silverado, Wilson, Day, and Atwood. Casco/Douglas are all-boys, Wilson is all-girls, and the rest are co-ed. Silverado and Wilson has a wall in the room that divides the room into two sides. Atwood and Day are the newest dorms and they have bigger rooms without the walls. Most of the seniors get singles. The best part about the dorm life is that there are at least four teachers living with the students per dorm. They are always available and helpful.
Dining:
1.) Describe the dining arrangements at your school.
Boarding students get three meals a day. We do not have assigned seating but we do have dinner check-in where we have to check-in with the duty teachers at each dinner time. I think the best meal is lunch because we have frozen yogurt machine, pasta bar, and deli bar. Stevenson offers a variety of food choices including vegetarian choices. At dinner time, there always is rice and tofu for a healthier choice.
Social and Town Life:
1.) Describe the school's town and surrounding area.
Every weekend, there is a shuttle bus every hour that goes to Carmel, Del Monte Shopping Center, and Monterey. All three places have great restaurants. You can easily buy daily supplies at Del Monte Shopping Center. Carmel is very safe because it is mainly a tourist city but the food and other supplies are kind of expensive compared to DMC or Monterey.
2.) Describe the social life at your school - what did you like most about it?
Everyone is very friendly and kind to each other at school. Of course there may be some disputes once in a while but they solve themselves out and eventually are resolved. Even though the teachers may know the social cliques at the school, they rarely get involved in any social situations between the students unless it involved any serious issues that may challenge the health or well-being of a student.
Daily Schedule:
Weekday
12:30 AM
Tusitala (School newspaper)
Weekend
12:30 AM
Go out with my friends
2:30 PM
Go grab a cup of Myo (frozen yogurt)
4:30 PM
Come back to school
6:30 PM
Go our for dinner with friends
9:30 PM
Come back to school
Every teacher is always accessible and they are always friendly. I felt so at home there. They also have a counseling center where they take ideas from students about how to improve the school psychologically. . .
Stevenson is a stunning atmosphere both beauty and quality of life. The school is situated in Pebble Beach, on the beautiful Monterey Peninsula. However, the scenery is not the most beautiful part about Stevenson. The. . .
The most striking thing about Stevenson School is the immense support system at so many different levels. No matter what issues you may face, there is the exact person you need to help you there. . .
Show more reviews (

8 reviews

)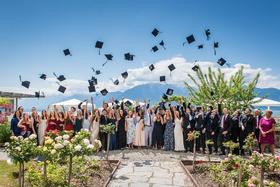 Nurturing Futures: A Journey through Boarding at Haut-Lac School in Switzerland
Nestled in the hills overlooking Lake Geneva in the French-speaking part of Switzerland lies an educational gem that embodies a unique blend of academic excellence, cultural richness and a profound sense of community. Founded over 30 years ago, Haut-Lac International Bilingual Day and Boarding School is now home to both 600 day students and a maximum of 30 boarders from around the world.
Navigating the Modern Maze: Emerging Challenges for Boarding Schools
Explore the pressing challenges facing boarding schools, from marketing difficulties and rising insurance costs to facility maintenance and recruitment of competent trustees and teachers. This article delves into these complex issues and proposes innovative strategies to overcome them.
What To Wear at Your Job Interview
Navigating job interviews can be stressful, but knowing what to wear shouldn't be. Our comprehensive guide covers the essential dress code tips for men and women interviewing at boarding schools. Make your first impression count with style and professionalism.