Reflections and Advice:
1.) What do you think makes your school unique relative to other boarding schools?
The thing that set Berkshire apart was how friendly everyone is. The teachers and students alike are chosen with character in mind and it shows. Coupled with the friendliness and warmth from the people is an amazing campus. There is nothing like a spring day at Berkshire with all your friends.
2.) What was the best thing that happened to you in boarding school?
I really grew up and matured. I learned the importance of having good friends as a support system. I learned to live on my own (but Berkshire provided a strong safety net if need be). A strong work ethic and organization was instilled in me.
3.) What might you have done differently during your boarding school experience?
I would have done nothing differently, it was such a good learning experience--the good and the bad. My advice for anyone going to boarding school is be open to new experiences, try to make an effort to be involved in the community and don't take your time there for granted--it flies by.
4.) What did you like most about your school?
I loved the great balance Berkshire had between competition and nurturing and the amazing people there.
5.) Do you have any final words of wisdom for visiting or incoming students to your school?
Girls dorms: Macmillan, CGR, Spurr Boys: All pretty equal (so it really depends on where your friends are living)-- but, Buck and Stanley are closest to the main school building so that's definitely a plus.
Academics:
1.) Describe the academics at your school - what did you like most about it?
The teachers are amazing. They truly care and go out of their way to make class enjoyable. There is nothing like the fire Mr. Gulotta has about history or Constitutional Law. Or the care every teacher takes to make sure you understand and are engaged in the class. It is truly unmatched. The student body is competitive with each other-- but only to a point. The more over-arching theme of the students is they are supportive of each other and want each other to succeed.
Athletics:
1.) Describe the athletics at your school - what did you like most about it?
There is mandatory participation in 2 competitive sports during a year. So one sport may be non competitive (such as art option, dance, boat building, fall watch) But some of my favorite memories from school took place on the tennis and squash courts. The coaches are extremely supportive and strike a good balance between being competitive and having fun. A lot of the coaches have been there forever and it is really fun to experience the level of competition between us and other boarding schools. The new athletic complex that was just completed is unmatched and it is truly amazing to watch the caliber of hockey that is played at the school.
Art, Music, and Theatre:
1.) Describe the arts program at your school - what did you like most about it?
I loved photography at Berkshire. There was nothing more fun than being able to shoot tons of rolls of film in such a beautiful environment. There is a new arts facility to be completed this summer so Berkshire's art programs will continue to grow.
Extracurricular Opportunities:
1.) Describe the extracurriculars offered at your school - what did you like most about it?
The thing I really appreciated about Berkshire was that students and faculty alike were completely committed to the school. Everyone wanted to be involved so there was great participation in student organizations.
Dorm Life:
1.) Describe the dorm life in your school - what did you like most about it?
I loved that the dorms were amazing. They were way better than college. They had just completed two new girls dorms when I entered school so I lived in one of them for a few years. It was amazing because I essentially had my own room and a door connected my room with my "roommates" room. So we could have privacy or hang out together if we wanted. Each hall only had 5 rooms, so it was only 5 girls to a bathroom (with 2 shower stalls and 2 toilets) which was really nice. I had such great memories in the dorms. The "dorm parents" were so fun and really went out of their way to make you feel at home (making us late night snacks like cookies or cake) or turning on the fireplace in their apartments and turning on a movie. I really felt like my dorm was my family and we all became very close.
Dining:
1.) Describe the dining arrangements at your school.
The dining hall was a beautiful building that had windows all around it so it was always bright and cheerful. The food was actually really good. The dining staff really went out of their ways to make sure of it. Every meal always had a lot of options (even for us picky eaters) Once a month they have breakfast for dinner so that is fun.
Social and Town Life:
1.) Describe the school's town and surrounding area.
It was a very rural area but the nearby town of Great Barrington was a cozy town that offered everything a small new England town would-cute shops, small theater, good restaurants.
2.) Describe the social life at your school - what did you like most about it?
I liked that everyone was close to each other. It really felt like a "big family" atmosphere and when you are 14 and away at boarding school--that is a very comforting feeling.
Daily Schedule:
Weekday
9:00 AM
all school meeting
Weekend
11:00 AM
hike up the mountain to guilder pond with friends and go swimming
2:00 PM
play frisbee in buck valley
5:00 PM
order pizza or go to the dining hall for dinner
7:00 PM
hang out in the student lounge and play a game of pool
8:00 PM
study hall (catch up on latest gossip from roommate, talk about the weekend, and do some studying on the side)
10:00 PM
end of study hall--seniors can check out of the dorm and go see people in other dorms. underformers hang out in the dorms.
10:30 PM
lights out for underformers. no bedtime for seniors.
One unique aspect of a boarding school could be its integration of technology and innovative teaching methods. The school might have a strong focus on incorporating technology into the learning process, using interactive educational tools. . .
Berkshire's campus in unparalleled. The pristine architecture fits into the pristine beauty of the surrounding mountains beautifully.. . .
During my three years at Berkshire, I was able to take advantage of many unique opportunities that other boarding schools just did not offer. For example, I was able to attend The Island School during. . .
Show more reviews (

15 reviews

)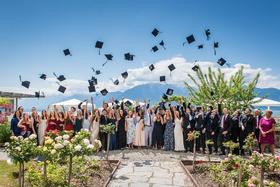 Nurturing Futures: A Journey through Boarding at Haut-Lac School in Switzerland
Nestled in the hills overlooking Lake Geneva in the French-speaking part of Switzerland lies an educational gem that embodies a unique blend of academic excellence, cultural richness and a profound sense of community. Founded over 30 years ago, Haut-Lac International Bilingual Day and Boarding School is now home to both 600 day students and a maximum of 30 boarders from around the world.
What To Wear at Your Job Interview
Navigating job interviews can be stressful, but knowing what to wear shouldn't be. Our comprehensive guide covers the essential dress code tips for men and women interviewing at boarding schools. Make your first impression count with style and professionalism.
Navigating the Modern Maze: Emerging Challenges for Boarding Schools
Explore the pressing challenges facing boarding schools, from marketing difficulties and rising insurance costs to facility maintenance and recruitment of competent trustees and teachers. This article delves into these complex issues and proposes innovative strategies to overcome them.