Reflections and Advice:
1.) What do you think makes your school unique relative to other boarding schools?
Thacher brought every criteria that I could have ever asked for in a school together into one beautiful, stimulating, and fun package. Horses, classes, sports, dorm life, camping-it all adds up to what I can easily say were the best four years of my life.
2.) What was the best thing that happened to you in boarding school?
I made lifelong friends, learned more than I could have anywhere else (both about intellectual pursuits and about myself), and overall spent four glorious years growing from a boy into a man who today is not afraid to try new things, make friends, or live life. Thacher brought out the best in me as a person, and I am willing to bet it will do the same to you as well.
3.) What might you have done differently during your boarding school experience?
I would have taken more advantage of the camping and horse programs. Even in college, there is nowhere else that offers the same life-changing programs that are a part of the daily life at Thacher. I would have ridden a horse every day had I known how much I would miss it now.
4.) What did you like most about your school?
The sports, the academics, the horses, the surroundings-but most of all, the people. I made lifelong friends in my four years, mostly students but also faculty I am proud to call my friends and peers. Thacher is a place where anyone can feel at home because of the warm and welcoming atmosphere that surrounds the place. Anytime I walk back through the gates, all I can think is that I am finally home again.
5.) Do you have any final words of wisdom for visiting or incoming students to your school?
No matter what I say in this review, I cannot do the school justice. You simply have to experience the magic for yourself. Be daring, take a visit, and I guarantee you will be sold like I was.
Academics:
1.) Describe the academics at your school - what did you like most about it?
Now that I have had a few weeks in college, what strikes me the most when I look back at Thacher was how intimate and engaging the classes were. There was no escaping to the back of the room, especially in my three and four person classes. Every class minute was fun, especially because the relationships I had with my professors. Senior year, I knew my teachers better than I knew some of my friends, and the amount of time I got to spend with them on a personal level, whether in an academic setting or otherwise, blows my mind when I sit down in my 400 person lectures. Put simply, Thacher took learning and made it applicable to everyday life by making classes small and engaging.
Athletics:
1.) Describe the athletics at your school - what did you like most about it?
Thacher teams range from the fiercely competitive to the immensely chill, and the breadth is actually quite astonishing considering its size. I played on a state-semifinal football team for two years, but also found myself on a senior-only basketball team who's Thursday practice involved lowering the rims and dunking. Since every student must do some afternoon activity every weekday, there is a wide range of athletic interest and talent. At Thacher, you can pick up a sport for the first time, excel in a sport you've played for years, and best of all be competitive at high levels no matter which group you fall into, thanks to the great coaches and time spent on athletic improvement. And the Horse Program, which each freshmen must participate in, is one of the coolest things I have ever been a part of. I would love nothing more than to be able to saddle up my horse again and ride into the hills in the afternoon, and I would advise anybody considering Thacher to take full advantage of this amazing opportunity.
Art, Music, and Theatre:
1.) Describe the arts program at your school - what did you like most about it?
Thacher is on quite an arts kick at the moment, and it really shows in the quality of performances and exhibitions. Though art was not really something I spent much time on at Thacher, there are a wide variety of options available, and almost everyone gets involved in the arts somehow. I myself was a member of the technical crew, so I spent quite a bit of time backstage building sets and arranging lights. But there are also students who make their way into prestigious music and visual arts colleges thanks to the breadth and depth of the Thacher arts programs.
Extracurricular Opportunities:
1.) Describe the extracurriculars offered at your school - what did you like most about it?
Thacher is open to just about any organization being started, provided a decent amount of student interest. And student interest is definitely the key to Thacher extracurriculars-faculty and parents are not going to run clubs for the students. They are happy to help, and quite possible start their own organizations, but it is student leadership that makes or breaks campus organizations. I myself was the president of two clubs my senior year, and although I had significant faculty help if I required it, it was my and the other club members' energy and work that made the clubs flourish.
Dorm Life:
1.) Describe the dorm life in your school - what did you like most about it?
In a word, wonderful. I never had a dull moment living in a Thacher dorm, and now my college single seems somewhat lonely compared to the buzz that always surrounded the Lower School. All freshmen live in singles, which allows the freshmen to have their own space but also practice being outgoing and friendly to their neighbors. After that, the room situation tends to split about evenly between singles and doubles. About five seniors, called prefects, live in each dorm, providing mentorship, advice, and fun for their charges in the dorm.
Dining:
1.) Describe the dining arrangements at your school.
I already miss Thacher's dining hall, because of its wide variety of choices. The salad and fruit are to die for, especially now that I am in the New England winter, and the hot options are always delicious. They are also very good with helping vegetarians and vegans find healthy and tasty options each day. The formal dinner program is also actually quite fun, helping you to get to know different students and faculty in the school even better through assigned seating four nights a week.
Social and Town Life:
1.) Describe the school's town and surrounding area.
Ojai is not necessarily the worlds most thriving community, but it is a very nice small town with breathtaking views of mountains from all over the valley. I loved going into town on the weekends for a burrito and ice cream, enjoying the view of Topa Topa from the park. The wilderness surrounding Thacher, too, was a great resource, whether for simply taking a hike or even going off into the woods for a week on EDT's.
2.) Describe the social life at your school - what did you like most about it?
I loved the closeness everyone experienced. Since there were only 240 students, I knew everyone on campus after about the first week, and I could sit down with just about anyone and have a long and deep conversation with them no matter how old. Granted, there isn't a huge opportunity to expand your social horizons beyond the people on campus, but given how interesting they all are, I don't know that you'd want or need to.
Daily Schedule:
Weekday
10:45 AM
All School Assembly
Weekend
10:00 AM
Wake Up/Breakfast
8:15 PM
Activity (Dance, open house, etc)
The tight knit community is a really rare quality at high schools in general but especially boarding schools. The relationships with teachers and students is so close and the fact that there is very few. . .
The horse department at Thacher is both unique and outstanding. Unique because the school strives to keep the cowboy culture alive with over 100 horses and a fully outfitted western riding center. It is outstanding. . .
Thacher's community on campus is unlike any other, connections at the school go beyond merely knowing every student's name but having had interacted closely with everyone whether on a camping trip, in the dining hall. . .
Show more reviews (

23 reviews

)
Mastering the Boarding School Selection Process: A 5-Step Guide
Discover the ultimate 5-step guide to choosing the perfect boarding school for your child. Explore essential factors, such as academics, campus facilities, extracurricular activities, and more. Make an informed decision to provide your child with an enriching and transformative educational experience. Read now!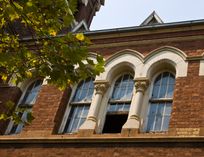 5 Founders and Their Boarding Schools
What prompts somebody to start a boarding school? The motives range from idealism to munificence right on through to capitalism. The common thread seems to be ample capital and a vision of what education can do.