Reflections and Advice:
1.) What do you think makes your school unique relative to other boarding schools?
To the Students: This search is really all about you and where you want to grow in your next 4 years. What you will find at Thacher is an experience so unique and amazing that when you tell others about it their jaws will drop or they just will not believe you. Thacher will give you everything its simply your job to find out what works for you. Camping, Riding, Acting, Singing, Studying, Art, Photography, are just some of the things that the school will offer to you and you can choose as many as you want and still have time for others. If you want an environment where everyone knows everyone and where teachers are friends and the opportunities are endless then look into Thacher, it won't disappoint.To the parents: I don't think there is any other place that you can find where you will feel more than comfortable having your child for the next four years. The Thacher community is made up of amazingly dedicated teachers and staff that create a healthy, fun, academic environment for teenagers to grow for 4 years. The Thacher School is really a big family. Because of its size, the school is able to create a phenomenal community that is based of a strong code of morals. I know that my parents couldn't have been happier with the connection they built with the school during my time there.
2.) What was the best thing that happened to you in boarding school?
Its hard to name one crowning achievement that I value the most, but if I had to choose just one I would say the fact that I graduated. I say that because Thacher demands a lot from a high school student and its demands are in and out of the classroom and to graduate is a sign rising to that challenge. I hold myself to the schools code as I graduate to act honorably, fairly, kindly, truthfully, in my everyday life.
3.) What might you have done differently during your boarding school experience?
I would make sure that from right off the bat, my freshman year, that I was taking advantage of every opportunity that was offered to me.
4.) What did you like most about your school?
The people. Thacher builds a community, as repetitive as it sounds, of students and faculty that astounds me looking back.
5.) Do you have any final words of wisdom for visiting or incoming students to your school?
Enjoy it while your there, because the biggest complaint is that it goes by too fast.
Academics:
1.) Describe the academics at your school - what did you like most about it?
The academics are at times very rigorous, however, they are counterbalanced by support from the faculty. I was never denied the opportunity to sit down and talk with a teacher at any point in the day, unless they had a conflicting class.
Athletics:
1.) Describe the athletics at your school - what did you like most about it?
The athletics are great. We have competitive teams that do well, but everyone has the opportunity to participate in a sport.
Art, Music, and Theatre:
1.) Describe the arts program at your school - what did you like most about it?
All the performing arts are added to by the brand new beautiful performing arts center. There are plenty of music opportunities in class or one on one lesson form. There are 3 productions a year for theater.
Extracurricular Opportunities:
1.) Describe the extracurriculars offered at your school - what did you like most about it?
There are so many extra-curricular activities on campus.Everything from the cheese club to the ninja club is covered and the best part is if your topic is not covered, its easy to find a faculty that interested to support you and get it started. Volunteer opportunities are also numerous, there are tons of options that take place day and night from helping the homeless to caring for cats and dogs.
Dorm Life:
1.) Describe the dorm life in your school - what did you like most about it?
Each dorm creates a small community setting and is lead by seniors and faculty. There are plenty of singles, but there are plenty of doubles. Also there are two brand new nice dorms on campus.
Dining:
1.) Describe the dining arrangements at your school.
The dining hall does its best to keep the food exciting, but sometimes the same dishes show up a little to often, stroganoff. But overall i would say a 7/10 for food, which isn't bad, just repetitive. There is brunch on the weekends with waffles and smoothies and a snack later in the day. Its also easy to eat healthy.
Social and Town Life:
1.) Describe the school's town and surrounding area.
Ojai is kind of a funky place, coming from the Midwest, but has a lot to offer. Plenty of grocery stores, including an organic one, and coffee places create a nice excursion off campus on the town bus, which runs Saturdays till 5. The beach is only a 15 minute drive. It is also nice that Santa Barbara and LA are not to far away, teachers sometimes take students to events in either.
2.) Describe the social life at your school - what did you like most about it?
Since you are living in a small community everybody knows everybody. What is really nice is that freshman year everyone rides so everyone in the class bonds over that and its an easy way to make friends. Additionally, the camping program makes sure that you get to spend time with people you may not see all the time from all grades. The school does a nice job of building that community, which makes it easy to build friendships.
Daily Schedule:
Weekday
7:30 AM
Muck horse's stall
10:00 AM
Community service at a School in Ojai
6:45 PM
Extra-Curricular Activity
Weekend
11:00 AM
Get Ready for a sport
1:00 PM
Play a Sports game
3:00 PM
Try and grab the last bus into town
7:30 PM
Numerous Night activities
9:30 PM
Go to the headmaster's house grab a cookie
11:00 PM
Watch a movie, chill in the dorm
The tight knit community is a really rare quality at high schools in general but especially boarding schools. The relationships with teachers and students is so close and the fact that there is very few. . .
The horse department at Thacher is both unique and outstanding. Unique because the school strives to keep the cowboy culture alive with over 100 horses and a fully outfitted western riding center. It is outstanding. . .
Thacher's community on campus is unlike any other, connections at the school go beyond merely knowing every student's name but having had interacted closely with everyone whether on a camping trip, in the dining hall. . .
Show more reviews (

23 reviews

)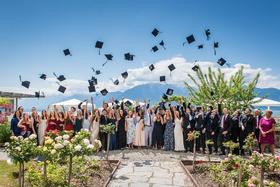 Nurturing Futures: A Journey through Boarding at Haut-Lac School in Switzerland
Nestled in the hills overlooking Lake Geneva in the French-speaking part of Switzerland lies an educational gem that embodies a unique blend of academic excellence, cultural richness and a profound sense of community. Founded over 30 years ago, Haut-Lac International Bilingual Day and Boarding School is now home to both 600 day students and a maximum of 30 boarders from around the world.
What To Wear at Your Job Interview
Navigating job interviews can be stressful, but knowing what to wear shouldn't be. Our comprehensive guide covers the essential dress code tips for men and women interviewing at boarding schools. Make your first impression count with style and professionalism.
Navigating the Modern Maze: Emerging Challenges for Boarding Schools
Explore the pressing challenges facing boarding schools, from marketing difficulties and rising insurance costs to facility maintenance and recruitment of competent trustees and teachers. This article delves into these complex issues and proposes innovative strategies to overcome them.