Reflections and Advice:
1.) What do you think makes your school unique relative to other boarding schools?
Brewster's location and community makes it a special place compared to any other prep school in New England. With the lake bordering our athletic fields, and the mountains off in the distance, the opportunity to get out and try something new like crew, sailing, or rock climbing is always an option at Brewster. Or maybe you just want to enjoy your spring time splashing in the lake with your friends, spend your free time down at Brewster beach, or kayaking and fishing, the options are endless. Even to have the ability to look out at the beautiful sunset that casts over the lake every night is something creates a positives atmosphere.The Brewster community is something you will experience right when you step on campus. It is automatically a very friendly place, and with a small school setting the tight nit community is something that can change your experience into memories and friendships that our unforgettable. With most teachers living on campus, and 90% of the students being boarders, the time spent with your peers creates family like relationships, and again because it is a small community the support for one another is endless.
2.) What was the best thing that happened to you in boarding school?
Boarding school at Brewster has really opened up my eyes to a diverse group of people and cultures. Brewster helped me grow as a student, but even more importantly as a person. I learned to work together with a major group of people to create the best community possible. I learned to be independent, but also be there for friends who may get home sick, or just needs someone to be around. You are held responsible for all of your mistakes at Brewster, and because of that your lessons are learned in a positive way allowing you to truly grow as a person. At boarding school you have to be able to trust your peers and support them, especially at Brewster. Through my time at Brewster I became a true leader, with achieving many captain roles for athletic teams, but also becoming head tour guide, and a strong member in the student government.
3.) What might you have done differently during your boarding school experience?
My experience at Brewster has been amazing, and I don't think I would do anything different. The advice I can give to incoming students so to go into boarding school with an open mind. Don't be afraid to meet new people, have new experiences, and become a little more independent. You will enjoy your time a lot more if you are able try new things and allow the school to impact you in a variety of ways.
4.) What did you like most about your school?
I love the athletics at Brewster, and the community/support system that the school has created. The athletics wouldn't do as well as they do without the community that Brewster holds. We all push each other to do well, and compete strongly against other schools. We support each other not only on the courts and on the fields, but in the classrooms as well. You will never feel alone at Brewster, in any aspect of the school.
5.) Do you have any final words of wisdom for visiting or incoming students to your school?
Brewster Beach is definitely a place that only a returner or graduate can tell you about. There's a hidden path on campus that leads you to the open beach, it is definitely one of my favorite places to go in the fall and in the spring. It's a great place to go with your friends and have a lot of fun on the water.
Academics:
1.) Describe the academics at your school - what did you like most about it?
The classes at Brewster range from 5-14 students. These small classes allow the teachers to have a high focus on individual students. The classes also use a differentiated learning style where the classroom is broken down into accelerated, standard, and foundational. This systems gives the students the ability to be in the right level of curriculum, and the opportunity for students to work with each other in and out of their "stad" tables. Additionally, we work within teams, so our teachers get to know us very well. Teachers meet regularly to discuss students on their teams and are always available to provide extra help when needed. Brewster also has a strong Academic Support program for those students who need extra help in particular areas. This program is built into the schedule like any other class. The schedule at Brewster differs throughout the weeks, for example, during an A week, we have 3 classes on Saturdays starting at nine. On B weeks there are no classes on the weekends. We use a rotating block system.
Athletics:
1.) Describe the athletics at your school - what did you like most about it?
The athletic programs are very strong at Brewster and the facilities are superior to most private schools. This eliminates any excuse for strong athletes to train hard with each other in the well-known Smith Center, which provides a well equipped weight room, double courts, a 200 meter track surrounding the interior, and a rowing tank for the crew teams. We provide a high level of varsity sports, but also give the opportunity for students to try new things at a JV or rec level. What I love most about the sports at Brewster is the support that is received from all coaches and the peers. Since the varsity level is held at a high standard, the games are very good, which allows the students to show their pride and school spirit. Furthermore, the lake, small mountains, and other buildings on campus provide the option of trying new things like sailing, rock climbing, or yoga. Brewster athletics offers the best of both worlds.
Art, Music, and Theatre:
1.) Describe the arts program at your school - what did you like most about it?
Brewster offers a variety of visual art programs. We have a strong dance team that performs for varsity basketball games, and other functions. The theatre programs who perform 2 major plays a year for the entire school. Furthermore, Brewster also provides personal music lessons, an orchestra, and ballet classes. These groups usually hold many concerts throughout the year for anyone, including the public, to come and see. The thing I liked most about the visual arts program at Brewster are the coffee houses. This is a time in the weekend when we go to our black box theatre and students will perform comedy acts, poem readings, and music for whoever goes. These events are very popular and usually provide the entertainment for the night. Many students who may not be involved in the arts yet are able to showcase their talent to many interested and curious students.
Extracurricular Opportunities:
1.) Describe the extracurriculars offered at your school - what did you like most about it?
The volunteer opportunities are endless at Brewster, but a special example that is offered comes from our dinning staff. Trips are made on Sunday down to Rosy's Kitchen in Boston. This is a food shelter that allows our students to hand out meals, and also help with little fixings around the building like painting. Another service offered is peace greeters. That is where a bus will drive a group of students to the airport to welcome home soldiers. This is a very popular activity. There are a lot of local volunteer opportunities as well, we have an day care center and a elementary school right across the street that people enjoy volunteering at. The campus is another great option for people to do volunteer work like campus clean up or other various things.
Dorm Life:
1.) Describe the dorm life in your school - what did you like most about it?
The dorms are Brewster are relatively small, this allows the group of girls or boys to get very close and connected. Each dorm also has a dorm parent/family that is very involved in everyday life of the students. These dorm parents are always usually one of your teachers, not an external person that you have to form a new relationship with. This allows the dorm parents to be very involved and knowledgeable about what is going on with you academically and socially. This may seem over bearing, but when living away from home, it's the perfect thing that you need to feel comfortable.
Dining:
1.) Describe the dining arrangements at your school.
The Dinning at Brewster is very comfortable. You can come and go as you please and sit where you want from 7-830 in the morning, 11-1 for lunch, and 5-7 for dinner. However, the doors are always open for fruits, cereal, toast, and drinks. Brewster has a special tradition of holding community dinners usually before major holiday. On these nights the whole school gathers in assigned seating with different teachers. A presentation, or a thanking period is done before our meal. Then we all sit down together and enjoy a night of talking with people we may not sit with on a regular basis. On Sunday, we have brunch from 8-12, this consists of omelets, bagels, waffles, eggs, bacon, potatoes, basically any type of breakfast food that is offered on Sunday! It's the best day to eat at Brewster!
Social and Town Life:
1.) Describe the school's town and surrounding area.
Wolfeboro is a very small and safe town. It's a great town for a boarding school because it has a lot of little stores, and fun great spots off the lake to grab a bite to eat with all your friends. You don't need to worry about cross walks, or walking alone at night. The town is very safe, and friendly as well! The Brewster kids hold a good reputation from the town so they are very accepted and well liked.
2.) Describe the social life at your school - what did you like most about it?
The social life at Brewster consists of different week-end trips, supporting each other at athletic events, or just hanging out on our free time. There are plenty of things to do on campus, liking hanging out down by the lake, walking into town, going to the bobcat den for a late night snack, or even playing biffle (touch football tournament) on the Tuesday nights with all your friends cheering for you! There are plenty of dances at Brewster, along with shopping trips to Boston, or Fox Run Mall, movie trips, and ski/snowboarding trips in the winter. You are constantly with your friends, so its hard to get bored.
Daily Schedule:
Weekday
11:00 AM
All School Assembly
Weekend
The biggest thing that makes Brewster unique is the location. Brewster is located right on the water front of Lake Winni, and directly in the center of the town of Wolfeboro. Students are able. . .
Being in a small town located on a lake (the only Lakes region boarding school that was on a lake may I add) made our school not only unique but also gorgeous. Our classes. . .
Going to boarding school was arguably one of the best decision that my parents and I made. While going away from home was hard at first, I soon integrated into the high school community. By. . .
Show more reviews (

7 reviews

)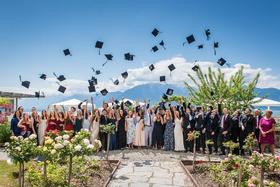 Nurturing Futures: A Journey through Boarding at Haut-Lac School in Switzerland
Nestled in the hills overlooking Lake Geneva in the French-speaking part of Switzerland lies an educational gem that embodies a unique blend of academic excellence, cultural richness and a profound sense of community. Founded over 30 years ago, Haut-Lac International Bilingual Day and Boarding School is now home to both 600 day students and a maximum of 30 boarders from around the world.
What To Wear at Your Job Interview
Navigating job interviews can be stressful, but knowing what to wear shouldn't be. Our comprehensive guide covers the essential dress code tips for men and women interviewing at boarding schools. Make your first impression count with style and professionalism.
Navigating the Modern Maze: Emerging Challenges for Boarding Schools
Explore the pressing challenges facing boarding schools, from marketing difficulties and rising insurance costs to facility maintenance and recruitment of competent trustees and teachers. This article delves into these complex issues and proposes innovative strategies to overcome them.