Reflections and Advice:
1.) What do you think makes your school unique relative to other boarding schools?
Delphian is an incredible school! One of the things I noticed when I first came here was the responsibility level of the students. They are so capable of doing things such as running an activity or being in charge of a dorm full of students. I found it incredible that people, not too far from my age helped in running the school! I never saw that in other schools. I saw at my old high school that they had a Student Council but they weren't in charge of helping run almost everything with the entire student body the way it is here. On the Student Council at Delphian, my post is the Girls Dorms Overall In Charge. This means that I am in charge of all the dorms and bathrooms as well as the people running them. I take on the responsibility of checking the dorm and bathrooms every Monday to make sure they are clean. I help ensure that the dorm and bathroom captains are doing their jobs.Also another unique thing about Delphian is that when you take an exam, you are not allowed to just pass the exam. Before you move onto your next subject or the next gradient you have to fill in all of your holes. That way before you go onto something harder, you have the earlier gradients fully understood. It helped me so much in algebra! I missed some problems on my Algebra 1 exam since I forgot how to use the formulas. However, when I did Algebra 2, I noticed that if I hadn't fixed that problem in Algebra 1, I would not have been able to do a lot of the work for Algebra 2!
2.) What was the best thing that happened to you in boarding school?
Going to boarding school really helped me grow up. Graduating and living in the real world, I am a capable, independent individual. I have integrity for my own decisions. Delphian also helped me realize the values of friendships and my family.Delphian helped me really value my community and helped me realize that I can help others and make any difference big or small. Really, boarding school changed my life and really helped me become who I am today. I would never regret my decision.
3.) What might you have done differently during your boarding school experience?
If I were to do one thing different about my boarding school it would have been to have bought a winter coat before I arrived. I was used to California weather and was not prepared for an Oregon winter. I should have bought a coat before I got freezing cold!
4.) What did you like most about your school?
I can't that there was one thing I loved most about Delphi. Really, what made Delphi amazing was everything put together! The scenery, my friends, the staff, the projects, the activities, etc! I loved every single second of my schooling!
5.) Do you have any final words of wisdom for visiting or incoming students to your school?
Bring your camera and go visit Delphi! One visit and you will be hooked! Plus you will want to take pictures of the beautiful campus. Also, if you really are unsure if you want to go to Delphi as a person in Admissions to show you a video of a Form 8 Graduate Speech on the 4th Floor. Have them describe it to you and then watch the video. From there, you will be hooked!
Academics:
1.) Describe the academics at your school - what did you like most about it?
Academics at Delphian are so different! When you first show up to start their high school program, they review your earlier studies so that they will no longer restrain you. Who knew that the only reason why I had trouble with my algebra was because I didn't understand all my earlier math.Delphian has what's called a program with a list of courses that you are required to do in each subject. You study each subject one at a time and have a set number of days to do it. Each subject is studied individually and if you have trouble, you can get help individual too! That's what so great about it. Also, if you want to go faster you can! You aren't held back like you are in a seminar style class. When you finish each subject you take your exam. When you take your exam, if you don't get 100% you have to go back and review what you did. That way there are no holes and you can fully understand the next gradient. It's so amazing to finish something and know you fully understand it.The Delphi method is so different but so efficient! I fully understood what I was doing. I also was actually able to apply all the information I used. Plus when I finished reading a book...I REMEMBERED IT! If you really want to know more, call and ask Admissions at the school, they can help explain it if this seems less confusing.
Athletics:
1.) Describe the athletics at your school - what did you like most about it?
The athletics program at the school was great! Plus the school spirit is awesome! I always saw students going to support their teams and cheering them on! I didn't play any other sports that volleyball. I mainly played for JV but there were a few games where I ended up playing for Varsity which was a lot of fun. Varsity and JV did really well and our coach was fantastic! We went to districts my Junior year on the team! Soccer, basketball and tennis are also really awesome teams there are at the school. My senior year soccer went to the state competition and basketball went to districts. I don't have too much experience playing on the teams but I know that the students had a lot of fun. Other sports at the school are baseball and softball.
Art, Music, and Theatre:
1.) Describe the arts program at your school - what did you like most about it?
The Visual Arts, Music and Theatre program was absolutely amazing! I did digital photography and also regular film photography. It was a lot of fun. Of course for visual arts, I never won any awards, since it was more of a hobby, but a lot of students at the school won awards. Some of their fantastic art work is always displayed throughout the school.I loved the music program at our school. If you sign up for music classes, you have a chance to learn almost any instrument from guitar, saxophone, violin, drums and piano. I've seen such great musicians develop through the professional teachers at the school! The choir program is also absolutely fantastic! I was in the Varsity Choir and Jazz Choir and we won many awards. We got 3rd place in the state competition my first year in Varsity! I also got to do what is called District Honor Choir and sing with other choir students from other schools in Oregon. I was also the President of choir. My senior year we got 4th Place in States I was really proud of our group!I was also really involved in the theatre program at the school! I did many plays at the school and played big roles in most of them! Our director was fabulous. She gave such responsibility to the students and we performed amazing, professional productions. Students help choreograph the dances. There are also student directors who help block the scenes. I really loved how our director left so much trust to the students and we never let her down on our performances!
Extracurricular Opportunities:
1.) Describe the extracurriculars offered at your school - what did you like most about it?
There are ton of extra-curricular activities at school. I really don't know how I can fit in all in! There are countless internships that the staff members can help the students get. One of my friends did an internship at Extra TV Show, I interned with a professional photographer and another of my friends interned with the management at a hotel.Student Council is also huge activity at the school. I described earlier how the students are entirely in charge of running a lot of the school activities. We have an officer that runs Community Services. They arrange for tutoring projects in the local community. That student council member is also in charge of running the Human Rights Club and the projects we did with Habitat for Humanity. With this student council post, there are tons of opportunities for volunteer work. It always felt great to give back to our community.
Dorm Life:
1.) Describe the dorm life in your school - what did you like most about it?
Dorm life was so much fun! They arranged the roommates really well and whenever there was a problem, staff members were always there to help with them. However, the dorms were run by the students. Your Dorm Captain helped make sure you were in bed on time and were doing well in school. They also checked to see if you kept your area neat and clean. There was also a Bathroom Captain who was in charge of making sure the bathroom was clean and sanitary. It was so much fun living in the dorms, I really enjoyed myself! Also, the dorms are not co-ed, which made your dorm rooms a comfortable place to hang out with your girls and live peacefully. There were plenty of other co-ed activities but it was always nice to just have girl time.
Dining:
1.) Describe the dining arrangements at your school.
We had a buffet style of dining. It was great! We had such a variety! If I didn't like one thing, I was sure to like something else. Also, we always had a salad bar for lunch and dinner so I made sure I always had my vegetables. Let's say you are hungry in the middle of the day or at night, the school has out apples, oranges, bananas, peanut butter and toast for anytime during the day. You can also use your money to buy snacks from the vending machine or the recreation room.
Social and Town Life:
1.) Describe the school's town and surrounding area.
The town that Delphian is in, Sheridan, is not too exciting. There is a good Mexican restaurant called Asabache which, if you want some good inexpensive Mexican food, is an excellent place to go. We are also not far from McMinnville, which has good stores to go shopping for extra food, clothes and it has a movie theater. I liked going to town it was always exciting and fun.Delphian is also not far from this amazing outdoor shopping mall called Bridgeport. I LOVED going there. Sometimes the school took us there on the weekends for trips. At other times staff members called your faculty advisors, your mom or dad away from home, will take you there. There are great restaurants where you can eat, like PF Changs, California Pizza Kitchen, Sushi Restaurants, Italian Restaurants and even more! They also have a huge Whole-Foods, which I really loved going to. There are also lots of clothing stores and a movie theater!
2.) Describe the social life at your school - what did you like most about it?
Social life was great at Delphian! The community was so close! All of us staff and students were like family. We worked well together hung out and always had a blast. Students started their own soccer games or basketball games for fun on the weekends. Also, every Saturday night there was an activity for the students. There were school dances, boys vs girls night (my favorite), shopping trips and more! We were always interacting and having fun together.
Daily Schedule:
Weekday
8:30 AM
Morning Studies Begin
3:15 PM
1st Afternoon Class (Choir)
4:15 PM
2nd Afternoon Activity (Yoga)
5:15 PM
3rd Afternoon Activity (Student Council/ Study Hall)
Weekend
12:30 AM
Practice Piano/Choir Music
1:30 PM
Work on my Literature
4:00 PM
Work out at the Gym
6:00 PM
Get Ready for Weekend Activity
11:30 PM
Get Ready for Bed
What made my school different from other boarding schools was that I was able to move through my program at my own pace. I didn't have to worry about catching up with my class because. . .
The fact that we study for real world application rather than just trying to spit things back out on an exam. This makes the education 10 times more valuable than any other school I have. . .
Here at the Delphian School, all the exams are done one-on-one, where the examiner will ensure that all the student's questions regarding the subject they just studied are solved and answered to satisfaction.The Delphian. . .
Show more reviews (

21 reviews

)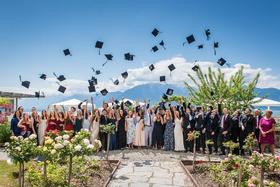 Nurturing Futures: A Journey through Boarding at Haut-Lac School in Switzerland
Nestled in the hills overlooking Lake Geneva in the French-speaking part of Switzerland lies an educational gem that embodies a unique blend of academic excellence, cultural richness and a profound sense of community. Founded over 30 years ago, Haut-Lac International Bilingual Day and Boarding School is now home to both 600 day students and a maximum of 30 boarders from around the world.
What To Wear at Your Job Interview
Navigating job interviews can be stressful, but knowing what to wear shouldn't be. Our comprehensive guide covers the essential dress code tips for men and women interviewing at boarding schools. Make your first impression count with style and professionalism.
Navigating the Modern Maze: Emerging Challenges for Boarding Schools
Explore the pressing challenges facing boarding schools, from marketing difficulties and rising insurance costs to facility maintenance and recruitment of competent trustees and teachers. This article delves into these complex issues and proposes innovative strategies to overcome them.