The Webb School - Review #2
About the Author:

College Enrolled
Brandeis University
Home Town, State (Country)
Nashville, TN
Years Attended Boarding School
4
Activities During Boarding School
I was highly involved in theater, winning two awards and joining the National Thespian Society and the American High School Theater Festival; I also participated in choir, Chinese club, French club, book club (president and co-founder), GSA, and admissions club. I am also a prefect (dorm leader) in the residential program.
Daily Schedule:
Weekday
| | |
| --- | --- |
| 7:00 AM | Breakfast, which is served until 8:30. |
| 8:00 AM | School begins. |
| 3:00 PM | School ends; extra help and clubs begin |
| 4:00 PM | Major rehearsals or athletic practices begin |
| 6:00 PM | Dinner, until 6:30 |
| 8:00 PM | Study Hours, or quiet time |
| 10:00 PM | Study Hours end (high school time only) |
| 11:00 PM | Lights out for upper schoolers |
| 12:00 AM | Lights out for prefects and seniors |
Weekend
| | |
| --- | --- |
| 10:00 AM | Brunch, lasts until 12:30. |
| 2:00 PM | Various activities; mall trips, movies, sports games, ice skating, off-campus fun. These continue sporadically through the weekend. |
| 5:30 PM | Dinner, until 6. |
Review

Description

University of Alabama in Huntsville

The relationships that are built between the faculty and the students is phenomenal. The teachers are willing to work with the students until they have a firm grasp on the material. The faculty not only. . .

Brandeis University

I think the most unique aspect of Webb is its atmosphere. No other school that I know has such acceptance of diversity, race, and unique personalities. At Webb, you can really learn who you are. . .

Davidson College

Small classes and a teaching community dedicated to its students make Webb feel like a home. Teachers are always available to help, support, and listen to their students. The honor code instills a sense of. . .

Oglethorpe University

Webb manages to be academically challenging while retaining a unique, quirky character that differentiates it from other schools. Every morning, the entire school congregates in chapel, which I believe shows. . .

University of Miami

The Webb School's steadfast commitment to the moral code that it has established is truly inspirational. Webb promotes free inquiry, critical analysis, mutual respect and tolerance and fairness and honestly. There is something unique about. . .

Show more reviews

(5

reviews)
April 20, 2018
Actually, there is no secret to getting your child into boarding school. Just a lot of hard work and a heavy commitment of time.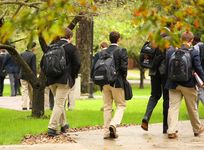 March 22, 2018
Some cynics think single-sex education is old-fashioned. The Kiski School shows how educating boys in a single-sex school is successful.
March 08, 2018
The wide range of fine academic, athletic, and other facilities found in boarding schools underscores the determination of schools to provide the very best for their students.