Reflections and Advice:
1.) What do you think makes your school unique relative to other boarding schools?
I think the most unique aspect of Webb is its atmosphere. No other school that I know has such acceptance of diversity, race, and unique personalities. At Webb, you can really learn who you are as a person and grow as well, assisted by the students, faculty, honor code, and rigorous academics.
2.) What was the best thing that happened to you in boarding school?
At the beginning of my four years, I was timid, easily upset, and slightly shell-shocked. Because of Webb, I have matured; I am confident, and have done things (white water rafting, running track) that I never could have done without the lessons I learned here.
3.) What might you have done differently during your boarding school experience?
I would have branched out, tried new things, and made friends with much more eagerness and less fear if I could start over. I wasted so much time being nervous.
4.) What did you like most about your school?
The positive atmosphere and the preparation for college are the two best things about Webb.
5.) Do you have any final words of wisdom for visiting or incoming students to your school?
I suggest taking an LR Smith class; he is a Webb icon, and my favorite teacher of all time.
Academics:
1.) Describe the academics at your school - what did you like most about it?
The academics at Webb are difficult. This is both a positive and a negative; while I feel fully and completely prepared for college, I was also always very stressed and exhausted. However, the course load that I took upon myself was overly rigorous. Many of the teachers that I had at Webb are perfect; I would not be pointed in the right direction without them. The character of our teachers, and their true desire to help students both academically and personally, is a highlight of our school. The ability to receive extra school help at 7:00 at night, when you're doing your homework, is amazing. The diversity of classes available at Webb is not as extensive as at a few other private high schools, but is still far more extensive than any public school and many private schools. I never felt like there was a class that I wanted that Webb did not offer, and as the years pass, more and more classes are added to the curriculum.
Athletics:
1.) Describe the athletics at your school - what did you like most about it?
There is no mandatory participation in athletics at Webb. As long as you participate in some activity, such as theater, or tutoring, you can opt out of sports. However, I would say that Webb's greatest weakness is its athletic department. Some of our teams are very weak, mainly because we are a small school and can't muster up as many players. However, our boy's soccer team and our tennis team are both very strong. Webb is taking steps to increase the athletic department; a new athletic department head has been hired, and they are adding football. The diversity of sports is plenty; the only sports missing are swimming and wrestling. The gym is excellent, and open most of the night, with an indoor track and exercise equipment. The fields are all nice, and the cross-country track is amazing (it goes through the woods, very scenic.)
Art, Music, and Theatre:
1.) Describe the arts program at your school - what did you like most about it?
As a constant participation in this program, I have to vouch very strongly for it. The theater director, while tough, is amazing; through her hard work, she has transformed the theater department. This year, we are traveling to Scotland along with a few other high school theater groups, to participate in the American High School Theater Festival. Our opportunities to work with professionals from Nashville and Atlanta in workshops is also amazing. We put on two shows per year, with one usually being in the Black Box theater, and one on the main stage. Each summer, we host the Tennessee Shakespeare Festival on our campus, attracting professionals from everywhere and giving us a chance to work professionally. Our art program is also very interesting. Our art teacher is one of the best teachers at Webb. We also have a pottery studio, and a fine arts week where professional artists come to Webb for workshops. Our music program is right now limited to guitar, choir, piano, and strings. While there isn't much variety, there is a lot of depth. Our strings program, though new, is huge; they regularly perform with the choir. Our choir teacher, the head of the music dept., is a professional concert pianist as well, and very talented. If a student has an unusual instrument, the school takes every step to accommodate.One girl brought a massive harp to Orientation, and it was given its own room. I would say the school is very committed to the arts, due to the amount of fund-raising it receives as well as positive attention.
Extracurricular Opportunities:
1.) Describe the extracurriculars offered at your school - what did you like most about it?
There are tons of opportunities at Webb; besides the aforementioned sports and arts, there are many clubs: book club, Japanese, Chinese, French, Latin, tutoring, admissions, community service, GSA (gay-straight alliance), newspaper, Mock Trial, yearbook, photography, and basically anything you could want. If you find a club that you want to create, that is also always an option. In my sophomore year, my best friend and I created the Webb Book club, got a teacher sponsor, and have been running it ever since.
Dorm Life:
1.) Describe the dorm life in your school - what did you like most about it?
I have had a very good experience with the boarding life. My roommates and I have always gotten along extremely well. You can also request a roommate. As for food access, there are kitchens in the dorms, and late night (10 pm) snacks brought into the common rooms. The library and gym are open each night for boarders to use as well. The dorm rooms start rather small (though still larger than my college dorm!) and get larger as you get seniority. My last room had a walk-in closet and its own bathroom! Overall, the dorms are pretty nice, with some variation. None of them are in disrepair.
Dining:
1.) Describe the dining arrangements at your school.
The cafeteria is open for breakfast, lunch, and dinner. There is no assigned seating, but everyone is required to come to dinner for announcements. The food is getting better; it is very diverse, and it is not too bad for your health. There is a lot of fried food, but they are making efforts to increase the amount of vegetables. There are panini makers, a salad bar, a sandwich bar, a cereal bar, a toaster, bagels, fruit, and waffle makers out where the students can reach them. Due to the large number of Asian students, a create-your-own stir fry table was also opened up at dinner, where you can cook vegetables, rice, and meat.
Social and Town Life:
1.) Describe the school's town and surrounding area.
The town of Bell Buckle, while tiny, is also adorable. It is a quirky little Southern town; since it is so small, students can walk all over it without excess restrictions. It is completely safe-I've never noticed any crime while I've been here. There is a really awesome Southern cooking restaurant, a great coffee shop, an old-fashioned ice cream shop, a gas station (with good pizza), and a large amount of art and antique shops. Within one class period, you and your entire class can walk with their teacher to the ice cream shop, buy ice cream, sit outside, work some math problems, eat the ice cream, and go back before the bell rings. It's so much fun.
2.) Describe the social life at your school - what did you like most about it?
The social life is what you make it. If you are a wild partier, you may want to look elsewhere. The town is small, so most of the social life is just friends hanging out, watching movies, throwing a frisbee, etc. Everyone is very welcoming and nice, with acceptance and toleration of every difference; this is what makes Webb, Webb.
Daily Schedule:
Weekday
7:00 AM
Breakfast, which is served until 8:30.
3:00 PM
School ends; extra help and clubs begin
4:00 PM
Major rehearsals or athletic practices begin
6:00 PM
Dinner, until 6:30
8:00 PM
Study Hours, or quiet time
10:00 PM
Study Hours end (high school time only)
11:00 PM
Lights out for upper schoolers
12:00 AM
Lights out for prefects and seniors
Weekend
10:00 AM
Brunch, lasts until 12:30.
2:00 PM
Various activities; mall trips, movies, sports games, ice skating, off-campus fun. These continue sporadically through the weekend.
The Webb School's steadfast commitment to the moral code that it has established is truly inspirational. Webb promotes free inquiry, critical analysis, mutual respect and tolerance and fairness and honestly. There is something unique about. . .
The relationships that are built between the faculty and the students is phenomenal. The teachers are willing to work with the students until they have a firm grasp on the material. The faculty not only. . .
Small classes and a teaching community dedicated to its students make Webb feel like a home. Teachers are always available to help, support, and listen to their students. The honor code instills a sense of. . .
Show more reviews (

7 reviews

)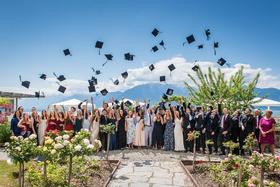 Nurturing Futures: A Journey through Boarding at Haut-Lac School in Switzerland
Nestled in the hills overlooking Lake Geneva in the French-speaking part of Switzerland lies an educational gem that embodies a unique blend of academic excellence, cultural richness and a profound sense of community. Founded over 30 years ago, Haut-Lac International Bilingual Day and Boarding School is now home to both 600 day students and a maximum of 30 boarders from around the world.
What To Wear at Your Job Interview
Navigating job interviews can be stressful, but knowing what to wear shouldn't be. Our comprehensive guide covers the essential dress code tips for men and women interviewing at boarding schools. Make your first impression count with style and professionalism.
Navigating the Modern Maze: Emerging Challenges for Boarding Schools
Explore the pressing challenges facing boarding schools, from marketing difficulties and rising insurance costs to facility maintenance and recruitment of competent trustees and teachers. This article delves into these complex issues and proposes innovative strategies to overcome them.