Reflections and Advice:
1.) What do you think makes your school unique relative to other boarding schools?
St. Margaret's offers a unique boarding school experience in part thanks to its location right on the Rappahannock River. The school encourages girls to take advantage of the river, both as an educational and extracurricular resource. The surrounding area is rural but rich in history and I believe an ideal setting to spend your high school years.
2.) What was the best thing that happened to you in boarding school?
I believe St. Margaret's allowed me to grow and mature at a healthy pace into a leader and young adult. I was prepared for college by the time I finished, both academically and socially. The amount of interaction with the teachers and other adults was really great and I always found it to be a very supportive environment.
3.) What might you have done differently during your boarding school experience?
I was a day student but I believe that boarding school is a great option for students. Though I did not feel that I was ready to go to a boarding school when I was in 8th grade I think it can be an extremely benefitial experience and would recommend not letting the typical fears keep you from giving it a try. Along with looking at boarding schools, I think it is important for girls who are about to enter high school to consider both co-ed and all-girl options and figure out what environment is best for them.
4.) What did you like most about your school?
Overall, I found the supportive environment at St. Margaret's to be the best part of my high school experience. I always felt looked after by both my friends and teachers. Teachers often came to sporting events to cheer for us as well, and having a close relationship with them both in and out of the classroom was an important part of my time spent there.
5.) Do you have any final words of wisdom for visiting or incoming students to your school?
Make sure to walk all over campus and around the town. It is small, but as a student it offers a safe environment to learn about an interesting part of Virginia.
Academics:
1.) Describe the academics at your school - what did you like most about it?
Thanks to the small size of the school student's individual needs do not go overlooked. Each student works with the Dean of Academics to design a schedule that is challenging but plays to her personal interests and goals. The classes are small and teachers make themselves easily available to students if they ever need to spend extra time on a subject.
Athletics:
1.) Describe the athletics at your school - what did you like most about it?
Leadership is stressed at St. Margaret's, especially in the athletic department. Each team has student captains, and though the coaches are an important part of the experience, I always found that the captains had a great deal of responsibility as well. I think that offering this leadership opportunity was an asset of the athletic department and helped many girls to develop as leaders during their time at St. Margaret's.
Art, Music, and Theatre:
1.) Describe the arts program at your school - what did you like most about it?
Girls are required to take a visual arts and music class while at St. Margaret's, and if they choose to can continue to take advanced classes afterwards. These beginner level classes allow for everyone to try out music and art and it is a nice way to take a chance at something new.
Extracurricular Opportunities:
1.) Describe the extracurriculars offered at your school - what did you like most about it?
Though the school is small there are many organizations for the students to take part in. The groups are often student led and the school is open to adding more organizations if students show interest in starting them. I liked the amount of student involvement and interest in the various organizations and the flexibility of the groups to change over years as new students and interests came in.
Dorm Life:
1.) Describe the dorm life in your school - what did you like most about it?
N/A (day student)
Dining:
1.) Describe the dining arrangements at your school.
St. Margaret's has a beautiful cafeteria right on the river. The food is good, but what I liked most about the dining arrangements was the building and the ability to eat outside overlooking the water on nice days. On Mondays and Wednesdays students sat with their advisee group and everyone was required to come to lunch. These were always fun and a good way to spend time with people other than just friends from your year.
Social and Town Life:
1.) Describe the school's town and surrounding area.
Tappahannock, Virginia is a very rural area and there is access to many outdoor activities close by. It is a unique part of the country and an interesting place to spend a few years. Girls come from all over and together learn about the rivers, forests, and farms that are prominent in this region. It is also a historically significant area of Virginia and there are many historic sites nearby that the girls can take advantage of.
2.) Describe the social life at your school - what did you like most about it?
St. Margaret's is a very accepting environment and I believe it was a good place to spend my high school years. Girls have the time to develop and mature in a fun and welcoming atmosphere.
Daily Schedule:
Weekday
7:00 AM
Wake up, get ready for school
8:00 AM
Arrive at school, have chapel
8:45 AM
Begin Morning Classes
12:00 AM
Lunch - sit with advisee group
1:15 PM
Begin Afternoon Classes
3:15 PM
Classes End, TA (extra time to spend with teachers) begins
4:00 PM
Afternoon Activity Begins
5:30 PM
Afternoon Activity Ends
5:30 PM
Drive Home, begin homework
Weekend
2:00 PM
Homework, projects
4:00 PM
Spend time outside
5:00 PM
Go to work (hostess at a restaurant)
10:00 PM
See friends or go to bed
The diversity at SMS is quite unique and out-stands the most. The school accepts each student or themselves and works with them according to their pace. The faculty at SMS is also quite supportive. They. . .
At St. Margaret's School, girls have the opportunity to not just gain a better education, but also to be around people whom they will have with them through their lives. As a senior, I have. . .
For me, SMS is unique because it is truly a second home that anyone can be a part of. The sense of community also builds around the school motto, "As we grow in age. . .
Show more reviews (

4 reviews

)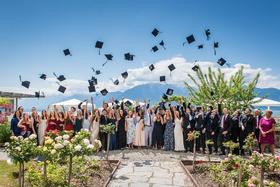 Nurturing Futures: A Journey through Boarding at Haut-Lac School in Switzerland
Nestled in the hills overlooking Lake Geneva in the French-speaking part of Switzerland lies an educational gem that embodies a unique blend of academic excellence, cultural richness and a profound sense of community. Founded over 30 years ago, Haut-Lac International Bilingual Day and Boarding School is now home to both 600 day students and a maximum of 30 boarders from around the world.
Navigating the Modern Maze: Emerging Challenges for Boarding Schools
Explore the pressing challenges facing boarding schools, from marketing difficulties and rising insurance costs to facility maintenance and recruitment of competent trustees and teachers. This article delves into these complex issues and proposes innovative strategies to overcome them.
What To Wear at Your Job Interview
Navigating job interviews can be stressful, but knowing what to wear shouldn't be. Our comprehensive guide covers the essential dress code tips for men and women interviewing at boarding schools. Make your first impression count with style and professionalism.