Reflections and Advice:
1.) What do you think makes your school unique relative to other boarding schools?
Traditions! There is nothing like the kind of bonding that a Porter's girl gets from the traditions she will experience during her 4 years at MPS. The traditions are kept a secret up until a week or so before they occur which ads to the excitement. A porter's girl will keep these traditions secrets for family members as well, allowing sisters or daughters to experience them for themselves and talk about them together after. It is something that all Porter's girls have in common, the excitement and bonding we gain from knowing that other porter's girls for generations have been through the same experienced at MPS even though times have changed.
2.) What was the best thing that happened to you in boarding school?
Swimming Captain was a huge honor for me. It let me know that I was more than just a good swimmer but that my peers looked up to me in a leadership role. While my coach was less than desired (he no longer works for the school) the girls made my time worth while and I learned a lot from them.
3.) What might you have done differently during your boarding school experience?
I would have been more open minded. I did not want to attend MPS, I loved my school and my friends and could not imagine leaving them but that made my first year at MPS hard. I pretended to hate it for a long time not wanting to admit to my parents when I was having a good time. I also would have interacted more with my dorm parents in my first year. I was having a hard time with my room mate and it was not until the end of the year that I made my concerns known to my dorm parents. Had I been more vocal sooner I would have been a lot happier. To those going to boarding school: keep in touch with friends at home but also submerge yourself in the culture of your school. If you hold back it is going to take longer for you to find your place. Realize that people are there for you and can only help you if you ask for it. My teachers and dorm parents and friends a like helped me through so much and it wasn't long before I knew I was going to be a porter's girl for life. Take the school for what it is, don't hold back and don't be afraid to be you.
4.) What did you like most about your school?
The people. I found the sisters I never had before I came to MPS.
5.) Do you have any final words of wisdom for visiting or incoming students to your school?
Go to the Daisy and talk to Jackie Grey. She will be like your grandmother at the school! She is the most wonderful person and always greets you with a smile. She will give you a hug on a bad day (and she always knows when you are having a bad day). Also, go sit under the big weeping beech tree on the swing. Sit and watch the girls go by, it is secluded and set back but on the main part of campus and you can just watch the girls interact (they won't notice you there) and you can see what it is like to be a porter's girl on a typical day. Notice the girls smiling and stoping and talking to each other. You will find yourself under that tree for many other reasons during your time at MPS but take that time to picture yourself there.
Academics:
1.) Describe the academics at your school - what did you like most about it?
Classes are small, my largest class was 15 and my smallest was 5. You really get to know your teachers and class mates through this experience. You cannot hide in the back of the class any more it teaches you good studying skills. Also it allows for a lot more discussion and creative activities in the class room. We were also able to do a lot of independent projects because the teacher did not have to rush through grading and could spend time on us individually
Athletics:
1.) Describe the athletics at your school - what did you like most about it?
At MPS you have to do a sport every season and one season (for your first 2 years) must be a competitive sport. The last two years you can stay with your competitive sport or take the sports classes. You can also chose to do a sports team every season.They have 3 levels for almost every sport and when it is the off season for any given sport you can take a sports class in it to learn the skills before you decide if you want to go out for the team the next year.
Art, Music, and Theatre:
1.) Describe the arts program at your school - what did you like most about it?
I do not know much about the visual arts music or theater but there is an arts requirement that can be fulfilled in any of these areas (6 total credits of art must be completed). There are many choices and you can do independent studies to concentrate your subject if you chose.
Extracurricular Opportunities:
1.) Describe the extracurriculars offered at your school - what did you like most about it?
There are a lot of clubs offered but I found that they are what you make of it. If your club is cohesive and active you will meet a lot but if not then no one is going to force meetings on you so your club won't be meeting regularly
Dorm Life:
1.) Describe the dorm life in your school - what did you like most about it?
Seniors live in their own dorms, which is a lot of fun for your last year at the school. After your first year you can request a room mate or to have a single. Each dorm has a dorm parent, a woman who lives in the dorm with her family and is responsible for you. She really acts like a mother, you can go to her to check in at night and ring her door bell if you are sick in the middle of the night. They are well selected and love living in the dorm! They also set up dorm meetings and dorm snacks. I loved sitting in my dorm parent's apartment at night and watching TV with them.
Dining:
1.) Describe the dining arrangements at your school.
There is one main dining hall with the main buffet line, a salad line and an additional line where the chef prepares the special of the day made just for you! There is a lot of variety which I loved. The tables are round which is nice for conversation and you can always find a place to sit, teachers eat in the same dining hall and often come sit with you
Social and Town Life:
1.) Describe the school's town and surrounding area.
Farmington is a quaint town. It is very safe and girls walk around at all hours of the day. During free periods you will find girls walking down to the pizza shop or Starbucks and on the weekends they walk to the grocery store or CVS. You can also order in for chinese and other food. MPS is in the historical part of Farmington so girls can go up the street for a picnic and the street is beautiful in the spring and fall.
2.) Describe the social life at your school - what did you like most about it?
everyone is around all the time. Hardly anyone goes home on the weekends and there is always a dance to go to. You can also get to know the boys at AOF or watch a movie in the Daisy Cafe where there is pool table and a juke box.
Daily Schedule:
Weekday
Weekend
Two defining factors about Miss Porter's is the sense of community and the ability for students to create lasting connections with teachers. The community fostered by the students and faculty at Porter's is unlike any. . .
Miss Porter's has unique traditions unlike any other school aimed at including students and making them feel like part of a campus community, such as the school ring tradition. Part of the fun is learning. . .
I would definitely have to say that something unique about Porter's is the connection between Alumnae (called "Ancients") and students. The ability to talk about shared experiences and traditions across generations is something I rarely. . .
Show more reviews (

2 reviews

)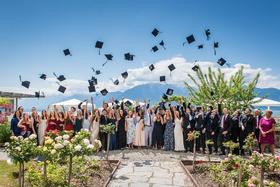 Nurturing Futures: A Journey through Boarding at Haut-Lac School in Switzerland
Nestled in the hills overlooking Lake Geneva in the French-speaking part of Switzerland lies an educational gem that embodies a unique blend of academic excellence, cultural richness and a profound sense of community. Founded over 30 years ago, Haut-Lac International Bilingual Day and Boarding School is now home to both 600 day students and a maximum of 30 boarders from around the world.
What To Wear at Your Job Interview
Navigating job interviews can be stressful, but knowing what to wear shouldn't be. Our comprehensive guide covers the essential dress code tips for men and women interviewing at boarding schools. Make your first impression count with style and professionalism.
Navigating the Modern Maze: Emerging Challenges for Boarding Schools
Explore the pressing challenges facing boarding schools, from marketing difficulties and rising insurance costs to facility maintenance and recruitment of competent trustees and teachers. This article delves into these complex issues and proposes innovative strategies to overcome them.