Reflections and Advice:
1.) What do you think makes your school unique relative to other boarding schools?
One thing that makes Webb unique is definitely its museum program. Every freshman takes paleontology for semester and at the conclusion of this course they go on a peccary (ancient pig) trip where they search for fossils. It's an amazing adventure! Plus, those lucky enough to discover a great find, get to have their fossil displayed in the Raymond Alf Museum, the only accredited museum in the country located on a high school campus.
2.) What was the best thing that happened to you in boarding school?
Webb made me more caring, respectful, intelligent, and honorable person. I will forever be thankful for my time there.
3.) What might you have done differently during your boarding school experience?
Take advantage of all that you can. Four years go by quickly! Also, get to know your teachers; they are cool people both inside and outside of the classroom.
4.) What did you like most about your school?
Easy...the community! People at Webb are caring, encouraging and respectful. Plus, even after graduation, Webbies are always willing to help out one another. I just had a friend who was extended a job offer after she connected with another Webb alumnus.
5.) Do you have any final words of wisdom for visiting or incoming students to your school?
Take the time to listen to people's chapel talks. Some speakers have great insights to share. Also, get a soft served ice cream cone in the dinning hall. They are delicious!
Academics:
1.) Describe the academics at your school - what did you like most about it?
The academics are definitely challenging, but manageable. But more than that, they are enjoyable. Teachers bring subject matter to life through class discussions, games, and group activities. Honors and AP courses are offered to students who want to challenge themselves even more and possibly earn college credit.The thing that I liked most about Webb academics was how devoted the teachers were to helping students succeed. Teachers at Webb really care about how students are doing, and work hard to ensure that they understand even the most complex subject matters. They offer extra-help sessions and lots of positive feedback so that students feel comfortable asking questions and offering their opinions.
Athletics:
1.) Describe the athletics at your school - what did you like most about it?
Everyone at Webb is required to participate in the sports program for at least one season which is nice because it forces students to try something that they would not do otherwise. In fact, it's the reason why I tried cross country, a wonderful experience that I will always remember.My cross country team and coach were great! Together we had some great wins and adventures--including a 12-mile run that culminated in a pancake breakfast and the production of our own cross country musical. Because of their support and help, moreover, I was able to improve upon my running abilities tremendously.Webb also offers non-athletic after school activities for students to participate in including museum, yearbook, theater and community service. These are also a lot of fun and I would highly recommend students try some of these activities during one of their three seasons a year.
Art, Music, and Theatre:
1.) Describe the arts program at your school - what did you like most about it?
These programs are growing every year. Webb currently offers art, photography, theater, orchestra, and choir. During my time here, I took basic studio and sculpture which were both fun because I was able to explore my creative abilities and improve upon them.
Extracurricular Opportunities:
1.) Describe the extracurriculars offered at your school - what did you like most about it?
With so many clubs, sports teams, and leadership positions, there are a lot of options for students to participate in if they want to do an extracurricular activity. These are all great opportunities for students to improve their leadership qualities, share their creative abilities, and explore activities that think they will love.
Dorm Life:
1.) Describe the dorm life in your school - what did you like most about it?
At Webb, I was a day student so I cannot speak too much about dorm life other than what my boarding friends shared with me. To that end, most everyone loved it. They enjoyed getting to know people from all over the world and building lasting friendships with them. I was particularly jealous of how boarders would have roommate competitions and Dorm Olympics to win prizes and bragging rights.
Dining:
1.) Describe the dining arrangements at your school.
Webb offers hot breakfast, lunch, and dinner every day of the week. Twice a week, boarding students dress up in their uniforms and attend formal dinner with teachers. Its a great opportunity to know teachers outside of the classroom and connect with other peers. Overall, the food is pretty good. My personal favorites are Al's Famous Chocolate Chip Cookies, the carrot cake, and Sergio's tacos.
Social and Town Life:
1.) Describe the school's town and surrounding area.
Webb is located in Claremont, CA which was recently ranked as one of the nicest places to live in the United States by Money Magazine. Claremont is a beautiful and safe city. The downtown is known for its hip boutiques and restaurants and the surrounding area features some great parks and nature reserves. Claremont, moreover, is situated only miles away from such places as Malibu, Los Angeles, Laguna, Venice, Santa Monica and San Diego. Students often go into these cities and tour their many cultural sites.
2.) Describe the social life at your school - what did you like most about it?
Webb has a very small community so everyone practically knows everyone else on campus. Students are very nice to one another, supporting them whenever possible. Cliques aren't really a problem. In fact, groups of friends often overlap and there is even interaction between the grade levels.Social life is varied. In general, there is always something do to over the weekends. Excursions include trips to Universal Studios, Los Angeles, San Deigo, Joshua Tree, Laguna Beach, Pasadena and Beverley Hills. Students also enjoy snorkeling, boating, rock climbing, hiking, biking, kayaking, skiing, and star gazing.The great thing is that there are so many options and all of them are great opportunities for students to enjoy themselves and discover new interests.
Daily Schedule:
Weekday
2:30 PM
Get Ready for After School Activities
3:00 PM
Cross Country Practice
Weekend
9:00 AM
Leave for Cross Country Meet
1:00 PM
Home and Eat Lunch
5:45 PM
Get Ready To Hang Out with Friends
6:30 PM
Watch Movie with Friends
The Webb Schools is unique in many ways different than other boarding schools. One being that it is a boy's school and a girl's school on one shared campus. This allows the freshman and sophomore. . .
I think there was generally a good work-life balance, or more like study-life balance at Webb. The community was small enough that we would know most everybody, teachers cared tremendously for the students, sports were. . .
The classroom setting of a round table discussion instead of lecture based teaching. I believe it really puts the pressure on the student to understand what is going on in the class and bring an. . .
Show more reviews (

26 reviews

)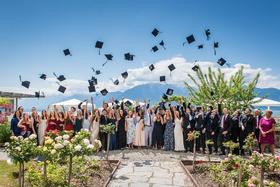 Nurturing Futures: A Journey through Boarding at Haut-Lac School in Switzerland
Nestled in the hills overlooking Lake Geneva in the French-speaking part of Switzerland lies an educational gem that embodies a unique blend of academic excellence, cultural richness and a profound sense of community. Founded over 30 years ago, Haut-Lac International Bilingual Day and Boarding School is now home to both 600 day students and a maximum of 30 boarders from around the world.
Navigating the Modern Maze: Emerging Challenges for Boarding Schools
Explore the pressing challenges facing boarding schools, from marketing difficulties and rising insurance costs to facility maintenance and recruitment of competent trustees and teachers. This article delves into these complex issues and proposes innovative strategies to overcome them.
What To Wear at Your Job Interview
Navigating job interviews can be stressful, but knowing what to wear shouldn't be. Our comprehensive guide covers the essential dress code tips for men and women interviewing at boarding schools. Make your first impression count with style and professionalism.