Reflections and Advice:
1.) What do you think makes your school unique relative to other boarding schools?
One of the most unique aspects of Berkshire is the strong sense of community, which forms in a natural manner from year to year. Both faculty and peers provide a sturdy support system that enables students to step outside of their comfort zone and take risks. The school's motto, "Learning, not only for school, but for life" is highlighted during Pro Vita, an annual, week-long deviation from the normal academic schedule that allows students to take courses ranging from the history of cults in America, to kinesiology, to digital music. Through engaging in such unconventional courses, students are given the opportunity to participate in a variety of disciplines and may discover new passions, as I did by enrolling in "Swedish Culture" my freshman year. The establishment of a safety net in an already warm and inspiring environment proves to be one of the most successful aspects of the school, as each student is likely to emerge from the experience with varied interests, broader perspective, and a far greater sense of self as a result.
2.) What was the best thing that happened to you in boarding school?
My proudest moment at Berkshire was winning a sixth-form citizenship award during my final Prize Night, on the eve of my graduation. Having won the third-form version of that same award my freshman year, I felt nostalgic as I crossed the stage to receive the plaque. I also realized in that moment how much I had grown between the two occasions. I entered Berkshire as a rather timid fourteen-year-old with an eagerness to learn, but I lacked the tools needed to be fully confident in my abilities. I graduated from Berkshire having a much stronger sense of myself and my morals. My confidence to take on the challenges of college and beyond, with a well-developed sense of social grace, maturity, perseverance, and academic enthusiasm, was inspired primarily by my peers and teachers. My advisor, who became like family to me, served as a major component of my growth over my first years away from home. Similar to every other faculty member at Berkshire, my advisor was skilled at giving students an empowering gift of responsibility, effectively motivating us to use our support system and other outlets to push through difficult and stressful times to become stronger, more experienced individuals.
3.) What might you have done differently during your boarding school experience?
Since there are so many different paths a student can follow at Berkshire – it would take much more than four years to pursue every one – it is inevitable that one will have some regrets at the end of his or her career. More than anything else, I wish I had given dance a try sooner. I found myself surrounded by very interesting and eclectic people once I finally delved into the arts. I recommend that any students new to Berkshire take advantage of its expanding arts program or any other programs of which they have had little exposure. By taking a class like Swedish Culture during Pro Vita, I put my regular interests aside and found myself deeply engaged in learning about a culture that was previously completely foreign to me.
4.) What did you like most about your school?
Berkshire gives students the opportunity to broaden their horizons, even if it means making a few mistakes along the way. The faculty members were incredible mentors to me when I was facing both prosperous and challenging moments at boarding school. The ability of the Berkshire community to form such a flourishing safety net facilitates an unrivaled opportunity for intellectual and personal development. Berkshire provided me with the tools to take risks and allow myself to explore the unknown. As a result, I made tremendous leaps towards becoming the type of student and individual I had always hoped to be. I also gained the skills that will help me work towards a successful career during and after college. Without Berkshire's community – my and my teachers – such progress would not have been possible.
5.) Do you have any final words of wisdom for visiting or incoming students to your school?
For any student entering a new school, it is also important to be genuine and open to new experiences. The best advice I could give to an incoming student, besides getting involved and trying new things, is to get to know your teachers during your time at Berkshire. They have refreshing perspectives that can open you up to new ideas and completely shift your mindset. If you spend time getting to know them, they could be some of the most inspirational adults in your life.
Academics:
1.) Describe the academics at your school - what did you like most about it?
The teachers were my favorite aspect of Berkshire's academics. Students are highly encouraged to take advantage of the abundance of experience and global perspectives afforded them by the very well-qualified faculty. The faculty serve as mentors both inside and outside of the classroom and are fully invested in the success of their students. My classes were rigorous and certainly yielded the occasional disappointing grade, but I found that my teachers were often quite accessible and eager to provide extra help on any parts of the curriculum with which I'd have difficulty. While at Berkshire, I believe that I benefited most from the Independent Study program; my senior year I created an independent study in the Swedish language with hopes of attaining the equivalent of a level 2 understanding of this Germanic language. The course was a success for me not only because I was able to pursue my passion for the Swedish language, but also because it allowed me to take on the responsibility of designing my own curriculum, motivating myself to review daily, and deciding which mediums were best for building a solid foundation for learning the language. Due to the high standards the independent study program inspired me to set for myself, I feel very prepared in my approach to college courses.
Athletics:
1.) Describe the athletics at your school - what did you like most about it?
Throughout my time at Berkshire I participated in predominately junior varsity sports. I enjoyed having the chance to compete and improve in certain sports while still being able to focus on other extra-curricular activities. Student athletes are usually able to find a healthy balance between their commitments and academic duties. Coaches will do everything in their power to ensure that their students' schoolwork does not suffer as a result of a sport and they instill in their teams an emphasis on time management. Under-formers are required to participate in at least two seasons of competitive sports each year, but a recent amendment to that rule now allows students to participate in three seasons of theater or dance if they wish. The majority of my coaches made practices exciting and fun, while the dynamic of each team enabled me to meet and bond with many different types of people. The abundance of athletic resources available at Berkshire provides students the chance to try out new many new sports at multiple levels. Berkshire's new athletic center, opened in 2009, includes two ice rinks and an incredible fitness room fuels the active environment on campus. If one is new to a sport, the option of playing on a thirds or junior varsity team prevents him or her from being a bench warmer; that person is likely to improve at a much faster rate from earning playing time in games or matches rather than playing significantly less at the varsity level.
Art, Music, and Theatre:
1.) Describe the arts program at your school - what did you like most about it?
In my senior year I participated in two seasons of dance. We had the chance each season to try out various dance styles, contribute ideas for choreography, and prepare for the final performance in front of the school at the end of the season. My only regret about the program is not starting sooner, as the dance instructor is a very experienced and talented individual who made me want to work hard and improve. The group of students that participates in dance has a variety of experience and the teacher is very good at helping those new to dance (like I was) master the choreography and become more confident in their dancing ability. The theater program, which has the newly renovated Allen Theater as an impressive venue for its shows, has improved tremendously since my first year and become one of the strongest programs in Berkshire's art department. The visual arts offer an abundance of courses for students and the student work from these courses is always on display in Berkshire Hall.
Extracurricular Opportunities:
1.) Describe the extracurriculars offered at your school - what did you like most about it?
There are many ways to become involved at Berkshire and the vast number of extracurricular activities available to students will aid nearly every student in finding their niche. Whether you prefer chopping wood and boiling maple syrup, planning weekend dances and social events, or learning about Chinese culture, there is a club at Berkshire for you. My favorite club happened to be WBSL; I really enjoyed broadcasting my music to the Berkshire community.
Dorm Life:
1.) Describe the dorm life in your school - what did you like most about it?
Some of my fondest memories at Berkshire occurred in the dorm. My floor mates quickly became my best friends, simply because we encouraged each other at our best and supported each other at our worst every day. There is always at least one dorm parent present, who ensures that the dorm provides a comfortable and quiet environment for study hall each night. When a group of peers ranging anywhere from fourteen to eighteen years old live together in such a close environment, each resident is going to experience events revolving around peers (confrontations with roommates, good news, and bad news) much more intensely than events witnessed by day students. One factor that distinguishes dorm life at Berkshire from many other schools is the ability of its dorm faculty and prefects to acknowledge this intensity and work extensively to use it to benefit the dorm community. If a pair of roommates find that they are having difficulty living together, the school will be reluctant to split the roommates up immediately. Instead, dorm parents – faculty living in each residence hall – and prefects will often intervene in the dispute and serve as mediators to create a neutral atmosphere in which the two roommates could express their frustrations. As a result, many roommates develop strong communication skills and may end up settling their differences to remain roommates; even if the roommates choose to live elsewhere after these conversations, they come away more mature and prepared for future living situations.
Dining:
1.) Describe the dining arrangements at your school.
Besides providing a fun place to hang out with friends during the week, the dining hall serves some very healthy and delicious food. The dining staff is always encouraging students to give feedback through a "thought box" located conveniently in the serving line, as they try to accommodate most requests. If you are not a big fan of the main course at each meal, there is a soup and salad bar as well as frequent interactive cooking stations.
Social and Town Life:
1.) Describe the school's town and surrounding area.
Great Barrington, roughly fifteen minutes from campus, is where one can find at least a handful of Berkshire students on any given weekend. Thursday through Sunday, there are multiple Berkshire-sponsored bus trips into the Sheffield/Great Barrington area. With many great restaurants and convenience stores, Great Barrington is a fun place to go with friends when you feel like venturing off campus for a few hours. Sheffield and Great Barrington have typical small-town atmospheres; the people are friendly and any up-and-coming restaurant in the area is usually eager to increase its popularity among Berkshire students.
2.) Describe the social life at your school - what did you like most about it?
The lack of cliques is by far the most enjoyable part of social life at Berkshire. In a small environment like the one under the mountain, you get to know the student body very quickly and will find yourself mingling with people from numerous cultures and backgrounds. The main social spot on campus is Shawn's Place, where most students seem to congregate after class. There, you are very likely to run into to someone you know and may even end up meeting someone new because of the open, friendly environment. If you're not interested in going to the SAC (student activities committee) sponsored events on the weekends, you only need to set foot in Shawn's, where pick up ping-pong and board games are common.
Daily Schedule:
Weekday
8:45 AM
Morning Meeting (All-school)
11:00 AM
Lunch/Class/Free Period
12:00 AM
Lunch/Class/Free Period
3:15 PM
Sports/Theater/Dance Practice
8:00 PM
Study Hall (8-10pm)
Weekend
10:45 AM
Class/Free Period
2:00 PM
Sports Games/Theater or Dance Practice
7:45 PM
Saturday Night Activity (dance, dodgeball, or carnivals)
11:00 PM
Check in for Underformers (11:30 for seniors)
During my three years at Berkshire, I was able to take advantage of many unique opportunities that other boarding schools just did not offer. For example, I was able to attend The Island School during. . .
One unique aspect of a boarding school could be its integration of technology and innovative teaching methods. The school might have a strong focus on incorporating technology into the learning process, using interactive educational tools. . .
Every year at Berkshire School, the school holds a Pro Vita week. During this week, students get to take classes that vary from their typical classes. These classes span from learning how to cook sustainability. . .
Show more reviews (

15 reviews

)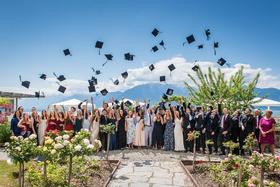 Nurturing Futures: A Journey through Boarding at Haut-Lac School in Switzerland
Nestled in the hills overlooking Lake Geneva in the French-speaking part of Switzerland lies an educational gem that embodies a unique blend of academic excellence, cultural richness and a profound sense of community. Founded over 30 years ago, Haut-Lac International Bilingual Day and Boarding School is now home to both 600 day students and a maximum of 30 boarders from around the world.
Navigating the Modern Maze: Emerging Challenges for Boarding Schools
Explore the pressing challenges facing boarding schools, from marketing difficulties and rising insurance costs to facility maintenance and recruitment of competent trustees and teachers. This article delves into these complex issues and proposes innovative strategies to overcome them.
What To Wear at Your Job Interview
Navigating job interviews can be stressful, but knowing what to wear shouldn't be. Our comprehensive guide covers the essential dress code tips for men and women interviewing at boarding schools. Make your first impression count with style and professionalism.