Reflections and Advice:
1.) What do you think makes your school unique relative to other boarding schools?
The on-campus museum is a huge asset. I cannot begin to emphasize the wonderful experiences offered by the museum, which include 1. summer excavation trips, 2. student research projects (and the opportunity to have one's paper published) and 3. trips to scientific conventions.
2.) What was the best thing that happened to you in boarding school?
Although Webb was by no means the perfect school, it was most definitely life changing. I met amazing teachers and students during my time at Webb. I also "discovered" myself (cliche as it sounds). That is, I was given the opportunity to try so many new things--paleontology, student government, service, and more--that I might never have tried elsewhere.
3.) What might you have done differently during your boarding school experience?
I would have spent more time bonding with teachers and less time studying (though I suspect the studying did eventually pay off). My advice is that they take full advantage of the boarding school setup--get to know teachers and get to know your fellow classmates. If there are organizations that you think your school lacks, go and start them yourself! The boarding school environment allows you to do just that.
4.) What did you like most about your school?
I met many amazing teachers during my time at Webb. Moreover, hard work was always acknowledged at Webb (though conversely, bad behavior too is chastised ).
5.) Do you have any final words of wisdom for visiting or incoming students to your school?
Check out the museum on campus.
Academics:
1.) Describe the academics at your school - what did you like most about it?
There are some truly remarkable teachers at Webb. In particular, Webb has some very good humanities teachers who care deeply about their students and demonstrate profound understanding of their subject. Often, there is the opportunity to bond with teachers who teach multiple levels of the same subject (for instance, I took Spanish with the same amazing teacher for three years). On the flip side, I sometimes found Webb's science department to be lacking (specifically in Chemistry and some of the lower level math classes). There is a lack of certain science/math classes, such as Computer Science. Overall, however, teachers offer a good amount of support to students and one will succeed if one tries.
Athletics:
1.) Describe the athletics at your school - what did you like most about it?
The athletics program is all right. I was not particularly impressed by it--but that may be because I am not much of an athlete. There is a decent number of sports available, but Webb has never been known for its excellence in sports. I do not know if this is due to our dearth of natural athletic talent or simply to a lack of good instructors; again, I am not much of an athlete.
Art, Music, and Theatre:
1.) Describe the arts program at your school - what did you like most about it?
As a student who did only one year of art, it's hard for me to evaluate the Visual Arts/Music/Theater program. From what I've seen, the Theater program is very good, filled with students and faculty who care much about it. Similarly, the Visual Arts program has been improving in past years, with newly improved Art Festivals. The Music program lost a wonderful faculty member last year, but I have been seeing much more student involvement in past years (with the student-led Jubilee). Overall, I would say that Webb has become more committed to the arts in the last few years/
Extracurricular Opportunities:
1.) Describe the extracurriculars offered at your school - what did you like most about it?
Student government at Webb is fantastic. It has a great director and members of student government (those fully committed, at least) will learn much during their time as student government members. Besides student government, there are other extracurricular opportunities available; but unfortunately, many of these are small and localized. There is no nationally competing Science Olympiad team, for instance, nor is there a Mock Trial team. One positive of this situation is that students can very easily start their own organizations; the downside is that these organizations will remain very Webb-based.
Dorm Life:
1.) Describe the dorm life in your school - what did you like most about it?
It was nice living in such close proximity to friends. The rooms were very spacious and very nice (much nicer, in fact, than my college dorm). The room selection process is also very fair. Overall, I did not see any problems with dorm life.
Dining:
1.) Describe the dining arrangements at your school.
Students may complain about Webb food--but that is because they have not yet eaten college food. Webb food is actually great; there is always food available in the dining hall (whether it is buffet-style meals of just PB&J snacks). There is also a wonderful variety--vegetarian options, salad bar, panini machine, rice, and then the main meal. I have no complaints.
Social and Town Life:
1.) Describe the school's town and surrounding area.
Claremont is a pleasant area. I don't know much about it because I did not often venture off campus. However, the few times I did, I found nice Thai restaurants and a number of small shops to visit.
2.) Describe the social life at your school - what did you like most about it?
There are many opportunities to bond with one's class due to the intimacy and small size of Webb's student populace.
Daily Schedule:
Weekday
6:00 AM
Wake up (most people don't wake up this early, though)
8:30 AM
First class (and then free block)
10:00 PM
Get ready for bed
Weekend
4:00 PM
Hang out with friends
11:00 PM
Watch movies with friends
The Webb Schools is unique in many ways different than other boarding schools. One being that it is a boy's school and a girl's school on one shared campus. This allows the freshman and sophomore. . .
I think there was generally a good work-life balance, or more like study-life balance at Webb. The community was small enough that we would know most everybody, teachers cared tremendously for the students, sports were. . .
The classroom setting of a round table discussion instead of lecture based teaching. I believe it really puts the pressure on the student to understand what is going on in the class and bring an. . .
Show more reviews (

26 reviews

)
Mastering the Boarding School Selection Process: A 5-Step Guide
Discover the ultimate 5-step guide to choosing the perfect boarding school for your child. Explore essential factors, such as academics, campus facilities, extracurricular activities, and more. Make an informed decision to provide your child with an enriching and transformative educational experience. Read now!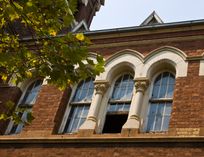 5 Founders and Their Boarding Schools
What prompts somebody to start a boarding school? The motives range from idealism to munificence right on through to capitalism. The common thread seems to be ample capital and a vision of what education can do.