Reflections and Advice:
1.) What do you think makes your school unique relative to other boarding schools?
There are a lot of great boarding schools but not many have Southern California for a backyard.
2.) What was the best thing that happened to you in boarding school?
Webb's honor code is the best thing to be instilled in it's students. It is the one thing that influences me on a daily basis. The world would be a much better place if everyone would follow the moral standards of Webb's honor code instilled .
3.) What might you have done differently during your boarding school experience?
Come with an open mind. Go out of your way to meet everyone in your class, take advantage of all the opportunities the school provides you with, and work hard. That last one may sound cliche, but the work put in during HS will pay dividends in college.
4.) What did you like most about your school?
When I think of Webb, the academics are secondary to the character building and friends I made there.
Academics:
1.) Describe the academics at your school - what did you like most about it?
While at Webb academics were challenging, but the teachers kept us engaged in the subjects. The real reward of Webb's academics came my first two years in college; I was much more prepared for the academic pressures than most of my college classmates.
Athletics:
1.) Describe the athletics at your school - what did you like most about it?
All high schools should require athletics. I really enjoyed the opportunity to play multiple sports, an opportunity I am fairly certain I would not have taken advantage of at another school. Beyond the physical/health benefits, sports gave us a chance to grow as leaders, teammates, and friends.
Art, Music, and Theatre:
1.) Describe the arts program at your school - what did you like most about it?
The arts, music, and theater programs at Webb were excellent and most students enjoyed going to the plays and concerts put on by the school and our peers, but I honestly did not take advantage of participating in these activities.
Extracurricular Opportunities:
1.) Describe the extracurriculars offered at your school - what did you like most about it?
Everyone belonged to a few clubs on campus and almost everyone helped run one. The surf club was one of my favorites and the trips will always be fond memories.
Dorm Life:
1.) Describe the dorm life in your school - what did you like most about it?
Dorm life is really where your friends become family. I always liked Webb's dorms, but after meeting people from other boarding school I came to find out that we really had it good.
Dining:
1.) Describe the dining arrangements at your school.
The food was good, and was much better than college. I think formal dinners really helped teach us basic manners that a lot of people miss.
Social and Town Life:
1.) Describe the school's town and surrounding area.
Claremont is perfectly situated. Within an hour we can be on the beach, skiing in the mountains, shopping in Beverly Hills, or at a Dodgers game... not many locations offer the diversity that Southern California has.
2.) Describe the social life at your school - what did you like most about it?
You make life long friends at boarding school. I still keep in close contact with a number of my classmates. The best part though is the number of international students, both those that live abroad and those whose families still have strong ties to their home country. I have traveled around the world and whenever I do I always see friends from Webb, wherever they might be: London, China, and all across the US.
Daily Schedule:
Weekday
7:00 AM
Check-in For Breakfast
Weekend
11:00 AM
Hanging out with Friends
The Webb Schools is unique in many ways different than other boarding schools. One being that it is a boy's school and a girl's school on one shared campus. This allows the freshman and sophomore. . .
I think there was generally a good work-life balance, or more like study-life balance at Webb. The community was small enough that we would know most everybody, teachers cared tremendously for the students, sports were. . .
The classroom setting of a round table discussion instead of lecture based teaching. I believe it really puts the pressure on the student to understand what is going on in the class and bring an. . .
Show more reviews (

26 reviews

)
Mastering the Boarding School Selection Process: A 5-Step Guide
Discover the ultimate 5-step guide to choosing the perfect boarding school for your child. Explore essential factors, such as academics, campus facilities, extracurricular activities, and more. Make an informed decision to provide your child with an enriching and transformative educational experience. Read now!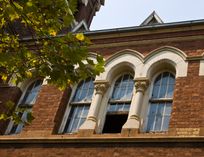 5 Founders and Their Boarding Schools
What prompts somebody to start a boarding school? The motives range from idealism to munificence right on through to capitalism. The common thread seems to be ample capital and a vision of what education can do.