Reflections and Advice:
1.) What do you think makes your school unique relative to other boarding schools?
The school's honor code and strong advising system make the school unique. The honor code encourages students to not only be trusting of each other, but also with other members of the community such as faculty and staff. As a young alumna, I'm often reminded of the power of the honor code when I meet with some of my friends from back home. The strong advising system also ensures that you have enough support throughout your years at Webb. My academic advisor was not only helpful in guiding me through issues such as course selection, but also became a friend to me, advising me on time management and personal development.
2.) What was the best thing that happened to you in boarding school?
I was given the opportunity to step out of my comfort zone and challenge myself. This allowed me stretch my own academic abilities, try sports I would have otherwise not done, and become more social than I was before.
3.) What might you have done differently during your boarding school experience?
I would not. I think being open to the new environment is the most important, as it's important for everyone to create their own path. As I reflect, the mistakes I have made at Webb actually turned out to be great lessons for me- I would recommend students to be bold and not be afraid of trying new activities, taking challenging classes, or becoming more social
4.) What did you like most about your school?
I like the small community atmosphere the most. As I now attend a medium-sized university, I often miss the ability to know everyone around you and the ability to know your teachers well too.
5.) Do you have any final words of wisdom for visiting or incoming students to your school?
I would recommend students to step out of their comfort zone, as they can get so much more out of Webb when they seek challenges and opportunities.I would also encourage students to join cross-country, even if only for a year, as it gives students an opportunity to challenge themselves both mentally and physically. The cross country coaching staff is also one of the best I have encountered before.
Academics:
1.) Describe the academics at your school - what did you like most about it?
The academics at Webb was strong. My favorite part were the small classes- having approximately 10-15 students in class not only helped facilitate discussions, but also allowed for me to develop strong relationships with my classmates and teachers.
Athletics:
1.) Describe the athletics at your school - what did you like most about it?
The athletics program gives everyone a chance, which I was grateful for. The school requires students to participate in one sport each year, and there are usually multiple level of sports for students to play on (freshmen, JV, Varsity). As a member of the cross country team, I not only saw my running capabilities grow in those 4 years, but I also saw my mental toughness and maturity grow as a result of the challenges I faced. I cannot be happier with the decision to join the cross-country team my freshmen year.Surrounded by hills, the school's location is perfect for those interested in hiking and running.
Art, Music, and Theatre:
1.) Describe the arts program at your school - what did you like most about it?
I did not participate much in these programs during my time at Webb. However, my friends who did it were glad they took part in it.
Extracurricular Opportunities:
1.) Describe the extracurriculars offered at your school - what did you like most about it?
I liked that everyone participated in an extracurricular activity- whether it be student government, theater production, or community service, students were active.
Dorm Life:
1.) Describe the dorm life in your school - what did you like most about it?
All the dorm rooms were large, comfortable, and newly renovated. Each student room had their own sink and mirror, which was nice. All the dorms had strong community, and I became great friends with many of my neighbors.
Dining:
1.) Describe the dining arrangements at your school.
The dining hall was nice and became a nice place for everyone to catchup and interact. There was also formal dinner once or twice a week.
Social and Town Life:
1.) Describe the school's town and surrounding area.
Claremont is great city to live in. The Claremont Village provides students with access to a wide selection of food and other goods, and Webb also offers shuttle runs to local malls, Target, and supermarkets.
2.) Describe the social life at your school - what did you like most about it?
I liked how it was a very close community- by my senior year, I pretty much knew everyone in the school, which was great. The kind of community found here is hard to find anywhere else.
Daily Schedule:
Weekday
10:15 AM
School event (chapel, advisory, etc.)
11:45 AM
Free block; extended lunch for me.
1:00 PM
1-2 class in the afternoon
7:00 PM
Homework/dorm activity period
Weekend
10:00 AM
Wake-up, workout, shower, etc.
3:00 PM
Sign-out; Go off-campus to see family friends
7:00 PM
Dinner with friends, then take shuttle to catch a movie
The Webb Schools is unique in many ways different than other boarding schools. One being that it is a boy's school and a girl's school on one shared campus. This allows the freshman and sophomore. . .
I think there was generally a good work-life balance, or more like study-life balance at Webb. The community was small enough that we would know most everybody, teachers cared tremendously for the students, sports were. . .
The classroom setting of a round table discussion instead of lecture based teaching. I believe it really puts the pressure on the student to understand what is going on in the class and bring an. . .
Show more reviews (

26 reviews

)
Mastering the Boarding School Selection Process: A 5-Step Guide
Discover the ultimate 5-step guide to choosing the perfect boarding school for your child. Explore essential factors, such as academics, campus facilities, extracurricular activities, and more. Make an informed decision to provide your child with an enriching and transformative educational experience. Read now!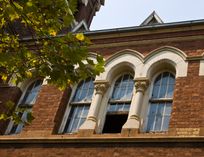 5 Founders and Their Boarding Schools
What prompts somebody to start a boarding school? The motives range from idealism to munificence right on through to capitalism. The common thread seems to be ample capital and a vision of what education can do.