Reflections and Advice:
1.) What do you think makes your school unique relative to other boarding schools?
Very few elite boarding schools on the west coast.They provide all the same things that the boarding schools on the east coast provide, except we are on the west coast.I particularly liked the low student teacher ratios and the students. All the students were bright and driven. And the teachers got to know all the students, which really made my teacher recommendation come through to help me get into Carnegie Mellon.
2.) What was the best thing that happened to you in boarding school?
I've had this debate with my friends over the years many times. Should I send my kids to webb? Did I like webb? etc... I've come to this conclusion. Its all case specific. For me, I take advantage of the situation that i am in and I make the most of it. Webb had a lot to offer and I took advantage of it, but not every person has that kind of personality. If you have that personality, you will do well in life no matter what and at any boarding school. My comment would be, why gut it out in the cold then? Come to california and enjoy sunny weather!
3.) What might you have done differently during your boarding school experience?
I really didn't know much about college, the process and academics. I was getting straight A's in Jr High and came in to Webb cocky. I was quickly humbled and ate more than my share of humble pie every single day. The kids were incredibly intelligent.My only regret is that I should have taken more summer school. It would have prepped me more and given me a good head start when the school year started so that my grades would have been higher. Its easy to fall behind. I finished with like a 3.1 - 3.2 gpa, which is ok by Webb standards, but had I done summer school, I might have made it into an even better college.
4.) What did you like most about your school?
Its all about the students and the teachers. At the end of the day, the kids are all smart and will do well no matter what. The relationships you form there, can last a lifetime.Webb is also a success factory. If you send your kid there. Know that when they graduate, their friends won't be 'losers' Their friends will be out in the world and doing something productive.
5.) Do you have any final words of wisdom for visiting or incoming students to your school?
Webb has changed dramatically since I have attended. They now have internet and improved the dorms. When i went, it was all concrete floors. It felt like jail. But its good in another sense because then it kept my head in my books and no distractions.Just keep an open mind and take advantage of everything. Remember, its YOUR experience, so its up to you to make the most of it.
Academics:
1.) Describe the academics at your school - what did you like most about it?
The math and science program is top notch. The students are extremely quantitative and the school invests a lot into science equipment.I was not a great english student, but I took an AP Rhetoric class my senior year. The dean taught it. It was the best class I took at Webb. I did poorly, C+, but it laid the foundation for persuasion, which has helped me immensely in the field of business.That being said, Webb also had a great arts program. Drawing and pottery were popular.We also had a museum on campus.Some students transferred in from public school. They told me that they were straight A students there, but at Webb many were not nearly as high on their class rankings.I honestly had to work REALLY hard just to keep my head above water - basically to be a B student. But my classmates have now become lifelong friends.
Athletics:
1.) Describe the athletics at your school - what did you like most about it?
I learned a lot from sports and I was an athletic guy, but Webb gave me the opportunity to be on a sports team. Had I gone to public school, I'm not sure I would have made the basketball team.Because Webb has a program, its hard not to do sports each season. I consider myself an average athlete, but I graduated as a 4 sport varsity letterman at Webb. The opportunities would not have been possible had I gone to public schools.Playing sports at Webb laid the foundation for a healthy and active lifestyle that will serve me for the rest of my life.
Art, Music, and Theatre:
1.) Describe the arts program at your school - what did you like most about it?
The drama program was excellent. We had a very passionate acting teacher named Michael Kane. Great teacher. I really liked how Webb wasn't just academic. They had some interesting classes like drawing, pottery, and acting to roundout my class schedule.
Extracurricular Opportunities:
1.) Describe the extracurriculars offered at your school - what did you like most about it?
Because its a boarding school, getting off campus requires more coordination. It happens, but just not as easily at public schools.My favorite was the chinese club. The school is largely asian and jewish, so a large portion of the school was in the chinese club.
Dorm Life:
1.) Describe the dorm life in your school - what did you like most about it?
I really enjoyed living on campus. During my time at Webb, I learned to be independent. That is important because my father once told me that not everyone is truly independent. Living on my own has laid the foundation for me to be able to pursue my career in different cities and be self sufficient.
Dining:
1.) Describe the dining arrangements at your school.
I honestly didn't like formal dinner, but it was a good experience. Again, it laid the foundation for good manners. This is important because in the future, when I am a guest or mingling with important people, it reflects well on me.Of course, the food was buffett style, so nothing ever wrong with all you can eat!
Social and Town Life:
1.) Describe the school's town and surrounding area.
Claremont is a quaint town. Most boarding schools will be in a quaint town, in the middle of nowhere. Claremont had more to offer than most. As long as there are basics there like a movie theatre and some basic shops, you should be fine. Your under 21 anyways, so you can't really do too much else besides go to in-n-out burger.
2.) Describe the social life at your school - what did you like most about it?
I loved the social life at the school. I was intimidated at the time because I was an underclassman, but everyone knows each other. 15 years after graduation, I am able to contact EVERYONE that i went to school with and they remember me. Some more vaguely than others - I guess I wasn't as good looking as I had hoped!I just had my 15 year reunion and it took close to 20 years to realize that the relationships formed there are not fleeting. Its really awesome to chat with friends that I went to school with 20 years ago. I don't think many people can talk about that.
Daily Schedule:
Weekday
6:00 AM
Get up, eat breakfast, shower and go to class.
7:45 AM
First period starts
3:30 PM
Extra help in class ends and sports practice begins.
5:30 PM
practice ends. your lucky it ends at 5:30 pm. It always goes over.
7:30 PM
Study hours begins
Weekend
12:00 AM
Sleep in, wake up and grab lunch.
1:00 PM
Go to the library to finish homework
5:00 PM
Get ready for chapel
6:00 PM
Chapel and formal dinner
7:30 PM
study hours begins
The relationships that are built between the faculty and the students is phenomenal. The teachers are willing to work with the students until they have a firm grasp on the material. The faculty not only. . .
I think the most unique aspect of Webb is its atmosphere. No other school that I know has such acceptance of diversity, race, and unique personalities. At Webb, you can really learn who you are. . .
Small classes and a teaching community dedicated to its students make Webb feel like a home. Teachers are always available to help, support, and listen to their students. The honor code instills a sense of. . .
Show more reviews (

7 reviews

)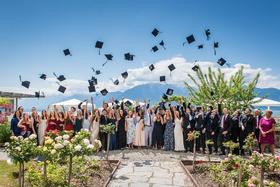 Nurturing Futures: A Journey through Boarding at Haut-Lac School in Switzerland
Nestled in the hills overlooking Lake Geneva in the French-speaking part of Switzerland lies an educational gem that embodies a unique blend of academic excellence, cultural richness and a profound sense of community. Founded over 30 years ago, Haut-Lac International Bilingual Day and Boarding School is now home to both 600 day students and a maximum of 30 boarders from around the world.
Navigating the Modern Maze: Emerging Challenges for Boarding Schools
Explore the pressing challenges facing boarding schools, from marketing difficulties and rising insurance costs to facility maintenance and recruitment of competent trustees and teachers. This article delves into these complex issues and proposes innovative strategies to overcome them.
What To Wear at Your Job Interview
Navigating job interviews can be stressful, but knowing what to wear shouldn't be. Our comprehensive guide covers the essential dress code tips for men and women interviewing at boarding schools. Make your first impression count with style and professionalism.