St. Andrew's School, DE - Review #4
About the Author:

College Enrolled
Wesleyan University
Home Town, State (Country)
Brooklyn, NY
Years Attended Boarding School
4
Activities During Boarding School
Although I am not athletic, I was part of the basketball, volleyball, and crew teams. In seasons where I opted out of sports, I participated in school plays. My community service (not required) was served at a local public elementary school. I was involved in Help for Haiti, Sapphire, and Friends of Africa. I was the class representative and a vestry member in the student government. My senior year I was a Residential Leader.
Daily Schedule:
Weekday
| | |
| --- | --- |
| 7:30 AM | Breakfast Sign-In |
| 8:00 AM | Classes Begin |
| 12:00 AM | Sit Down Lunch |
| 3:00 PM | Classes End |
| 4:00 PM | Sports Practice |
| 6:00 PM | Dinner Time |
| 7:00 PM | Club Meeting |
| 8:00 PM | Study Hall |
| 10:00 PM | Check In |
Weekend
| | |
| --- | --- |
| 7:30 AM | Breakfast Sign In (Saturday Only) |
| 8:00 AM | Classes (Saturday Only) |
| 11:00 AM | Classes End (Saturday Only) |
| 12:00 AM | Sport Games |
| 11:00 PM | Check In |
Review

Description

Davidson College

I think that the small student body and close knit community of St. Andrew's makes it very unique. With a student body of only about 300 students, you know everyone's name and they know yours. . .

Johns Hopkins University

St. Andrew's is such a unique place, and it would be impossible to choose just one thing that separates St. Andrew's from any other boarding school. The most obvious difference is probably that St. . .

Georgetown University

I believe that St. Andrew's offers a unique campus life because it only accepts full-time boarders. As a result, students and teachers have a unique relationship that feels more like family than familiar. . .

Wesleyan University

The amazing quality of relationships is unique to the St. Andrew's experience. The school's effort to refrain from a technology dependent social culture forces students to interact with each other. Also, the wonderful student-teacher relationships. . .

Princeton University

St. Andrew's has a focus on holistic growth and a dedication to community. The academics are rigorous and engaging, and I made incredibly close friendships thanks to dorm life. But above all I can say. . .

Show more reviews

(7

reviews)
April 20, 2018
Actually, there is no secret to getting your child into boarding school. Just a lot of hard work and a heavy commitment of time.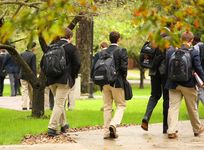 March 22, 2018
Some cynics think single-sex education is old-fashioned. The Kiski School shows how educating boys in a single-sex school is successful.
March 08, 2018
The wide range of fine academic, athletic, and other facilities found in boarding schools underscores the determination of schools to provide the very best for their students.