Reflections and Advice:
1.) What do you think makes your school unique relative to other boarding schools?
I would definitely have to say that something unique about Porter's is the connection between Alumnae (called "Ancients") and students. The ability to talk about shared experiences and traditions across generations is something I rarely saw before coming to Porter's. Another important part is the Old Girl- New Girl matching system between new students and Seniors. As a freshman I depended on my Old Girl to guide me through my first year and it was amazing to be able to repay that debt as a Senior by helping my own New Girl.
2.) What was the best thing that happened to you in boarding school?
Porter's allowed me to figure out who I was in an accepting environment. I found my academic passions over the four years and established goals for my future. The best thing to happen to me was meeting the friends that I have now because even though we've graduated this is certainly not the end.
3.) What might you have done differently during your boarding school experience?
Advice: Don't say no because you've never tried something. I started alot of things I'm currently pursuing in college at Porter's and I would be missing out if I hadn't have signed up for that club or that horseback riding lesson.
4.) What did you like most about your school?
The people. Buildings are only so much without memories of others to make them special.
5.) Do you have any final words of wisdom for visiting or incoming students to your school?
Things you must do: suntan behind the pool building, eat the tollhouse cookie pie, try something new, order Chinese food with 15 of your closest friends.
Academics:
1.) Describe the academics at your school - what did you like most about it?
The thing I liked the most was that there were always enough classes to take. I could probably have filled an extra two years with classes that I never managed to take because I ran out of time. Classes are small so you have to learn responsibility soon after arriving, but teachers are accommodating and will give extra help sessions. You dictate your own workload. There are a lot of class requirements (understandably aimed at preparing you fully for college), but the classes range from Beginner levels to AP. Students are most competitive through the desire for all around success. Not merely for themselves, but for there friends as well.
Athletics:
1.) Describe the athletics at your school - what did you like most about it?
Athletics at Porter's has definitely gained momentum over my four years. Teams regularly make League and New England Championships and are contenders for titles. There is mandatory participation that is increasing in strength as time goes on which has affected students abilities to explore other hobbies such as theatre or dance which meet at concurrent times. Facilities are up to date, but sometimes smaller than desired.
Art, Music, and Theatre:
1.) Describe the arts program at your school - what did you like most about it?
I personally found my art classes to be my sanctuaries throughout my academic days. I took photography, theater, and art history classes as well as having private voice lessons and singing in the school's choir. I also took dance classes and participated in extracurricular theater productions. The arts department has impressive facilities for such a small school and the range of opportunities is endless when catalog classes are supplemented with Independent courses of study (advised by a teacher). Every year Arts Week brings the art community more into the school at large.
Extracurricular Opportunities:
1.) Describe the extracurriculars offered at your school - what did you like most about it?
There is definitely something for everyone. Some clubs are very informal with others requiring auditions or applications. You decide your desired commitment level and can adjust it as you like. Students can also start new clubs if interest is shown.
Dorm Life:
1.) Describe the dorm life in your school - what did you like most about it?
Dorm life is where friendships are made and kept alive. Dorm snacks are made regularly and birthdays celebrated to foster a family like environment. Dorm parents do want to connect with their girls and have filled every perceivable role in these dorms. Roommates cannot be requested until after your first year and even then you cannot request a specific dorm which is frustrating at times. Seniors live in two connected dorms and share a large kitchen and common room as well as a back patio. This brings the class together more than anything.
Dining:
1.) Describe the dining arrangements at your school.
Dining is informal and buffet style except for Sit Down dinners on Tuesdays and Thursdays (in the fall and spring) and special occasions. Dinners with advisory groups occurs once or twice a semester. You can always find something to eat (no matter your preferences or diet restrictions) and the staff is open to comments and requests. I most liked the range of options open to me as well as the round tables which made discussion easier.
Social and Town Life:
1.) Describe the school's town and surrounding area.
Farmington is very safe and historic. The Hill Stead museum is up the road, and other off campus attractions include Blue Back square and Westfarms mall. There are shuttles to the movies, target, and ice skating which are coordinated but the Student Head of Social Activities. Within waling distance is a CVS, grocery story, nail salon, pizza parlor, and Starbucks. I most liked the welcoming environment of Farmington to our school.
2.) Describe the social life at your school - what did you like most about it?
Social life is very much what you make out of it. There are dances, mixers, coffee houses, and sit down dinners with nearby all boys schools. Boys are around, just only when you want them to be. Within the school community social life revolves around dorms, traditions, and clubs.
Daily Schedule:
Weekday
8:30 AM
AP European History
Weekend
Two defining factors about Miss Porter's is the sense of community and the ability for students to create lasting connections with teachers. The community fostered by the students and faculty at Porter's is unlike any. . .
Miss Porter's has unique traditions unlike any other school aimed at including students and making them feel like part of a campus community, such as the school ring tradition. Part of the fun is learning. . .
I would definitely have to say that something unique about Porter's is the connection between Alumnae (called "Ancients") and students. The ability to talk about shared experiences and traditions across generations is something I rarely. . .
Show more reviews (

2 reviews

)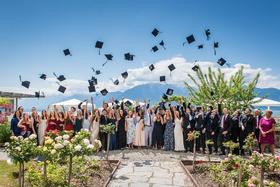 Nurturing Futures: A Journey through Boarding at Haut-Lac School in Switzerland
Nestled in the hills overlooking Lake Geneva in the French-speaking part of Switzerland lies an educational gem that embodies a unique blend of academic excellence, cultural richness and a profound sense of community. Founded over 30 years ago, Haut-Lac International Bilingual Day and Boarding School is now home to both 600 day students and a maximum of 30 boarders from around the world.
Navigating the Modern Maze: Emerging Challenges for Boarding Schools
Explore the pressing challenges facing boarding schools, from marketing difficulties and rising insurance costs to facility maintenance and recruitment of competent trustees and teachers. This article delves into these complex issues and proposes innovative strategies to overcome them.
What To Wear at Your Job Interview
Navigating job interviews can be stressful, but knowing what to wear shouldn't be. Our comprehensive guide covers the essential dress code tips for men and women interviewing at boarding schools. Make your first impression count with style and professionalism.